9 Best Products for Summer 2021 | Cheap Air Coolers & Ice Makers to Beat the Heat
Have you ever experienced that you toss and turn the night or lose motivation to work because of stifling heat? There are plenty of unpleasant results from the summer weather. However, instead of simply sitting in front of your air conditioner, there are multiple ways to face the summer heat and keep you cool and relaxed. We put together a list of smart home devices including ice makers and air coolers from BestDeals to help you stop sweating and sweltering this summer.
1. Maxkon 3L Portable Bullet Ice Maker Machine Water Dispenser Home Commercial Fast Freezer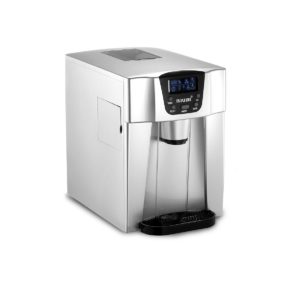 WAS: $599.95
NOW: $369.96
If you ever find yourself completely out of ice, this Maxkon ice maker will give you fresh 9 ice cubes in just 6 to 12 minutes. As one of the best sellers at BestDeals, the ice cube maker can produce 12kg of ice per day, suitable for family gatherings and parties with friends. A built-in water reservoir allows this ice machine to hold up to three litres of water for extra convenience. In addition, the ice maker machine can be served as a water dispenser to deliver clean water for multiple uses after connecting to a water supply pipe. You can easily control the whole ice making process via the LCD screen and operation panel. Performing quietly and effectively, this home ice machine can be located on the tabletop or a countertop in the kitchen, office, lobby or anywhere as needed. If you are looking for a durable and lightweight ice maker which can be brought to a pool or a boat, this Maxkon 3L portable ice maker is worthwhile to be considered.
2. 4L Portable Ice Maker Easy Sizes S/L with LED Display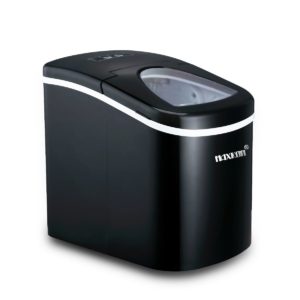 WAS: $599.95
NOW: $369.96
For households or offices that require a space-saving and lightweight ice maker, this portable ice maker is another excellent choice for countertop or tabletop. Measuring 287mmx375mmx357mm, the ice cube machine with a 750g ice container and a powerful compressor can produce 12kg of ice each day, hence you do not need to buy ice cubes outside anymore. Built with a modern LED control panel and an intuitive design, the countertop ice machine with a 2.4L water tank allows you to control the size of the ice cubes. There is an alarm system to prevent ice shortage and a transparent window lid for clear viewing of the ice-making process. Energy-saving and durable, this ice portable machine can save on your electric bill and ensure you enjoy freshly chilled drinks during hot days.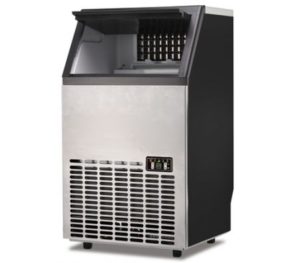 WAS: $1,119.95
NOW: $819.96
This model is one of the top-selling commercial ice makers at BestDeals. As a must-have in any restaurant, bar, cafe or hotel, the commercial ice cube maker creates plenty of crystalline square-shape ice cubes in just a few minutes and never runs out of ice, always providing your guests and customers with a cool drink. The steel internal construction and enclosure will ensure this ice machine lasts long for years to come. Moreover, this ice maker is designed with a water shortage auto-detection system to reveal operation problems when it stops making ice. The LED screen displays the working status and remaining time to complete the next cycle. Better still, it is made with a self-cleaning design that is intelligently controlled and regularly cleans the tank for fresh clean ice cubes. Making ice of 45 to 60kg per day on average, this ice maker machine is also great for home, BBQ and parties.
4. MAXKON Ice Maker Ice Cube Machine 12KG Ice Capacity Black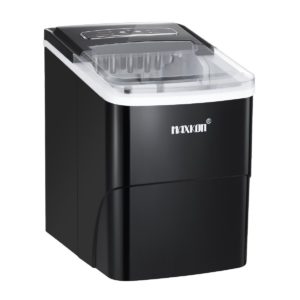 WAS: $349.95
NOW: $219.97
If you need to enjoy an ice-cold beverage all year round, look no further than this Maxkon 12KG Ice Maker Machine. With a super capability of producing up to 12kg bullet round ice a day, the ice maker with a 2L water tank comes with a cycle time of 6-13 minutes for S and L sized ice according to your needs. It is widely used in a coffee shop, household kitchen, office, lobby, dessert shop or professional kitchen. There are different displays and settings on its control panel, including the selected ice size, power, ice-full indicator, water shortage indicator, button to turn on or off and button to select ice cube size. Corrosion-resistant and durable, the ice maker for sale is engineered with a high-speed exhaust fan for quick heat dissipation and better refrigeration. Besides, the panoramic translucent window shows the ice making process clearly. The ultra-quiet operation and portability make this lightweight ice maker more preferred by users.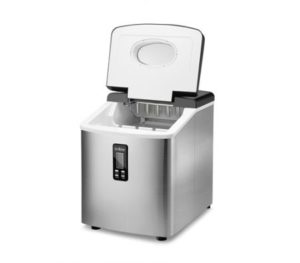 WAS: $599.95
NOW: $319.97
Enjoy cold drinks and coffee whenever you want with this Silver 3.2L Home Ice Maker. Constructed of a sleek and corrosion-proof stainless steel shell, the ice cube maker in a luxury look is of long-lasting durability and efficient stability. Equipped with a powerful cooling ability, the ice machine makes cylindrical ice at a rate of every 10-15 minutes, which is over 80% faster than others. The intelligent design allows you to start the ice making process with a touch of a button. Adopting advanced core technology, the ice maker machine uses every drop of water without wasting any extra electricity. An efficient compressor boasts a minimal noise level without disturbing you and your family. In addition, excellent features and designs such as the LCD indicator, low-water alarm and full-container alarm are built for the ultimate convenience and easy operation.
6. 10L Evaporative Air Cooler Fan Ionizer/Humidifier Remote Control Conditioner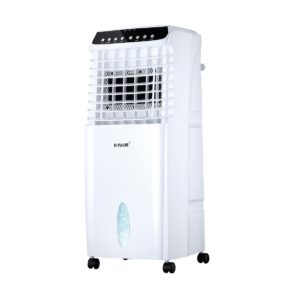 WAS: $259.95
NOW: $169.96
Make the indoor air more refreshing, breathable and cool with this 10L air cooler. Using ice crystal refrigeration and air evaporative technology, the temperature can be cut down from the air vent. The cooler with a 10L large-capacity water tank prevents you from adding water frequently and has three adjustable speeds to meet your different needs and be suited for various occasions. There is an ionizer to release negative ions into the air to freshen the air and a humidifier to keep the air sustaining an amount of moisture against dry skin. You can swing the blades automatically or manually for winds which will be delivered at the horizontal wide angle. The evaporative air cooler has a 24-hour timing function to automatically stop working for convenience and saving energy. For more practicality and easy movement, the evaporative cooler comes with universal wheels to allow you to move it from one place to another easily.  
7. Maxkon Multi-functional 6L Evaporative Air Cooler Remote Cooling Fan Humidifier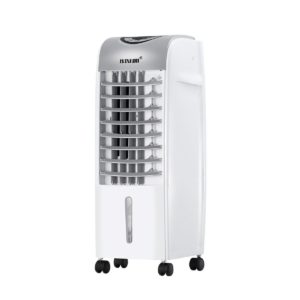 WAS: $199.95
NOW: $149.96
Eco-friendly and cost-effective, this Maxkon multi-functional evaporative air cooler is a 3-in-1 model which serves as a cooler, a humidifier and an air purifier. Built with a large-capacity 6L water tank, this room cooler saves you time on adding water continuously and features three wind modes of natural wind, normal wind and sleep wind for sleeping, relaxing or cooling during the scorching months. It fits a thickened wave-like cooling pad and a washable filter for fast cooling to remove bacteria, dust and other airborne particles. You can start or set the timer, wind speeds, wind modes, swing ways and more via its easy-to-operate control panel. What's more, this air cooler fan is composed of movable and smooth wheels, an air outlet, a visible water level and a hidden lifting handle for ease of use and practical convenience.
8. 50L Evaporative Air Cooler Air Conditioner Cooling Fan Remote Control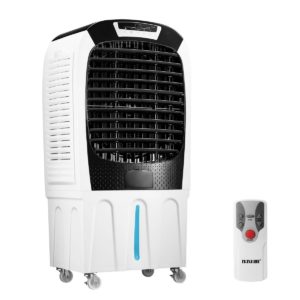 WAS: $499.95
NOW: $299.96
Combining ice crystal refrigeration and air humidifying technology, the evaporative cooler creates cool air with proper humidity for a better and comfortable environment. The airflow is adjustable between three speeds from the low to the high. Coming with a 24-hour timing function, the cooler allows you to set an ideal timing so that you have peace of mind every night. Designed with a large water tank of up to 50 litres, you can save much effort from refilling the water frequently. In addition, the wind can come out horizontally or vertically. Also, you can add water, ice or ice crystal in this air cooler, making it suitable for home, office, restaurant or gymnasium. A clear control panel and a remote controller ensure easy and convenient usage.
9. Maxkon 45L Industrial Evaporative Air Cooler Remote Portable Air Conditioner Fan Humidifier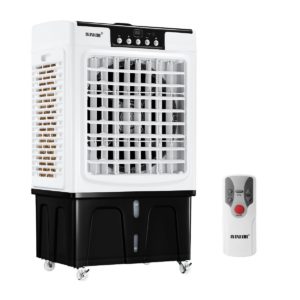 WAS: $399.95
NOW: $319.96
Cool down your living room in scorching summers or humidify a dry space with this Maxkon 45L industrial evaporative air cooler. Crafted from premium materials and adopting advanced technology, the portable evaporative cooler is energy-saving, environmentally friendly and long-lasting. The best air cooler has a large 45-litre water tank that can be filled with regular water or iced water. You can add water manually by opening the lid on top or automatically through the rear inlet. The cooler swings the blades automatically to deliver the winds at horizontal wide angles. Plus, it can be operated in a manual way to swing the blades vertically in a discretionary direction. The compact air cooler with smooth and non-slip wheels allows you to transport it indoors or outdoors effortlessly. Apart from the 24-hour timing function, the portable evaporative cooler has a water level window and a hidden lifting handle for clear viewing and ease of use.
Our ice makers and air coolers on sale provide efficient cooling performance at a minimal cost. They are summertime essentials for a living room, a bedroom, a dorm room, an office, a game room or a man cave. If you have any further questions, please feel free to contact us and we would be pleased to help you.
Comments
comments