Best Cordless Vacuum Cleaners 2021 | How to Make Yourself Fall in Love with Cleaning
Cleaning chores could be a nuisance, particularly for those having furry friends or people who go through a tiring day of housework. Traditional vacuum cleaners are becoming less popular because you have to drag a bulky, heavy and corded appliance from room to room for your house cleanup. Cordless vacuum cleaners are now the new kid on the block and make light work of chores for every household.
Designed to be portable and lightweight, most of the best cordless vacuum cleaners give the same suction power and performance as traditional vacuums. When it comes to convenience and practicability, these type of vacuum cleaners are equipped without cords from getting stuck behind doors or under furniture, allowing you to simply pick it up and go. Better still, cordless vacuum cleaners can deal with different types of flooring.
Let's start with the types of cordless vacuum cleaners, then look at the essential features of choosing a cordless vacuum cleaner. And we will discuss three top cordless vacuums available at BestDeals.
Types of Cordless Vacuum Cleaner
There are several types of cordless vacuum cleaners available, including cylinder, upright, handheld and stick. The cordless stick vacuum cleaners, typically featuring a slim body and a smaller canister to be regularly emptied, deliver the utmost convenience and maneuverability. They are lighter than the cylinder and upright vacuum cleaners, making them more comfortable to use and are welcomed by users. They are handheld, compact and easy to store and some can be mounted on the wall.
Cordless stick vacuum cleaners often come with a range of attachments, such as a motorised brush for removing pet hair and a crevice tool for hard-to-get spots like furniture and cars. They are usually powered by rechargeable batteries within a few hours.
What to Look for in a Cordless Vacuum Cleaner
Power: It is the prominent factor that you should take into consideration. Cordless vacuum cleaners with different suction power perform variably. The best vacuum with a strong suction capability can efficiently eliminate dust, dirt, finer particles, pet hair, whatever.
Battery Life: There's quite a big difference in battery life. Most cordless vacuum last for between 20 to 45 minutes runtime. Some models have alternative batteries to ensure they work up to as long as 60 minutes, but this will cost you more.
Noise Level: The noise level of a cordless vacuum is rated by decibels. A decibel rating of the standard vacuum ranges from 70 to 80, while some advanced models have decibel ratings lower than 70.
Weight: It should be noted that anything over 3kg after prolonged use will make you feel heavy and tired. It is suggested that you choose a vacuum cleaner of no more than 3kg.
Attachments: Take the accessories that the cordless vacuum cleaner comes with into account. These attachments will allow you to clean every part of your house much easier.
Top 3 Cordless Vacuum Cleaners at BestDeals
2-Speed Cordless Vacuum Cleaner 11kPa Handheld Stick Cleaner HEPA Filter Red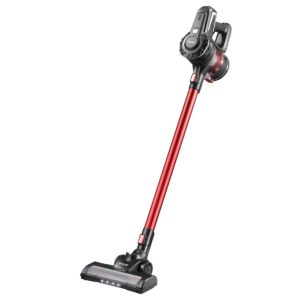 This lightweight and portable cordless vacuum cleaner adopting advanced vortex cyclone technology helps turn your cleaning chores into an easy and pleasant task. The maximum 11000PA suction power and 300000 RPM rotation speed deliver impressive suction and make it possible to clean all sorts of surfaces or floors away from hair, mites, pollen particles, bacteria and debris, such as hardwood, ceramic tile, hardwood, laminate, marble, cork and more. For easy operation, the vacuum cleaner is designed with a one-press button to dump dust in a flash, and the handheld mode is perfect for the car, sofa and bed cleanup. Powered by a long-lasting 2200MA Li-ion battery and equipped with a 2-speed function, the vacuum cleaner can work up to 35 minutes at the low speed while 20 minutes at the high speed. Helpful accessories are contained with this cordless vacuum cleaner, including a soft roller cleaner head for dust and dirt, a washable HEPA filter for air-quality improvement, a 5-in-1 crevice cleaner for hard-to-reach corners, a long nozzle for narrow gaps, a wall-mount bracket for safekeeping of the vacuum cleaner, a bed-cleaning head, a wide-mouth soft bristle head and more.
2-in-1 Cordless Vacuum Cleaner Stick Handheld Cleaning 2 Speed HEPA Filter 11kPa Blue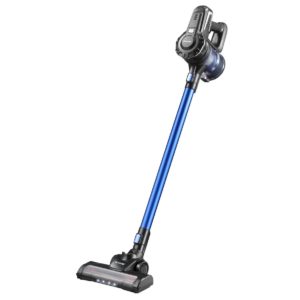 If you are looking for an incredibly light and quiet cordless stick vacuum cleaner which will not strain your hands or arms, you should not miss this 2 in 1 cordless vacuum cleaner with the main body weighing only 1.6kg. Engineered by a high-powered motor, this bagless and handy cordless vacuum cleaner with the maximum suction power of 11000PA, lower noise than 75dB and a multi-cyclonic HEPA filter runs silently and sucks up dust, pollen particles, finer particles, hair, bacteria and dirt with ease. Featuring a rechargeable and fade-free Li-ion battery with a capacity of 2200MA and a 300 cycle life, this stick vacuum cleaner ensures a continuous running time of up to 35 minutes at a low speed and as long as 25 minutes at the high speed. The cleaner allows for multi-purpose cleaning thanks to its soft bristle brush for floors and stairs as well as hard bristle brush for carpet and pet hairs. Convenience and practicality are enhanced by an LED dust searchlight for illuminating dark corners and helping track dust. Enthusiastic cleaners will appreciate a large range of accessories that come with this vacuum cleaner tool for cleaning most floors and surfaces. Better still, the charging base has built-in hidden storage space for attachments.
Multi-function Bagless Stick Vacuum Cleaner Cordless Cleaning Rechargeable Battery with HEPA Filter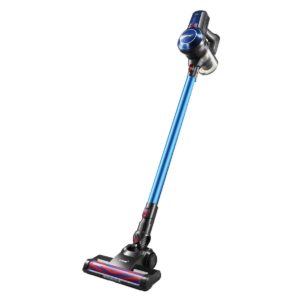 Fight back against dirt and pet hair with the multi-function bagless stick vacuum cleaner which has a powerful motor and capitalise vortex cyclone technology. The strong 9KPA suction power and 2200MA fade-free Li-ion battery make this vacuum cleaner easy to suck up waste and debris. Featuring two selectable speeds, the cordless vacuum cleaner can work up to 35 minutes for powerful cleaning and 25 minutes for normal cleaning. Its lightweight and quiet design allows for easy and silent cleanup without producing noise to disturb others. This vacuum cleaner set is compatible with variable cleaning purposes due to a wide range of tools, such as a soft colour brush for floors and stairs, a hard bristle brush for carpets and pet hairs, 2 in 1 crevice cleaner for debris and curtains, a long crevice nozzle for corners and narrow gaps, and mini power brush for bed and sofa cleaning. Besides, the stick vacuum cleaner is portable and handheld, making it possible to clean your car with no efforts. Equipped with a durable metal cyclone filter and a washable HEPA filter, the portable vacuum cleaner is built with a large 0.8L dust canister which empties with a touch of a button. Last but not least, the portable vacuum has an LED battery screen to display the remaining battery.
Conclusion
Maintaining your house clean all of the time is a job that never ends. If you want a cleaning machine which is versatile enough to defence against messes, a great cordless vacuum cleaner is in absolute need. It can free you from the hassle of cleaning by saving your time and energy. Its lightweight and easy-to-store design makes it great for quick pick-ups and suitable for small areas. The best cordless vacuum cleaners at BestDeals are tested not only by their overall performance, but also by factors of price, availability and user feedback. Our cordless vacuum cleaners will always give you a pleasant and comfortable experience in cleaning. More mop and cleaner machine options on sale are available at BestDeals. Order it now and enjoy nice prices with big discounts.
Comments
comments