Best Portable Massage Table Reviews 2017 for Your Relaxation
What's more comfortable, in this world, than lying in bed after a whole day tiring work? Lying in a massage table! With a portable massage table, you are able to have massages, waxing and other beauty treatments. Indulge yourself in this relaxing massage experience and throw those stressful stuffs to the wind.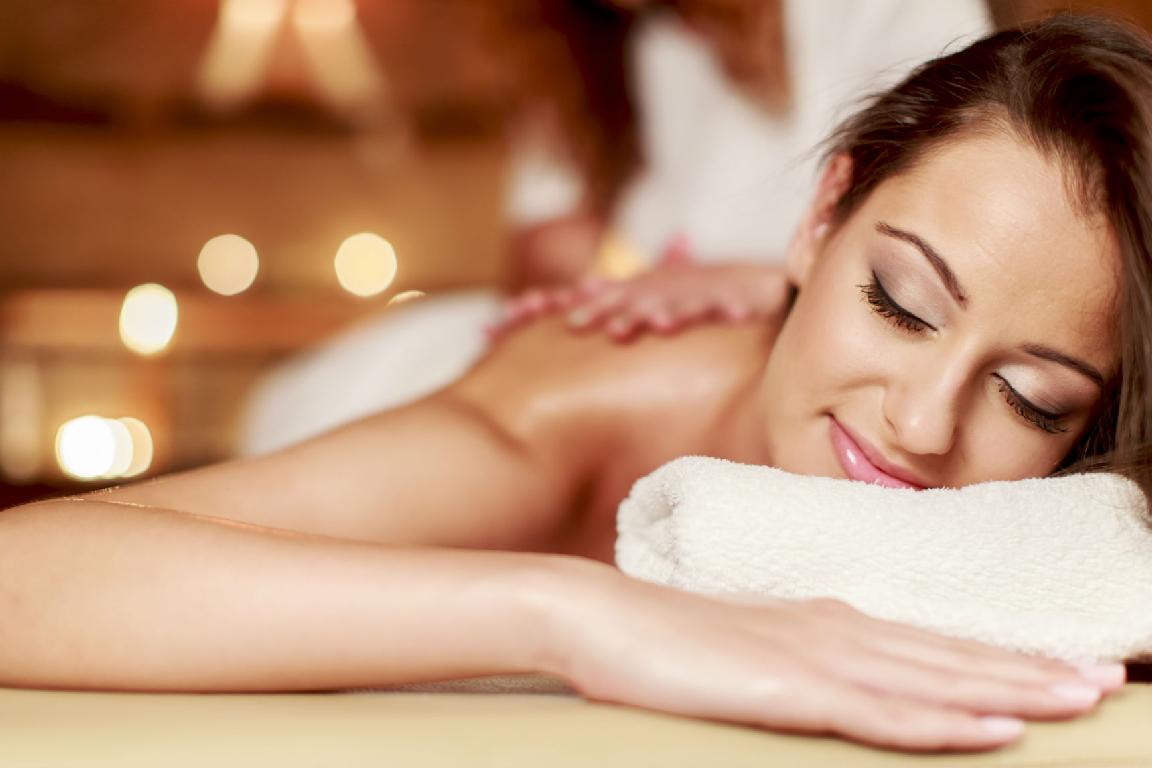 Why do you need a folding massage table? Massage therapy is usually used to promote relaxation and well-being, and is beneficial in treating sports injuries, and any painful conditions affecting the musculature of the body. One common method is to lie on a massage table to get treatment. And thanks to the portability and lightweight design of the foldable massage table, now many people have a more convenient approach to better health in the comfort of home. Furthermore, if you are a professional massage therapist, you'll love a massage table since you can easily take with you when you visit clients.
Portable massage tables for sale on the market come in various designs and outstanding features. Before choosing the best massage table that suits your needs, there are many key considerations you should look for. This massage table buying guide will offer important information for you to make the right choice.
---
Top 3 Portable Massage Tables at BestDeals.co.nz
Edit

| | | | |
| --- | --- | --- | --- |
| | | | |
| Product Name | Portable 3-Section Massage Table | 3 fold 75 CM Black Wooden Massage Therapy Bed | 72 CM Black and Red Portable Aluminum Massage Table |
| | |                        |              |
| Height Adjustability | 58-85 cm | 58-85 cm | 58-85 cm |
| Weight | 33 lbs | 44 lbs | 40 lbs |
| Max. Working Weight | 550 lbs | 660 lbs | 600 lbs |
| Table Dimension | 186x55x(58-85)cm | 186x75x(58-85)cm | 186x72x(58-85)cm |
| Folded Dimension | 95x55x18 cm | 95x75x20 cm | 95x72x20 cm |
| Warranty | 1 Year | 3 Months | 3 Months |
| Package Included | Table, detachable headrest, arm sling and armrests, carry bag | Table,headset,armrests,towel rack, side pocket, carry bag | Table,headset,armrests,towel rack, side pocket, carry bag |
Portable 3-Section Massage Table Chair Bed Foldable & Carry Bag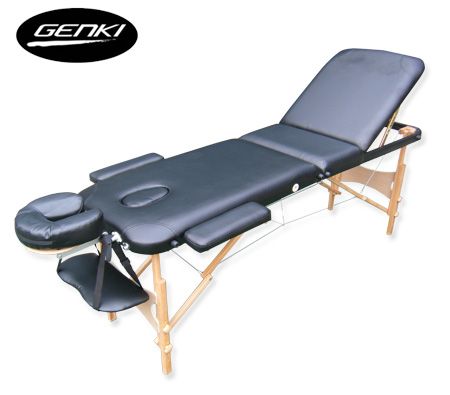 Relieve sore and tired muscles, aches and pains with this Genki professional wooden massage table! Its' high density foam and high quality vinyl combines as a long lasting & waterproof cushion to ensure complete comfort to lie on. With customization design, this massage table has adjustable height ranging from 58 to 85 cm, which perfectly suits the need of everybody. This functional massage table also features a removable and adjustable face cradle with a face hole, front arm support as well as side arm rest. All you need to do is relax on it and enjoy what humanized design brings to you.
---
3 fold 75 CM Black Wooden Massage Therapy Bed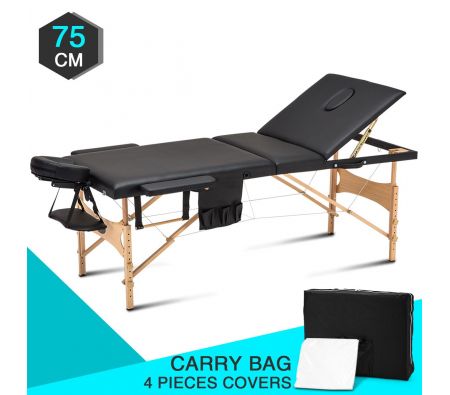 Set yourself up for massages, waxes and other beauty treatments with this 3 fold wooden massage therapy table. Who says a massage table has to be cumbersome? Portability is new fashion. Easy to set up and operate, this three-folding table folds neatly away into a compact size with all the accessories, including headrest, arm sling and armrest, fully detachable for easy portability. It also has a weight limit up to 560 lbs, which should be sufficient for the majority of users. All these benefits make this table a diverse choice for your different needs.
---
72 CM Black and Red Portable Aluminum Massage Table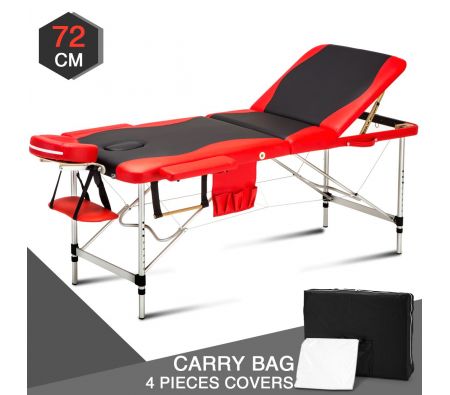 This practical and fashionable black & red aluminum massage table is bound to capture you or your clients' attention. It is an ideal massage bed for home use. With affordable price and high quality, it can rival other expensive competitors like BestMassage, Saloniture, and Sierra Comfort. If you are looking for something simple that is quick to set up without the hassle of all kinds of additional accessories, then this table is definitely a good choice. BestDeals also provides various portable tables with different sizes and colors for you to choose from, such as 80 cm Black & Green Massage Table and 75 cm Black & White Wooden Massage Bed.
---

What Are Good About Our Massage Tables?
Adjustable Height

: With an adjustable length of 58-85 cm, it accommodates different therapies and the height of the therapist.
Portability: Foldable and lightweight, great choice for mobile therapists who look for a more convenient way to head for clients' home.
High Quality Bed: Thick high-density memory foam and PVC leather ensure the table oil and water resistant.
Heavy Working Weight: With a maximum working weight from 550-660 lbs, our tables are sturdy enough to bear the weight of most users as well as pressure during the treatment.
Quick-lock System: Streamlined folding and opening of the table in just seconds.
Accessories: Besides the massage table, we also provide detachable headrest, arm sling and armrests, carrying bag and towel rack, side pockets to place notions and oil.

Affordable Price

: Less than $200, our massage tables are the most sensible investment for both therapists and users to provide and receive constant relaxation and enjoyment in the comfort of home.
---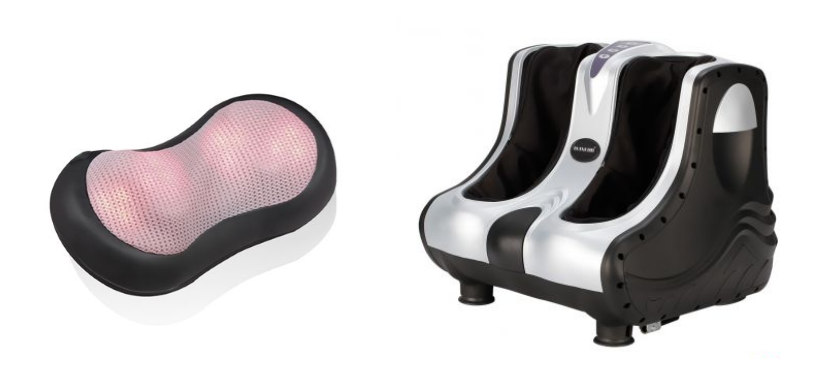 Besides massage tables, in order to meet all your needs using massage therapy, BestDeals also stocks Infrared Heating Shiatsu Massage Cushion and 3D Shiatsu Foot Massager that concentrate on relaxing partial muscle. Massage products on BestDeals are always top of the best gift list for friends and family to show people's love and care.
Conclusion
Our top three portable massage table reviews and buying guide aims to assist our customers when it comes to choosing the best folding massage table online in New Zealand. Find one at BestDeals.co.nz that best suits your needs. Pick out a table that is both durable and compact to serve you for many years and get fast return on your investment. Treat yourself or your clients well with high quality massage table. This is not an extravagant deal, but a worthy try leading you to comfy life.
---
Comments
comments