Black Friday Frenzy 2023 | Jaw-Dropping Discounts Await You
Get ready for the biggest shopping event of the year – Black Friday! It's right around the corner and shoppers are buzzing with excitement for this ultimate shopping extravaganza. No matter if you're in need of some daily necessities or just can't resist a good deal, you should not miss out on the incredible savings waiting for you.
BestDeals is here to make your Black Friday shopping even better. We've already launched our exclusive Black Friday Frenzy 2023 allowing you to start your shopping early and grab those must-have items before they're gone. Whether you are a seasoned Black Friday shopper or a first-timer, this ultimate guide will equip you with the strategies and tips needed to maximise your savings and make the most out of this incredible shopping event.
Appliances
Vacuum Sealer Bags Food Storage Saver Plastic Reusable Precut 100PCS with Diamond Texture 28x40cm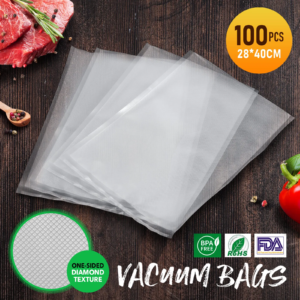 WAS: $49.95
Black Friday Frenzy Price: $26.97
Give your food the ultimate protection with this 100PCS Vacuum Sealer Bag Set. These pre-cut sealer bags are approved by FDA, LFGB, and Rohs certification, ensuring that they are food-grade and BPA-free for your safety. Made with high-quality PA and PE plastic, these vacuum bags are not only durable but also provide strong support for your food items. With their airtight environment, these bags can effectively extend the shelf life of a variety of foods including vegetables, fruits, meat, chops, roasts, and more.
The one-sided diamond texture of these bags helps to lock in freshness, flavor, and hygiene, ensuring that your food stays delicious and safe to eat. Additionally, these bags are not just convenient but also eco-friendly as they are washable, reusable, and microwaveable when not vacuum-sealed. Best of all, these bags are compatible with most vacuum food sealers, making them a versatile option for all your food storage needs.
Portable Bladeless Neck Air Conditioner Fan with LED Rechargeable Personal Neck Fans for 3 Speeds & Cooler Plates (White)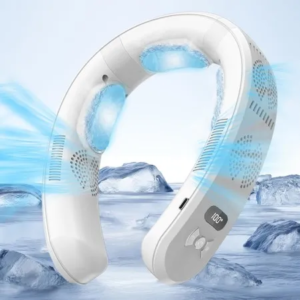 WAS: $89.99
Black Friday Frenzy Price: $57.99
Stay cool and comfortable on the go with the Beglero Personal Portable Neck Fan Air Conditioner. This innovative neck fan is designed to enhance your outdoor activities, making it perfect for camping, trips, hiking, climbing, and even watching sports. Equipped with a powerful 6000mAh rechargeable battery, this neck fan offers long endurance, ensuring that you stay refreshed all day long. It can easily be charged using a USB-C cord, providing you with ultimate convenience without worrying about running out of power.
Enjoy a peaceful and undisturbed experience with the low noise level of just 20dB. The 3D airflow with 360-degree surround ensures cool and refreshing breezes without disturbing those around you. The bladeless design adds an extra layer of safety, making it suitable for women, men, kids, and the elderly. Our portable neck fan air conditioner is versatile and can blow cold air, warm air, and simply blow, allowing you to use it in various situations and seasons. Experience the ultimate comfort with the unique ergonomically adjustable neck design, which reduces neck pressure and offers a painless wearing experience. Lightweight and travel-friendly, this neck fan is designed with your comfort in mind.
Maxkon 17L Water Urn Dispenser Kettle Instant Hot Cold Coffee Tea Maker Machine Home Commercial Camping Boiler Stainless Steel with Tap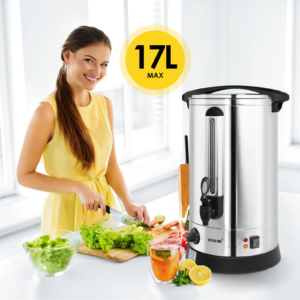 WAS: $249.95
Black Friday Frenzy Price: $129.95
Bring this perfect solution to your guests to serve them a continuous supply of beverages. With its generous capacity of 14.3 litres, this water dispenser is ideal for large gatherings and events. The double-layer design, featuring a stainless steel 304 inner layer and a stainless steel 403 outer layer, ensures unmatched insulation, keeping the water hot or cold for extended periods. Moreover, this versatile hot water dispenser serves as both a heater and a thermos urn, thanks to its engineered heating and insulation functions. You can easily regulate the water temperatures from 30 degrees Celsius to 110 degrees Celsius, catering to different preferences and needs, using the indicator lights.
Safety is a top priority with this coffee urn, as it includes boil-dry protection with a thermal fuse and a heat-resistant cover with a handle to prevent accidents and injuries. The transparent water gauge allows you to monitor the water level for timely refilling. The base, made of premium PP and robust stainless steel 430 materials, ensures stability and protection. Covered in a polished and modern finish, this catering urn adds an attractive touch to any setting, making it suitable for both commercial and residential use. With a convenient tap, this water urn is not just limited to water – it can be used for a variety of beverages, including tea, coffee, milk, hot chocolate, and more. Enjoy hassle-free and continuous hot beverages with the Maxkon water urn.
Ceiling Overhead Fan with Light Remote Control Cooling Electric Air Ventilation Quiet Modern Indoor LED White 5 Speed 4 Plywood Blades Timer 132cm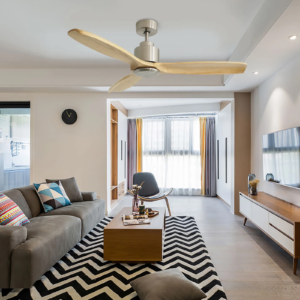 WAS: $329.95
Black Friday Frenzy Price: $179.97
Improve indoor air quality and minimize energy expenditure with our sleek and elegant ceiling overhead fan. Featuring four plywood blades, this fan adds a contemporary touch to your home while ensuring adequate air circulation throughout the space. The durable and power-saving DC motor, coupled with a reinforced aluminum housing, guarantees remarkable strength, powerful airflow, and quiet operation, all while reducing electricity consumption.
With five adjustable speed levels, you can easily control the airflow to your liking, whether you prefer a gentle breeze or intense blowing. Additionally, our ceiling fan comes with a built-in LED lamp that offers three color options, allowing you to customize the lighting to match your mood and ambiance. You can conveniently adjust the fan speed and lighting colors using the included remote control. The fan also comes with an interval timer, which can be set to automatically shut off after one, four, or eight hours. Furthermore, the reverse motor function enables the fan to function in both summer and winter modes, making it suitable for all seasons.
Holiday Decorations
1.5m Christmas Tree with 50 Color Lights Artificial Pop Up Collapsible Tinsel Christmas Tree Christmas Home Party Indoor Outdoor (Red/Green)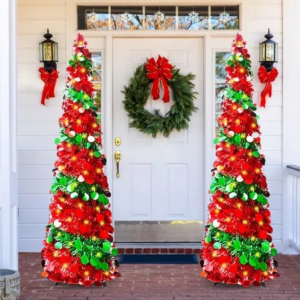 WAS: $69.99
Black Friday Frenzy Price: $39.99
Decorate your home in style with our 5-foot tall Tinsel Tree with foil sequin. This stunning Christmas tree is the perfect addition to any space, whether it's your house, bedroom, living room, or even your backyard. With its versatile design, you can display it anywhere, from your porch to your garden, and instantly create a great Christmas atmosphere. Featuring a pull-up design, this Christmas tree requires no tools and can be set up and taken down in just two minutes. It is incredibly easy to assemble and disassemble. The collapsible metal stand ensures durability and reusability, so you can easily pack it away in a small box for the next holiday season.
Made of high-quality PVC and supported by sturdy metal poles, our pop-up Christmas tree offers excellent stability and will not ruin your ground. The material used is durable, allowing you to enjoy this tree for many seasons to come. This is especially ideal for individuals with limited storage space, as it can be compactly stored when not in use. Its unique foil sequin design adds a touch of elegance to your holiday decor, making it the perfect centrepiece for any room. With its ability to light up anywhere in your home, you can truly experience a happy Christmas filled with joyful moments and memories
Set of 3 Christmas Lighted Gift Boxes with Remote Control,LED Light up Xmas Present Ornament for Tree Indoor Outdoor,Xmas Lights Decorations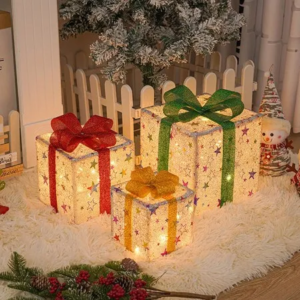 WAS: $44.99
Black Friday Frenzy Price: $29.99
Add a touch of magic to your holiday season with these upgraded Christmas box ornaments. Our Christmas lights consist of three light-up gift boxes of different sizes that create a wonderful effect at night.  The Christmas light-up string lights are made of sturdy copper wire lights and the outer gift box is made of PVC fabric, which can withstand different weather conditions such as rain and snow. The top of the box is a bow.
No matter where these Christmas lights are placed, they will definitely your attention. Additionally, these Christmas ornaments are perfect for Christmas trees, Christmas rugs, fireplaces, tables, stairs, and everything related to Christmas. Meanwhile, they are Ideal as Christmas display lights to decorate windows and doors, hallways, porches, decks, yards, balconies, patios and under trees. Also, you can use them as Christmas gifts to surprise your family, friends, and neighbours.
Christmas Doormat Grinch Christmas Doormat Plaid Doormat Anti-Slip Washable Winter Doormat (Green)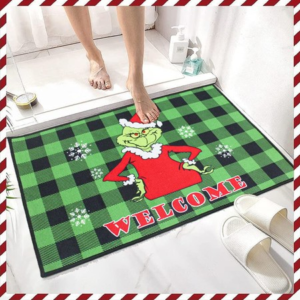 WAS: $39.99
Black Friday Frenzy Price: $14.99
Bring a festive ambience and impress your guests by introducing this doormat into your home. Measuring at 40 x 60 cm, this festive doormat is designed to fit perfectly at the entrance of any indoor or outdoor space. Whether it's your kitchen, bedroom, living room, dining room, bathroom, porch, stairs, office, or even as a delightful decoration for your Christmas themed party, this doormat is versatile and brings a touch of Christmas cheer to any area. Moreover, this doormat is easy to maintain. Simply pat the dust off the mat, and for tougher stains, give it a quick hose down to effortlessly remove any grime. For a more thorough clean, use a damp cloth or sponge with mild detergent to easily wipe away any dust accumulation.
Not only is this doormat a vibrant and fun Christmas Day decoration, but it also serves a variety of practical purposes. Use it as a pet mat or dog mat to provide your furry friend with a cosy spot to rest. Crafted with premium quality materials, our Christmas door mat is built to last and withstand heavy foot traffic. Its non-slip backing ensures safety and stability, preventing any potential accidents. The festive design and vibrant colours make this doormat an eye-catching piece that will surely bring joy and delight to your holiday season. Embrace the holiday season with style and create lasting memories with our delightful Christmas doormat.
Kids Gifts
Children Art Easel Stand Wooden Clear Acrylic Double Sided Drawing Painting Writing Board Outdoor Play Station Artist Craft Tool Storage Display Kidbot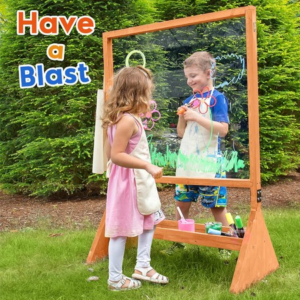 WAS: $199.95
Black Friday Frenzy Price: $129.95
Unleash your child's inner artist with our double-sided acrylic easel. It provides unlimited creative space for your little Picasso to explore and express themselves. With a double-sided design and an open storage compartment, it offers convenience and ample room for artistic supplies. The large drawing surfaces are specifically designed to ignite imagination and inspire creativity. It's the perfect canvas for your child to create beautiful works of art. But it's not just about aesthetics – this multi-play easel also allows children to convey their ideas, express emotions, and explore the fascinating world of colours, processes, and outcomes.
With the built-in storage compartment, your little artist can keep all their supplies organized in one place, teaching them the value of organization from an early age. Crafted with a sturdy wooden frame, this easel ensures exceptional stability, firmness, and durability. It can withstand the enthusiasm and energy of young creators, both indoors and outdoors. Our double-sided acrylic easel is an essential tool for young minds and budding artists.
Sprinkler Rocket Water Toys for Kids Launcher, Attaches to Garden Hose Splashing Fun Holiday & Birthday Gift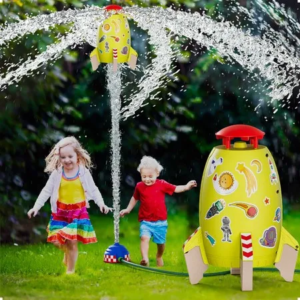 WAS: $49.99
Black Friday Frenzy Price: $19.99
Allow your children to experience endless fun and excitement all summer long with our incredible water rocket sprinkler. Perfect for cooling off in the hot sun, this kids sprinkler is sure to make a splash at any backyard party. Our water sprinkler soars up to an incredible 20 feet in the air, with a center spray that falls like rain! Setting up our kids' water toys is incredibly easy. Simply connect it to any standard garden hose, turn on the tap, and enjoy the fun in no time.
Our kids' outdoor water toys also offer DIY options for you, your friends, and family to enjoy. The set includes space-themed stickers, allowing you to customize your rocket in any way you choose. Made with non-toxic PVC and ABS that are BPA-free and a sponge-filled rocket base, this toy is safe for children without any risk of injury. Suitable for children aged 1 to 12, this sprinkler toy is the ideal birthday or holiday gift. Not only does it keep children away from electronic devices, but it also promotes outdoor activities and communication with parents. Stay cool this summer with our fun sprinkler for kids!
Kids Sand and Water Table Picnic Chairs Outdoor Wooden Bench Adjustable Umbrella Children Play Station Storage Playset Furniture Activity Center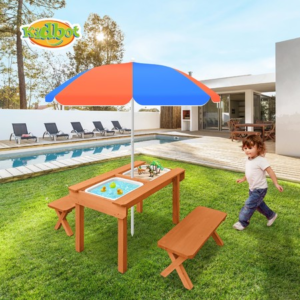 WAS: $249.95
Black Friday Frenzy Price: $179.96
Are you searching for the perfect outdoor playtime companion for your kids? Look no further than our innovative kids sand and water table. Constructed with solid fir wood, it boasts excellent strength and durability to serve for years to come. This multifunctional play station offers endless possibilities, from sensory sand and water play to picnics, crafts, and even homework. Designed with convenience and durability in mind, this table is built to provide your little ones with hours of engaging and imaginative fun. Featuring two compartments made of high-quality plastic, this sand and water table allows your children to explore both elements simultaneously.
Let their creativity bloom as they build sandcastles and make waves with water, all in one play area. Our table includes two protective boards that keep the sand dry and the water clean, ensuring a safe and enjoyable experience for your children. Not only do these provide ample space for playing, but they also serve as cozy seating options to relax and enjoy their creations. To shield your little ones from the sun's harmful rays, the table comes with a height-adjustable umbrella. Furthermore, it transforms easily into a picnic table for delightful outdoor meals, a craft table for artistic sessions, or even a study table for homeschooling. 
Sports Equipment
Bestway 2 Man Inflatable Kayak Blow Up Kayaking Boat Water Sport Paddling Canoe Raft Fishing Two Person with Hand Pump Paddles Carry Bag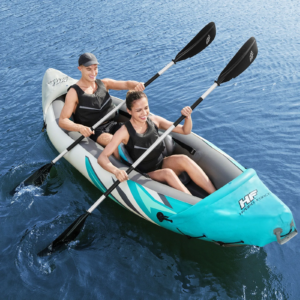 WAS: $569.95
Black Friday Frenzy Price: $289.95
Enjoy a serene paddling experience on tranquil lakes or leisurely rivers with our 2-man inflatable kayak boat. Crafted with durable and eco-friendly materials, this inflatable boat guarantees longevity and resilience. Its puncture-resistant and waterproof features make it adaptable to different weather conditions, ensuring your adventures won't be hindered. With its cozy seats and supportive backrests, you can truly unwind and relish in supreme comfort during extended hours of kayaking.
Setting up the watercraft is a breeze, thanks to its inflatable design and the included hand pump. Additionally, its lightweight and compact nature make it effortless to store and effortlessly portable. Take it along wherever you venture, allowing you to partake in various activities such as recreational kayaking, fishing, and exploring waterways. Whether you're a novice or an experienced kayaker, this inflatable kayak is perfect for all skill levels.
Genki Trampoline Rebounder Bounce Jumping Rebounding Bungee Exercise Home Gym Fitness Equipment Indoor Round Outdoor Adjustable Handlebar 48 Inch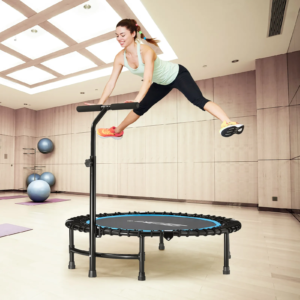 WAS: $269.95
Black Friday Frenzy Price: $149.95
Elevate your fitness routine and achieve your fitness goals effortlessly with the Genki trampoline rebounder. Crafted from heavy-duty materials, this trampoline ensures outstanding sturdiness, durability, and stability. With a maximum load capacity of 150 kg, it can accommodate users of various sizes. The removable T-shaped handle adds an extra layer of safety, featuring a reinforced design for enhanced stability. It also offers five adjustable height levels, catering to the needs of every user.
Equipped with a robust and elastic bungee rope system, this rebounder provides joint-friendly suspension and reduces noise, guaranteeing a fantastic jumping experience. Additionally, its foldable and compact design allows for easy storage and portability, making it suitable for any indoor space or garage. Not only does it offer a secure and supportive workout to tone your body, but it also burns calories and promotes heart health. Perfect for Christmas, Thanksgiving Day, birthdays, and other holidays, the Genki trampoline rebounder is the ultimate gift choice.
Yoga Mat Ball Storage Rack Weight Dumbbell Kettlebell Shelves Shelf Garage Racking Holder Steel Stand Gym Organizer with Hooks Wheels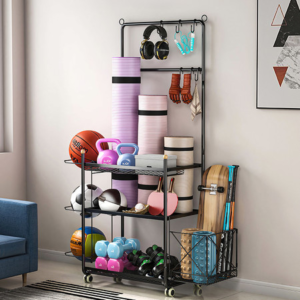 WAS: $199.95
Black Friday Frenzy Price: $99.98
Create a secure and neat workout environment with our Yoga Mat Ball Storage Rack Weight Shelves Holder Stand. Made from strong and durable powder-coated steel, this shelf rack ensures long-lasting use and can accommodate various gym equipment like yoga mats, dumbbells, kettlebells, roller wheels, and more. Measuring 56.5 x 35.7 x 145 cm, it features a three-tiered metal mesh, a side basket, and hanging hooks to keep your workout gear organized and easily accessible. Additionally, this gym rack is equipped with four sturdy swivel wheels, allowing for effortless mobility, making it perfect for gyms, personal home gyms, fitness clubs, and garages. With the included instruction manual, assembly is a simple task.
1400ml Cute Water Bottle with Stickers Straw Big Belly Cup Sports Bottle for Water Jug Children Kettle Color PINK with Random Stickers and Accessories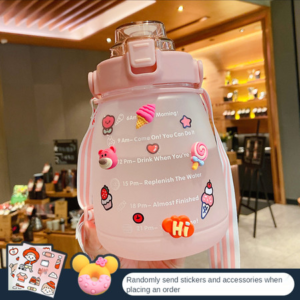 WAS: $49.99
Black Friday Frenzy Price: $2.99
Help you stay hydrated and motivated throughout the day with this water bottle. Made with food-grade safe materials, this water bottle ensures your health and safety by excluding any harmful BPA components. With its inspiring words and time stamps, this water bottle becomes your constant reminder to stay on track and achieve your goals in a timely manner. Create a personalized daily drinking water plan to maintain a healthy and youthful state all day long. The exquisite design of this bottle brings both style and cuteness to your fitness routine.
The water bottle, complemented by adorable three-dimensional stickers, adds a touch of charm to your hydration experience. Rest assured, this bottle is engineered with excellent water leak prevention and airtightness, making it a reliable choice for any activity or workout. You can now focus on your fitness goals without worrying about accidental spills or leaks. Convenience and portability are key features of our sports water bottle. Equipped with a cup rope and handle, you can effortlessly take this bottle with you wherever you go, ensuring you never miss out on your hydration routine. Stay motivated, stay hydrated, and stay on top of your game.
Garden Supplies
12 Pods Hydroponics Growing System Indoor Herb Garden Kit Plant Germination Full Spectrum 20W LED Light Smart Planter Water Pump 4L Tank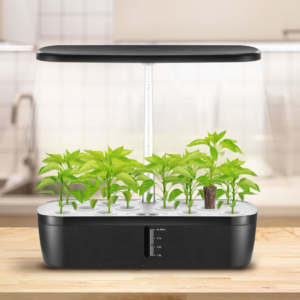 WAS: $169.95
Black Friday Frenzy Price: $99.95
Start your journey to becoming an expert gardener with the Hydroponics Growing System Indoor Herb Garden LED Grow Light Kit. This state-of-the-art hydroponic system is specially designed to help you cultivate up to 12 plants, growing them five times faster than traditional soil methods. Say goodbye to the challenges of soil management, dealing with pests, relying on sunlight, and messy gardening.
With this indoor herb garden kit, you can enjoy the convenience of year-round gardening. Equipped with a powerful 20-watt full spectrum LED grow light, your herbs and plants will receive optimal lighting for healthy growth. The adjustable height feature of the LED lamp allows you to cater to plants with varying growth rates. Furthermore, the spacious bowl accommodates ample water capacity, enabling you to nurture larger and flourishing plants.
6 Tier Plant Pots Stand Corner Potted Flower Shelf Unit Holder Bookshelf Garden Indoor Outdoor Tiered Display Storage Shelves Rack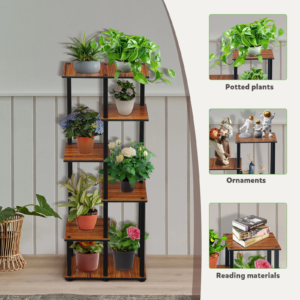 WAS: $99.95
Black Friday Frenzy Price: $49.95
Utilize the untapped corners and vertical spaces in your home efficiently with our innovative Plant Pots Stand Corner Flower Shelf Unit Holder. Designed with six tiers and eight racks, this plant stand is constructed using high-density fiberboard and sturdy square plastic tubes, ensuring exceptional durability and reliable stability. It is engineered to withstand heavy loads and is resistant to rust and corrosion, making it suitable for all weather conditions.
Additionally, its large adjustable feet provide enhanced balance and firmness, eliminating any possibility of shaking or wobbling. With its multi-layer design, this corner shelf unit maximizes space utilization, particularly in smaller rooms or areas, while providing convenient access to your beloved plants. Assembly is a breeze, making it ideal for various settings such as balconies, patios, gardens, and even offices. Furthermore, it serves as a stunning decorative element that effortlessly enhances the aesthetic appeal of both indoor and outdoor spaces.
USB powered Watering Can Handheld Sprayer Mist Sprayer Garden Tools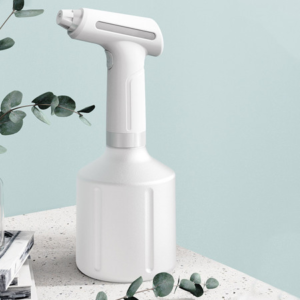 WAS: $54.95
Black Friday Frenzy Price: $49.95
Bring convenience and ease to your gardening and household tasks by using this USB powered watering sprayer. Our electric sprinkler sprays automatically, eliminating the need for manual spraying. Simply charge it using the included USB cable, and you're ready to go. Featuring a 360° adjustable royal nozzle, our sprayer offers 2 spray modes – light spray and gentle mist. By rotating the adjustment, you can create a rough water flow or a fine mist that spreads evenly. This makes it an ideal gift for plant lovers, as the fine mist nourishes indoor and outdoor plants proficiently.  
Even children will enjoy using it to feed and care for their plants. With a large 1-liter capacity, our multi-purpose sprayer caters to all your needs. Whether you want to clean windows, walls, indoor plants, outdoor plants, farms, shower cleaners, or disinfect surfaces, our sprayer has got you covered. Additionally, it can be used for wetting hair, cleaning sofas, chairs, tables, and all other indoor furniture. Its lightweight and ergonomic design ensure easy handling and maneuverability. Make your life easier and more enjoyable with this innovative and reliable device.
Pet Supplies
Dog Cat Pet Bed Sofa Car Seat Calming Doggy Canine Carrier Booster Chair Mattress Protector Puppy Couch Bedding Warming Lounge Travel Cushion Portable with Safety Straps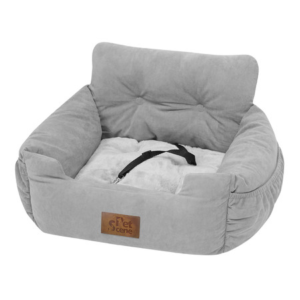 WAS: $109.95
Black Friday Frenzy Price: $39.95
Pamper your beloved canine companion with the utmost comfort using this luxurious dog calming bed sofa. Designed with an artificial rabbit hair cushion, this sofa provides ultimate softness and warmth for your furry child to relax in. The combination of an Iceland velvet surface and four sides filled with PP cotton enhances durability, breathability, and resilience. Additionally, the non-slip rubber dots at the bottom ensure that this pet bed stays securely in place, offering a stable and secure environment for your pooch.
For added safety during car rides, our dog sofa bed includes adjustable safety belts and fixed anchors. Not only that, but this cat bed also doubles as a convenient car seat protector, alleviating concerns about scratches, hair, or dirt. Enjoy the added convenience of large storage bags located on both sides of the dog seat. This versatile piece can be used as a car seat, a cozy bed, or even a camping bed for pets. With its lightweight and portable design, this dog booster seat is easily installable on various types of vehicles.
Cat Scratching Post Bed Toy Wooden Kitten Sisal Scratcher Tree Couch Chair Stool Scratchboard Lounger Pet Furniture Sofa Cushion Play Gym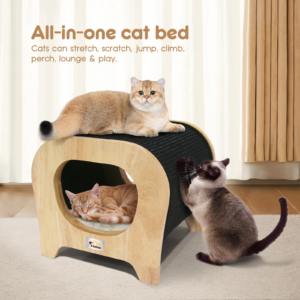 WAS: $149.95
Black Friday Frenzy Price: $59.95
This versatile cat scratching post toy bed serves as both a scratching surface and a cozy lounge spot, making it ideal for even the most choosy kittens. Crafted from durable rubber wood and high-quality sisal carpet, this cat scratcher offers the perfect texture for cats to indulge their natural instinct to scratch. The texture also, reminiscent of their playful kitten days, entices cats to use it repeatedly. Moreover, it provides a comfortable resting place for your cats to unwind and relax. This product is a win-win for both cats and owners, creating a happier and more peaceful living environment. Its eco-friendly construction ensures your cats' safety while they enjoy scratching and lounging.
3-Level Cat Tree Perch Scratching Post Climbing Tower Sisal Scratcher Play Gym Wooden Pet House Furniture 118.5cm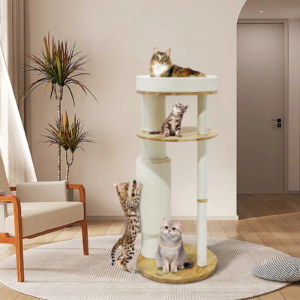 WAS: $249.95
Black Friday Frenzy Price: $129.95
Enhance the comfort of your beloved pets with the 3-Tier Cat Scratching Post Tower Tree, providing them with a perfect space to climb and relax. Thanks to its multi-level design, this cat tower allows ample room for your cat to freely jump around, keeping them entertained and avoiding any furniture, carpet, or door scratching. This cat furniture offers a variety of activities, including scratching posts, play areas, and cozy resting spots.
Its round base ensures stability, enabling your cats to engage in playful moments without any concerns. Crafted from long-lasting materials like rubber wood and sisal rope, our cat climbing tower guarantees durability throughout the years. Not only do they encourage healthy scratching habits, but they are also environmentally friendly and non-toxic. Moreover, our cat stand is easily portable and seamlessly blends with any room decor.
Conclusion
Now is the perfect moment to embark on your Black Friday shopping spree. In addition to the models we previously mentioned, BestDeals offers a vast array of products to choose from. Take advantage of incredible savings on household appliances, garden supplies, pet supplies, musical instruments, sports equipment, toys, and holiday decorations. Explore our website to discover remarkable discounts on the items you intend to purchase and add them swiftly to your shopping cart. Don't delay any longer, and relish in the benefits of the Black Friday sale!
Comments
comments