Christmas Presale 2022 | Save Over 90% on Gifts and Decorations for a Dazzling Christmas Season
It's never too early for the preparation of Christmas decorations and gifts. Actually, Christmas decorating and gifts can trigger positive memories and emotions from your childhood, making you feel happier and more comfortable. In addition, Christmas gift exchanging and decorating can help create a cosy ambience and enhance relations between your family and friends. As the year comes to an end, let the Christmas spirit fill your home and spread the delight to anyone around you. We have gathered up a list of Christmas hot deals and are selling them at the lowest prices, which is called Christmas Presale. There are Christmas Presale events happening during the holiday season by agents or brands. The Christmas Presale covers a wide range of categories and will last through the holiday season, but keep your eye on our Christmas Presale promotion and hurry up as what you need may be sold out soon.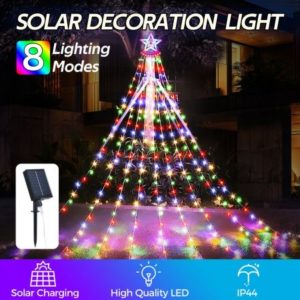 Christmas Presale Price: $39.95
Bring a strong festive ambience to your Christmas day with this solar LED fairy string light. Featuring a Xmas tree shape, the LED string light is completed with nine strands of lights and a star topper. Made of heavy-duty PVC and epoxy resin, this solar decoration light is durable, hard-wearing and safe for use. Furthermore, the light stands, including 350 LEDs, have a long lifespan, require less energy and deliver a multi-colour lighting effect. There are eight distinct settings to suit your different needs. Versatile and lightweight, the solar string light is suitable for various purposes and occasions, such as Xmas decorating, weddings, parties, celebrations, engagements, and more.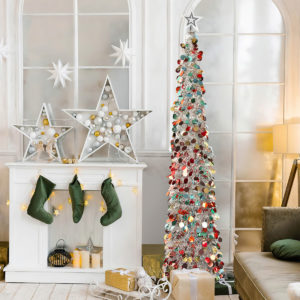 Christmas Presale Price: $39.99
Enhance the holiday atmosphere with this 1.5m Christmas pop-up LED-lighted tree. Coming with a star treetop and 50 LED lights, the Christmas decoration tree has a high-quality PVC structure for optimal sturdiness and long-lasting durability. Aside from elegance and exquisiteness, this Christmas tree with a pull-up design is easy to install within a few minutes and space-saving when put in a small box for the next holiday. Moreover, the Xmas lighted tree ornament is perfect for a wide variety of occasions, like the living room, dining room, patio, garden, office, and commercial sites.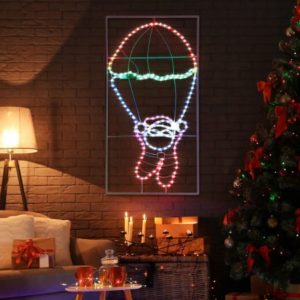 Christmas Presale Price: $99.95
Improve moods and trigger positive memories with this Christmas LED strip rope that features a waving Santa with a hot air balloon. It features clear lights in red, green, and blue. Measuring 100cm x 52cm, the LED bulbs are encased in clear PVC tubing that is waterproof and durable for continual use. Additionally, the Christmas decoration light is IP65 waterproof for indoor and outdoor use. What is more, the 220V-240V AU plug is for a brighter lighting result. The plug also has a 150cm power cord, making the Merry Christmas light easy to use. When it rains heavily, we suggest you move the Christmas lights inside or under the roof.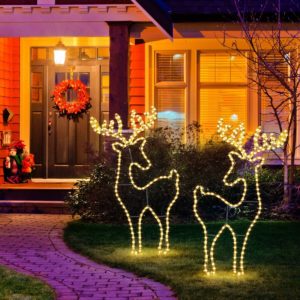 Christmas Presale Price: $109.95
Enjoy a brilliant light show on Christmas night with this Reindeer Christmas Light. The Christmas ornament comes with 180 warm yellow bulbs, forming a cosy and comfortable ambience. Thanks to the 220V-240V AU plug, the reindeer light has a brighter lighting effect. The use of clear tubing ensures this Christmas decoration is waterproof and durable for continual use. Furthermore, this Christmas light rope needs to be moved inside or under the roof when there is heavy rain. Decorative and lightweight, the Xmas strip light is suitable for any indoor or outdoor occasion. Also, the LED reindeer light is not only a perfect addition to Christmas or parties, but an ideal gift for your family members, friends, and colleagues.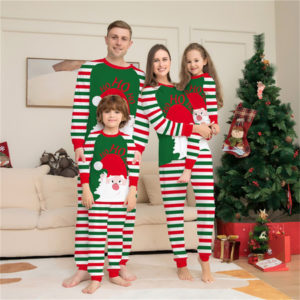 Christmas Presale Price: $19.99
Enjoy the festive season by wearing these Christmas pyjamas with your family. Featuring high-quality construction of polyester, cotton, and spandex, the Christmas sleepwear is soft, comfortable, and skin-friendly. There is no pilling and no fading. Furthermore, the Xmas pyjamas are elastic and easy to put on and off. It is also a perfect Christmas gift for your family and friends. Besides, this Christmas sleepwear fits different occasions, such as Christmas, Halloween, family gatherings, church events, holidays, birthdays, parties, and cosplay.
Christmas Presale Price: $189.95
Create a magic snow display during the holiday season with this Christmas LED street light. Standing at 180cm, the Christmas light decoration is loaded with creative effects of continuous drifting snow, 25 wonderful holiday songs, and LED lighting, Designed in classic red, the Christmas light post produces a strong and cosy holiday atmosphere to cheer up your surroundings. Featuring a Santa figurine inside the light and a sign of "LET IT SNOW" on the post, the Xmas ornament lamp emphasises the Christmas theme and festive enjoyment. Moremover, it is waterproof and hard-wearing to suit indoor and outdoor use, so you can place it in your home, garden, patio, terrace, balcony, porch, shop, or restaurant. Four ground stakes are included to help secure this Christmas snow lantern in place.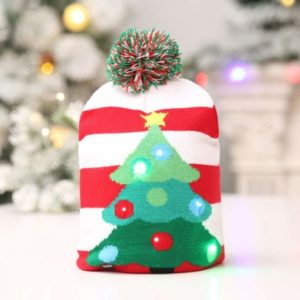 Christmas Presale Price: $16.99
As a nice holiday addition, this LED-lighted flashing Christmas hat is made of premium knitted fabric, which is soft, warm, and stretchy. There are three flashing modes, including slow flashing, strobe, and continuous, that you can change easily with a switch. This unisex knitted LED beanie with an elastic band can fit most people's head sizes, from kids to adults, or from women to men. The lightweight beanie is suitable for nightclubs, discos, karaoke, bars, banquets, parties, sports events, etc. Meanwhile, it is a great gift for Christmas, birthdays, New Year, and celebrations for your children, parents, lovers, or friends.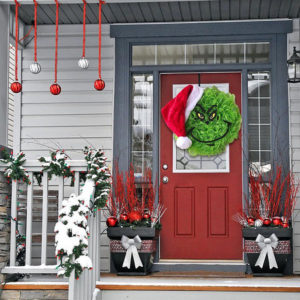 Christmas Presale Price: $49.95
Add a bright colour to any part of your home, like doors or walls. The Christmas garland is crafted of high-quality PVC, looking lifelike and adding a natural feeling to your home. The compact design allows for easy storage and wide usage indoors and outdoors. You can hang it on the front door, living room, fireplace, cabinet, window, shelf and other places you like. Plus, you can hang it on a covered porch to avoid exposure to sunlight and rain.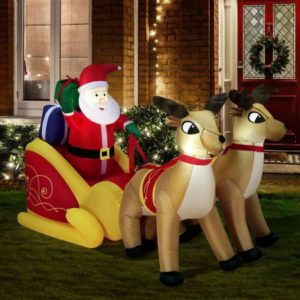 Christmas Presale Price: $129.95
Bring a cheerful Christmas to your home by putting this Christmas Santa Claus on Sleigh with two reindeer and gift decorations. Coming with the built-in bright LEDs, the Christmas decoration will light up the Xmas night and deliver a brilliant nighttime show. With a height of 220 cm, the Santa Claus on the sleigh is an ideal addition to your front yard, backyard, or garden. What is more, the Christmas inflatable ornament can automatically blow up with a built-in air blower. It is easy to set up within minutes. Thanks to six ground stakes, two poly bags and two 2.2m ropes, the Christmas decoration light will stay stably and safely outdoors.
10. Christmas Decorative 3D Hanging Lights 2PCS Christmas Window Lighted Window Decorations for Indoor Outdoor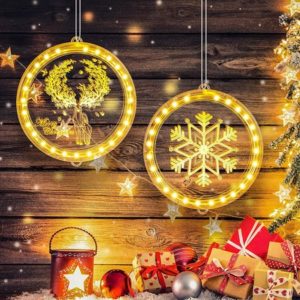 Christmas Presale Price: $29.99
Adopting a 3D design, the Christmas decorations with warm white lighting are beautiful and vivid, giving a pleasing visual effect and creating a warm ambience. It comes with two pieces of Christmas window lights in two different styles, which are cute and romantic for your parties. Besides, its patterns are full of Christmas elements to decorate inside and outside of your home. The combination of premium plastic and LEDs makes its overall look transparent and bright when lighted. Hang them at your doors to impress your guests and neighbours. Powered by three AAA batteries, this Xmas lighted window ornament is convenient to use.
Aside from the recommended products, there are a lot of hot picks sold at cheap prices at BestDeals during the Christmas Presale. You can save up to 90% on holiday products in different categories, not just the Christmas holiday products, but outdoor and leisure, bedding and bath, tools and auto, appliances, furniture, home and garden, pet supplies, musical instruments, children's toys, and more in this Christmas Presale promotion. Access our website to enjoy our Christmas presale!
Comments
comments