Digital Photo Frame Reviews | Transform Your Home into an Ever-Evolving Art Gallery with the Best Picture Frame
Nowadays, we have vast amounts of digital photos and videos stored on our phones, cameras, and computers. Gone are the days of flipping through bulky photo albums or awkwardly projecting slideshows on a TV screen. There is an innovative frame called the digital photo frame that has gained popularity in recent years.
It is a device that displays electronic pictures without printing them. The digital picture frame offers a convenient and dynamic way to capture and preserve our memories and treasured moments. Meanwhile, it shows off our favourite pictures and videos without the need for a laptop or smartphone.
In this blog post, we'll take a deep dive into digital photo frames and explore their features and benefits, in addition to the best and top-selling digital photo frames at BestDeals.
Features of Digital Photo

Frames
Digital photo frames come in different sizes, shapes, colours, and designs, and can be customised to match any home or office decor. They have varying features and functionalities depending on the manufacturer and model. Here are some of the common features of digital picture frames.
Display Resolution

: Digital photo frames come with different display resolutions, from VGA to Full HD. With a high-resolution display, these frames can effectively portray the vibrant colours and intricate details of the captured moments. Whether it's a picturesque landscape, a cherished family portrait, or a candid shot with friends, the digital photo frame ensures that your photos are displayed in all their beauty. The higher the resolution, the clearer and sharper the images appear on the screen.

Screen Size and Orientation

: Digital Photo frames range in size, from small 5 inches screens to larger 15 inches displays. Furthermore, some photo frames also support automatic screen rotation for portrait or landscape orientation. When choosing a digital photo frame, consider the size of the room and the distance from which you'll be viewing the pictures.

Memory Capacity

: The maximum storage capacity of digital photo frames with built-in storage can vary depending on the specific model. However, most digital photo frames with built-in storage have capacities ranging from four to eight gigabytes. Some frames may offer upgrade options to increase the storage capacity through one-time purchasing or subscription plans. Additionally, many digital photo frames also offer cloud storage options, allowing you to store your photos without worrying about maxing out the built-in capacity. Consider the number of photos you want to display and choose a frame with enough memory to store all your images.

Wi-Fi and Cloud Connectivity

: Some digital photo frames come with Wi-Fi and cloud connectivity, allowing you to access and display your photos directly from social platforms like Facebook, Instagram, or cloud storage services. With this feature, you can add or remove pictures remotely from your smartphone or computer.
Benefits of Digital Photo Frames
Digital photo frames offer a range of benefits that make them worth considering. Here are some of the key advantages of using digital photo frames.
 

Space-saving

: Traditional photo frames take up a lot of space and are limited to displaying only one photo. A digital photo frame, on the other hand, can store and display thousands of photos on a single device.

Versatility

: Digital photo frames can display a wide range of media, including photos, videos, and music. You can also customise your display by adding captions, filters, and transition effects. You can create slideshows with hundreds of photos, displaying them in a continuous loop.

Convenient to Change Up Pictures

: One of the biggest advantages of digital photo frames is the ability to constantly change the displayed images. Most picture frames offer Wi-Fi connectivity, allowing you to effortlessly add new photos to the frame from your phone, tablet, or laptop. Some frames even allow you to source pictures from social media platforms.

Easy to Update

: With a digital photo frame, you can easily update your photos without having to take down the frame or print new pictures. You can add or remove pictures remotely from your smartphone or computer.

Easy Sharing

: Digital photo frames tap into Wi-Fi networks, allowing you to access images from your computer, tablet, phone, or the cloud. Some frames come with cloud storage, making it convenient to show off extra shots on the frame's display. What's more, many frames allow you to create playlists and invite others to share or contribute pictures on a secure network, which is great for families or friends scattered across different locations.

High-quality Display

: Digital photo frames with high-resolution displays can render images with exceptional clarity and colour accuracy, enhancing the visual experience and allowing you to recall your memories in vivid detail.

Customisation

: With digital photo frames, you can easily personalise your display settings, such as adjusting the slideshow duration, selecting transition effects, and adding background music or audio to match your images.

Portability:

Digital photo frames are lightweight and portable, making them easy to move around and display in different rooms or places.

Multiple Viewing Angles

: With adjustable stands or wall-mounted options, digital photo frames can be positioned at different angles to accommodate various viewing preferences.

Energy Efficiency

: Compared to traditional photo frames, digital photo frames are more energy-efficient. They use LED-backlit displays and can be programmed to turn off or enter sleep mode when not in use to conserve power.

Remote Control

: Most digital photo frames come with a remote control, allowing you to easily change settings, browse through photos, and adjust display options without physically touching the frame.

Multifunction

: Many digital photo frames offer additional features such as video playback, audio playback, calendar, alarm clock, weather updates, and more, providing a versatile and integrated technology solution for your home or office.

Cost Effectiveness

: Traditional photo frames can be costly to purchase and print, while digital photo frames provide a cheaper and more sustainable option for displaying your cherished memories, allowing you to relive and share your past experiences in a more immersive way.

Multigenerational Enjoyment

: Digital picture frames can be enjoyed by people of all ages, bridging the generation gap and creating conversations and connections through shared memories.

Environmentally Friendly

: By opting for a digital picture frame, you can reduce the consumption of paper, ink, and other resources involved in traditional photo printing, contributing to a greener planet.
Best Digital Photo Frames at BestDeals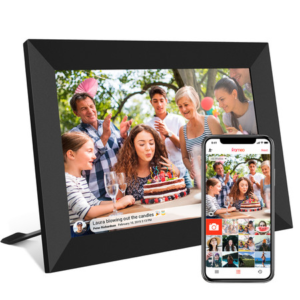 WAS: $199.99
NOW: $99.99
This 10.1-inch smart digital photo frame strikes a balance of utility and cost-effectiveness. Featuring a 1280×800 resolution IPS touch screen, the digital picture frame allows you to get an amazing visual from any angle and see the pictures clearly even at a glance. It supports picture formats of JPG, JPEG, BMP, PNG and video formats of MP4. Even better, this picture frame can automatically rotate photos to adjust the direction. Also, it comes with a detachable holder as a frame stand, allowing you to view the images in either portrait or landscape mode. You can mount it on the wall or place it on the tabletop.
Besides, this photo frame has versatile custom settings, such as play order, image zooming, hiding or publishing images, display caption, adjustable brightness, sleep mode, etc. Additionally, you can send photos or small videos directly to the Frameo app from anywhere in the world, and your friends and family can enjoy wonderful moments within seconds on this frame. It has unlimited free cloud storage and built-in 16GB memory, supports Micro SD cards to extend storage, and imports and exports images or videos. Available in a user-friendly interface design, the digital frame is easy to use for all ages.
WAS: $399.99
NOW: $199.99
This professional digital picture frame with a user-friendly interface is a perfect gift for your loved ones of all ages and for different festive days, such as Thanksgiving, Christmas, Birthday, Wedding Anniversaries, and more. You can capture every precious moment and hold onto memories lasting forever. The frame with a 1920 x 1080 IPS high-resolution touch screen ensures a high-quality display of images from all angles. Plus, a mounting hole allows it to be easily hung on the wall for a better viewing experience. It can also be used as an advertising board for the purpose of product marketing.
Meanwhile, the picture frame shares photos or short videos from your phone via the Frameo app and supports picture formats by JPG, JPEG, BMP, PNG and video formats by MP4. You can invite unlimited users to share photos to your frame and share images and videos to their frames as well. Furthermore, its auto-rotation function allows the photos to adjust the directions in either portrait or landscape orientation to fit the smart digital picture frame as you want. Moreover, the built-in 32GB storage with an expandable SD card slot allows you to share 40000+ photos with zero subscription fees. Both the frame and the APP are available in English, German, Spanish, French, Italian, and Japanese. Last but not least, its cloud servers are secure, encrypted and GDPR compliant, so you can rest assured that your photo stream is secure and private.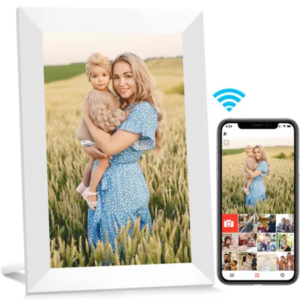 WAS: $199.99
NOW: $99.99
If you're looking for a unique and budget-friendly digital photo frame, look no further than this one. This 10.1-inch IPS HD touch screen with 1280 x 800 resolution can display amazing clear and vivid landscapes and portraits, recalling your valuable memories. You can browse through photos, delete videos, or pause the slideshow with a quick tap of the finger. Further, you can adjust the brightness and set the sleep mode as you want. Our picture frame holder can automatically rotate photos to adjust the direction, allowing you to place the frame in either portrait or landscape mode or on the wall. Its built-in 16GB of memory empowers a huge capacity of storage.
In addition, the image frame also supports a maximum 64GB SD card or USB driver for file management. Thanks to instant wireless sharing through the Frameo app, you can invite unlimited friends and family to share pictures to your frame or send photos to their frames all via WiFi. This smart digital picture frame boasts portability and ease of use, making it suitable for different people, especially the elderly who are not good at using smartphones to stay connected with the younger generations.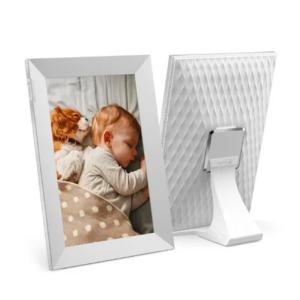 WAS: $199.99
NOW: $129.99
Enjoy and share your favourite memories with family, friends, and guests by using this touchscreen smart digital photo frame. You can send photos and videos directly to your family wherever they are via the iOS or Android mobile app, desktop web app, and email. Additionally, you can import pictures from Google Photos, Facebook, and Instagram. The picture frame can be wall-mounted or settled on the tabletop and can be displayed in either portrait or landscape ways. Its built-in smart sensor will wake the frame when you're in the room and sleep the frame when you're absent. Upon waking, the frame will always show off the most recently received photos or videos even if it gets disconnected from the Wi-Fi.
Better still, it allows you to create fun playlists to celebrate weddings, graduations, birthdays, and family vacations. Meanwhile, this photo frame uses proprietary software and artificial intelligence to automatically position people near the centre of the frame for the best viewing experience. Plus, our HD IPS display works to deliver the widest viewing angle while still maintaining crisp and vibrant colour reproduction of your images and videos. More importantly, the cloud storage is located on secure and encrypted servers, so it gives you peace of mind that your photo stream is safe and private. 
Conclusion
Overall, digital photo frames are an excellent and visually appealing way to display and relive your favourite memories without having to print photos and take up space. Choosing the right digital picture frame depends on your preferences and requirements. Consider factors such as display resolution, screen size, memory capacity, and Wi-Fi connectivity when selecting an image frame. With the right placement, organisation, and display settings, you can enjoy your pictures and videos with ease, joy, and flexibility. A digital photo frame is perfect for any home or office, and it is a must-have for anyone who loves taking pictures and shooting videos.
Comments
comments