Winter Sale 2022 | Discounted Must-Haves to Go Well with Winter Chill
Winter is a season full of shivering and coldness, which may cause people's paleness, fever and blues. There are a large number of methods to beat the winter chill and make you and your pet feel comfortable and warm, such as enjoying the warmth from an electric heater, eating a tasty meal, sleeping in a heated bed, drinking hot water or drinks and so on.
Shoppers and retailers usually use the winter months to promote or clear out old stock. It is called the "winter sale". Now we have reviewed and chosen the most popular products at BestDeals for you to get well with winter, including the electric heater, fireplace, tower heater, heated towel rail, BBQ grill, hot water urn, air fryer, pet bed and pet hair dryer.
All the products are selected according to their build quality, safety, convenience, performance and other important functions. Hope you enjoy the winter sale 2022 and shop the great deals that you need with massive savings!
For People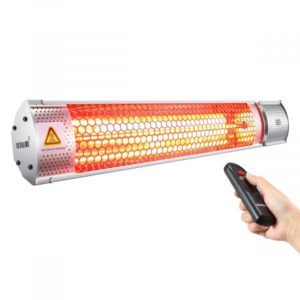 Original Price: $289.95
Winter Sale Price: $159.96
Enjoy comfy warmth on chilly days with this Maxkon electric outdoor heater. This electric heater capitalises a halogen tube and a high-rated aluminium reflector to deliver instant heat within five seconds, providing you comfort and cosiness whenever you need it.
Using infrared heating technology, the heater is more efficient, energy-saving and environmentally friendly. Plus, this infrared electric heater is lasting with a longer lifespan of about 10000 hours. Coming with a sturdy aluminium structure, the outdoor heater is IP65 weatherproof for indoors and outdoors and easy to operate with a simple press of the switch.
Equipped with a strong 2000W power, the patio heater is able to heat a space up to 30 square metres, making it suitable for plenty of household and commercial sites. High-end and modern, this infrared heater perfectly matches your home style and the interior decors.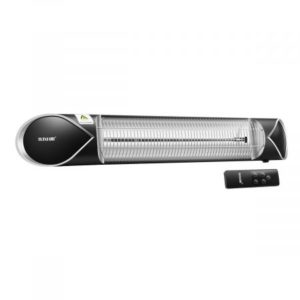 Original Price: $339.95
Winter Sale Price: $269.96
Enjoy a warm winter afternoon tea on your balcony with this Maxkon electric instant heater. Adopting the carbon fibre technology, the heating tube of this heater produces a large amount of heat quickly at a power of 2000W and could minimise the oxygen consumption and moisture loss in the air. It delivers invisible infrared thermal light rays and creates direct heat from five to ten seconds, which is harmless to pregnant women, children and pets.
This patio heater constructed of aluminium housing is wall-mounted to save space and prevents heat loss. Better still, you can adjust its bracket to different angles for infrared directional warm-up. Since the infrared heater is IP55 rated, it is designed to be installed both indoors and outdoors, perfect for homes, BBQ areas, garages, patios and decks with roofs.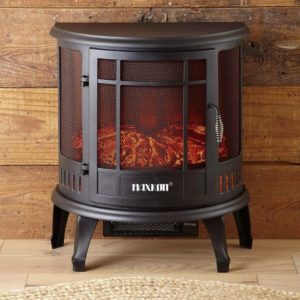 Original Price: $399.95
Winter Sale Price: $279.97
Available in a classic design, this electric fireplace highlights the realistic wood-burning effect and dancing flames, adding a contemporary and unique touch to any type of area, such as your guest room, basement, garage, office, living room and bedroom. The lightweight and portability allow you to move this fireplace from room to room.
As it has an automatic shut-off function and a cool surface even during heating, the heater is overheating resistant and safe to touch, which is friendly to families with seniors, children and pets. This quiet and fan-forced heater has easy-to-adjust settings for even heat distribution.
Users can enjoy the warm glow of the flames all year round without any concern about burning odours and choking smoke. This unit can reduce your electric cost by consuming over 90% less energy than gas. With a long cord, the heat produced by the hearth can cover an area of up to 200m².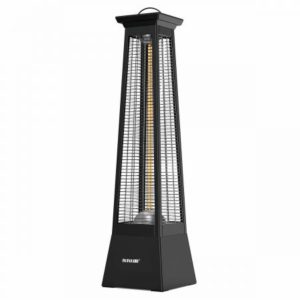 Original Price: $449.95
Winter Sale Price: $199.96
This Maxkon patio heater can emit heat in all directions with a 1.8m radius to create a warm and cosy space for you, which is ideal for parties with family and friends. The integration of a handle and lightweight design makes the heater easier to move around. Using the advanced carbon fibre infrared heating tech, the Maxkon heater provides instant warmth in five to ten seconds.
Compared to a traditional fan blow heater, this model is hardly affected by outside elements giving steady heat. Thanks to the higher efficiency and precise heating, the heater can save about 40% to 60% of the electricity bills. To avoid strong wind and accidental collision, the electric heater comes with a sensor that will automatically shut off once is tilted or tipped at 45 degrees.
For ultimate safety, the outdoor heater will be turned off when the temperature is too high. The heater works quietly without any noise or disturbance during gathering or sleep. This heater is IP44 waterproof and crafted of aluminium to suit all weather conditions, allowing you to enjoy comfortable warmth on rainy or snowy days.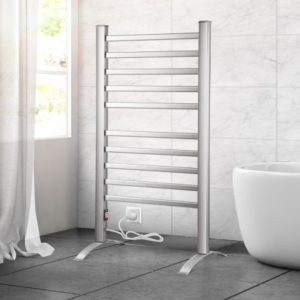 Original Price: $189.95
Winter Sale Price: $99.96
Dry up your towel or robes by simply turning on this electrically heated towel rail that can reach an optimum temperature range of 40 to 50 Celsius degrees within 30 minutes. There is a switch with a safe cover and light indicator to show whether the warmer is on and heating up or not. Made with heavy-duty and lightweight aluminium, the heated rack is sturdier and more durable than the chrome or bronze racks.
You can place multiple towels and robes on its 10 heated crossbars. Moreover, the built-in thermostat maintains the temperature safely and conserves energy. Not only does create warmth for washcloths and bath towels, but this piece will fit well with your home and decors. The 2-in-1 design makes this heater freestanding or wall-mounted for bathroom, laundry room and other available spaces of your home.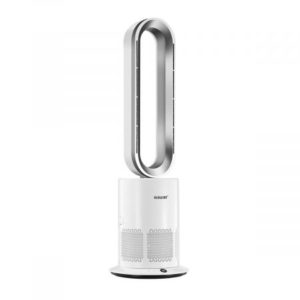 Original Price: $799.95
Winter Sale Price: $399.95
This bladeless tower fan is exactly versatile for all-year-round use, which can quickly heat the whole room in winters and keep you cool in summers. The highlights include 120-degree rotation, a nine-hour timer, LED touch operation and convenient remote control, ensuring ease of use, ultimate convenience and flexible practicability.
The smart Germany BIO plasma sterilization disinfection purifier with the high electric voltage helps produce positive and negative ions, effectively resisting most harmful germs in the air. At the same time, the fan can accurately indicate the air quality by changing the LED light colour. What is more, the True HEPA H13 filter can remove 99.9% of particles, dust, pollen, pet dander and more, which is friendly to those with allergies or rhinitis.
Its intelligent thermostat monitors the room to reach and maintain the selected temperature in the heat mode without wasting energy. Last, the fan heater has no exposed heating elements, hence you do not need to be fearful of the burning smell and fast-spinning blades.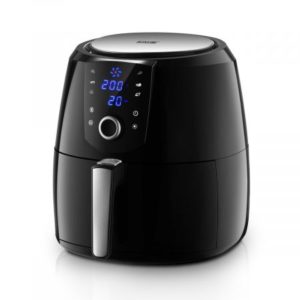 Original Price: $259.95
Winter Sale Price: $129.97
Enjoy your winter by eating your favourite fried food in a healthier and tastier way with the Maxkon air fryer. This air fryer machine not only saves you on cooking time but also makes crispy and just-creasy-enough foods with less oil. There are seven preset cooking modes for option. You can manually adjust the temperature and time to control the cooking effect according to your taste.
The temperature control range is 80-200 Celsius and the timer ranges from 0 to 60 minutes, which can be best suited for cooking different types of foods. Featuring a detachable basket, the cooker helps to separate from the oil while allowing you to put food in and out of the fryer handily and safely. In addition, the non-stick coating pan makes the cleaning a breeze. Built with a keep-warm button, it can keep warm two hours after cooking is finished.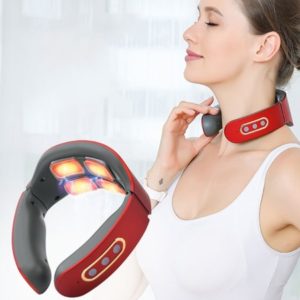 Original Price: $79.95
Winter Sale Price: $49.99
This heated 4D smart cordless neck massager is built with magnetic stones and a hot compress function, delivering deep and comprehensive massage. It can effectively improve blood circulation, soothe tired muscles and relieve aches thoroughly. The heated massager comes with sic massage modes and nine-speed levels, including acupuncture massage, Shiatsu massage, kneading massage, Tuina massage, beating massage and combination massage.
The U-shaped ring design with four extended electrode pads fits your neck curve and helps reduce soreness and fatigue. In addition, the ergonomic and lightweight design allows for easy transport and versatile usage, hence users can use it at home, in an office, on an aeroplane or in a car. And it is suitable for winter use and avoids sweating because of the heating function.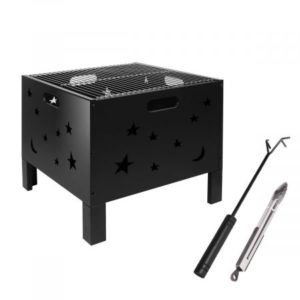 Original Price: $179.95
Winter Sale Price: $89.88
Use this fire pit for cosy warmth during the freezing winter while enjoying the wonderful BBQ time with your family or friends. The fire pit is constructed of upgraded robust steel, which promises reliable durability and excellent rust resistance. The sturdy bracket ensures stability and firmness on windy days. This multifunctional fire pit can serve as a BBQ grill as well.
Compatible with wood and charcoal to light a fire, this 20 inches fireplace is efficient, space-saving and energy-saving. Thanks to the ventilation design, the brazier ensures maximum exposure of fuel to oxygen, making it easier to light and burn longer. With bonus poker and tong, this outdoor fireplace is easy to assemble and transport, making it suitable for camping, backyard gatherings and any other outdoor occasions.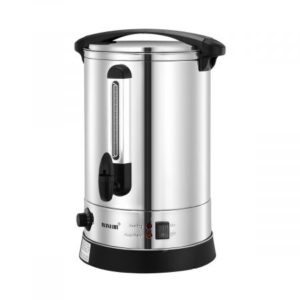 Original Price: $299.95
Winter Sale Price: $179.96
Eliminate the need of using kettles to heat up the water with the Maxkon instant hot water urn. It also keeps hot water handy whenever you want, particularly during the cold weather. Featuring a large 20L volume, the water urn can serve plenty of water at a single time, saving you time and effort in frequent filling water. The two-layer stainless steel wall ensures unparalleled insulation for hot and cold water.
This hot water dispenser can work as a heater or thermos urn with indicator lights, allowing you to regulate the water temperature from 30 Celsius degrees to 110 Celsius degrees, satisfying different demands in various situations. Also, the water dispenser comes with a lockable safety lid for added safety, which is perfect for households with the elderly, pets and children. This hot water urn is perfect for serving coffee, tea, hot cider and more.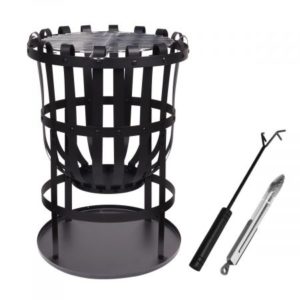 Original Price: $169.95
Winter Sale Price: $59.88
Make your patio a multi-season space with this outdoor fire pit BBQ grill. Thanks to the robust steel construction, the fireplace is heavy-duty, durable and corrosion-resistant for years of outdoor use. Moreover, the sturdy bracket keeps this brazier stay stable and firm during windy days. This is a 2 in 1 fire pit that can be used as a BBQ grill for wonderful outdoor leisure time.
Both wood and charcoal can be used to light a fire, which is economical and saves your electricity cost. Portable and compact, the outdoor heater is easy to empty and clean. Furthermore, it is easy to assemble and transport, ideal for camping, backyards, gardens, patios, parties and other outdoor occasions.
Heated Scarf USB Heat Shawl Electric Warm Neck Wrap Pockets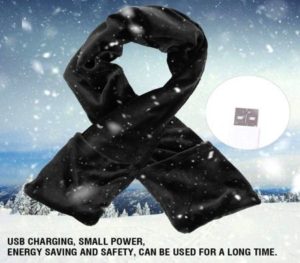 Original Price: $79.99
Winter Sale Price: $39.99
This heated scarf is the best fit for winter. If you suffer from neck stiffness and pain because of the chilly weather, you can use it as a heating pad to relieve yourself. With a total weight of 9oz, this lightweight heating shawl is made of super soft and skin-friendly velvet, which is comfortable to wear and you will not feel cold in winter whether you are indoors or outdoors.
This heated scarf could warm you up in minutes with a heating temperature range of 45 Celsius degrees to 60 Celsius degrees. It fully charges for three to four hours and works up to two hours at the highest heating mode. There are three heating levels available. This neck wrap heated scarf is the perfect gift for your family or friends for winter.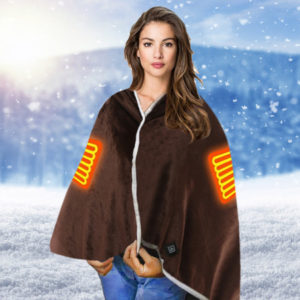 Original Price: $69.99
Winter Sale Price: $49.99
The warm fleece mat is a must-have for winter when you are watching television in the living room. The carbon fibre heating material has good thermal conductivity and heats up quickly after being inserted into the USB port. The heater part is thicker and dissipates heat evenly. Press the witch to warm up the mat for five to eight minutes before use.
This heating mat has three temperature adjustment levels, with 25 degrees for saving energy, 35 degrees for comfort and 45 degrees for warmth. Just use this electric blanket to cover your knees, wrap your waist or hang it on your shoulders to make you feel comfy. It also serve as a knee pad. Measuring 170cmx70cm, this heating blanket is skin-friendly and machine washable. Also, it is wear-resistant, practical and energy-saving.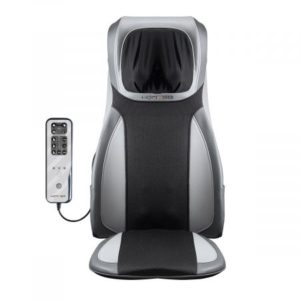 Original Price: $299.95
Winter Sale Price: $229.97
This air shiatsu massage cushion will provide a soothing and comfortable massage when you have joint or muscle pains caused by the winter chill. It has 12 nodes, offering kneading massage, rolling massage, point massage and hip vibration massage. The lengthened neck massage node makes you feel more comfortable. Meanwhile, there are three back massage ways for options. Better still, the heating treatment and vibration function are beneficial to your muscle groups and blood circulation.
Furthermore, the specially designed 3D S frame perfectly fits your back curves, giving your back a good deep-tissue massage and greatly alleviating stiffness and tensions. For safety and protection, this massage chair has a 15-minute auto shut-off design. You can easily customise your massage programme by using the handheld remote controller.
For Pets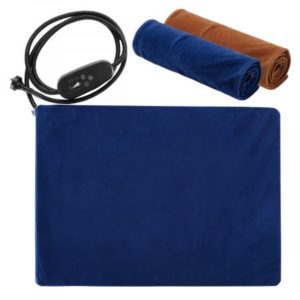 Original Price: $189.95
Winter Sale Price: $79.98
Ensure your dogs or cats feel cosy and soothe sore joints by using this pet heating pad. This heated pet bed is friendly for animals that are newborns, seniors, pregnant or recovering from surgeries. Built with a chew-resistant cord casing and waterproof PVC enclosure, the heated dog pad ensures superior safety for your four-legged animals.
The pet electric heater comes with six temperature levels to adjust from 30 Celsius degrees to 55 Celsius degrees. With a thermal protector inside, the warming mat can prevent high temperatures from hurting your pets. The visible LED indicator will display the heat levels of the pad precisely. The included soft and removable fleece cover is easy to clean by machine or hand for maximum hygiene.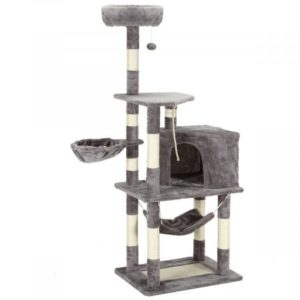 Original Price: $229.95
Winter Sale Price: $79.98
Spoil your feline friends and let them sleep in the ultimate comfort during winter with this large cat scratching post tree. With a height of 153cm, the cat house has a roomy condo and a large hammock, offering a luxurious napping experience. In addition, the soft perches with raised edges ensure your furry friends rest on its head while observing the surrounding.
Made of CARB-certified natural particleboard and strengthened with battens at the bottom, this cat scratching tower boasts reliable stability and super safety. Also, the anti-toppling fittings work for double security. The reinforced posts are wrapped with natural sisal rope to allow nail scratching and exercise. Your cats can jump around in this playhouse to stay active and healthy.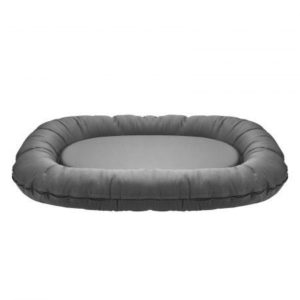 Original Price: $149.95
Winter Sale Price: $54.97
Coming in an extra-large size, this dog calming bed is suitable for dogs and cats of different sizes and shapes. Thanks to the high-density foam filling, the dog bed is soft and elastic enough to create a comfortable rest spot for your four-legged animals. Your pets will love this sofa bed that has supportive bolstered edges for them to align the spine and elevate the head.
Thoughtfully designed with perfect contours, the dog calming bed can perfectly fit the shape and weight of your animals. The detachable cover made of waterproof polyester fabric is washable for ultimate hygiene and comes with tough stitching for durability. Plus, there are dual zippers on the cover for easy removal.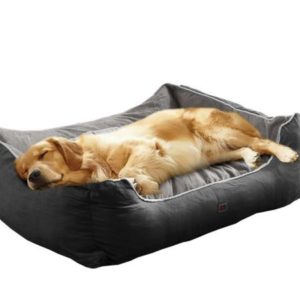 Original Price: $139.95
Winter Sale Price: $129.96
Get this premium and comfortable bed for your pet to enjoy warm wintertime. Completed with soft cotton and high-quality polyester, the dog bed is durable and supportive, giving your pet pressure-relieving relaxation and restful sleep. Its cuddle design encases the sleep surface with pillow-like walls offering a sense of security and enhanced comfort.
Measuring 100cmx80cmx29cm, the pet cushion is large enough and suitable for different-sized pets, allowing them to stretch, sleep or curl up with comfort. This pet mattress with a removable cover is easy to wash. You can just simply chuck it into a washing machine.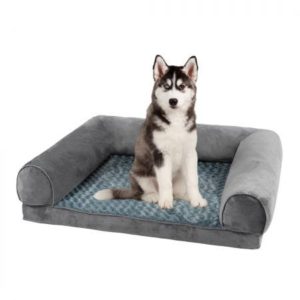 Original Price: $189.95
Winter Sale Price: $169.96
Let your pet immerse in the cosy comfort during cold days by using this XL pet bed. This model has the construction of breathable velvet and premium oxford fabric material, providing exceptional comfort for your furry children. The soft bolstered edges contribute to great head and back support.
Besides, the anti-slip bottom works for unparalleled stability without any accidental slippage. The exquisite craftsmanship ensures this model can serve your pet for a longer period. This pet mattress contains two zippers for easy access to the mattress and bolsters. Moreover, the pet sofa bed is ideal for any small to large-sized pets.
Original Price: $59.95
Winter Sale Price: $39.95
This multifunctional pet hair dryer can blow dry and groom your dog's hair. Coming with protected RVS steel wire, the model combining a dryer and a comb can effectively remove tangles and dead skin dirt and does combing like a massage. What's more, the needle comb is made of 304 stainless steel for long-lasting durability.
Since the drying and grooming can be done at the same time, this pet hair blower can greatly save you time and energy. There is a detachable filter to separate animal hair and protect the hair dryer. The built-in wind regulation design allows you to set the appropriate wind force according to the pet size. The dog hair dryer is safe, skin-friendly and gentle, giving your pet a comfortable grooming experience.
Conclusion
If you want to save money during the 2022 winter sale, you have come to the right place. In addition to the recommended items, there is a large stock of winter products covering different categories available on BestDeals for pets, children and adults. With our products, you can prepare your body and mind against the harsh chills of winter. If you have any questions, please contact our customer service team.
Comments
comments