DIY Easter Bonnet Ideas | 16 Unique & Easy Easter Bonnet Hats for Kids
Easter bonnets have become the ultimate accessory for Easter, which are especially indispensable for the Easter bonnet parade during the school year. Easter hats are timeless and always in style, making them an ideal addition to your kids' outfits. Before selecting the Easter dress for your children, remember to choose a magical and enchanted Easter bonnet to complement their looks. Easter is around the corner and here are 16 Easter bonnet ideas for you and your kids to make at home.
Nest Easter Hat
Easter represents a new life, a fresh start, and all things related to birth, such as nests. The nest Easter hat looks charming and aligns with the theme. Even though this Easter bonnet hat looks impressive, it is not as complex as you might imagine.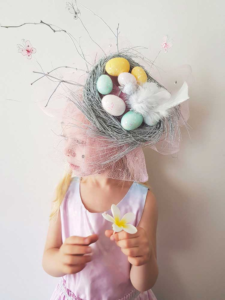 Tutorial: Now That's Peachy
What you will need:
Craft glue
Wide headband
Small, hard branches
Soft tree branches
Needle and thread or stapler
Craft bird
Foam eggs
Felt or foam
Tulle
Thin wire
Bunny Ears
Adorable and easy to make, this bunny ear design is an excellent alternative for children who are not keen on wearing hats. You just need a headband and some bias tape, and you can create these charming ears in no time.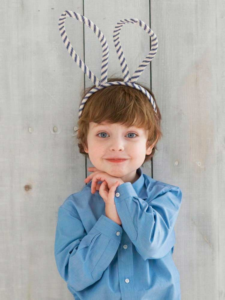 Tutorial: Country Living
What you will need:
Bunny Bonnet
Wearing these cute Easter bunny bonnets for the school parade will cheer up the excitement of your toddler. These Easter bunny hats are super easy to make, plus you can use them for birthday parties as well.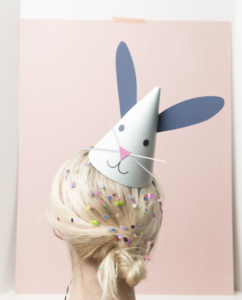 Tutorial: The House That Lars Built
What you will need:
Cardstock in various pastel shades
Permanent marker
Easter bunny party hat template
Scissors
Glue dots
Craft knife
Twine
Bumble Bee Easter Parade Hat
This bumble bee hat has a vigourous feel and leaves kids buzzing with excitement. It will make your preschooler stand out from the crowd.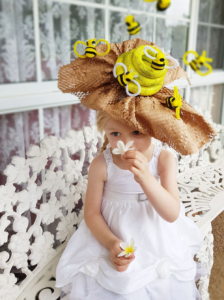 Tutorial: Now That's Peachy
What you will need:
Preschool toy ring stacker toy
Craft pipe cleaners
Sequins
Paint and glitter
Wire
Stapler
Craft glue
Premade craft pompoms in different sizes
Easter Egg Bonnet
This colourful and fun Easter egg bonnet will catch your children's attention and help them indulge in celebrating the festival. Your younger children will love it!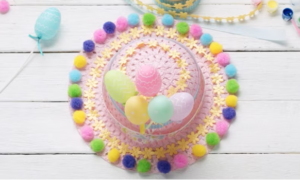 Tutorial: woolworths
What you will need:
Bonnet hat
Coloured foam sheets
Egg lollipops
Various Easter ribbons
Coloured pompoms
Hot glue gun
Glue sticks
Scissors
Bunny Flower Crown
This bunny flower crown is a chic and cheery addition to complete your kids' Easter ensemble. All the elements of the bonnet can reflect the beauty of the season and the enjoyment of Easter.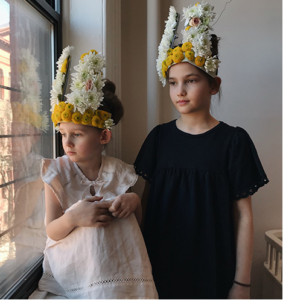 Tutorial: alexandalexa
What you will need:
Pen
Scissors
Cut flowers
Glue
Stapler
Elastic waistband
Carrot Hat
Your children will love this adorable and hilarious parade hat design that is one of the coolest Easter hats.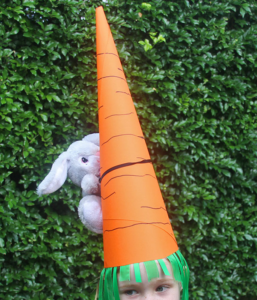 Tutorial: childhood101
What you will need:
Large piece of orange card
Green ribbons or streamers
Stapler and sticky tape
Toy bunny and something to attach the bunny to the carrot with
Black or brown marker
Elastic for the chinstrap
Easter Basket Case
This unique basket bonnet is easy to make and suitable for girls who love pink. It will bring a smile to any young girl's face.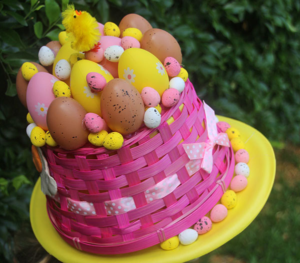 Tutorial: childhood101.com
What you will need:
Basket
Collection of plastic or Styrofoam eggs in various sizes
Hot glue gun
Foam hat
Elastic or ribbon for the chinstrap
White and yellow plasticine
Happy Easter Chicken Land
Add a touch of Easter cheer to your kids' outfits with this Easter chicken hat. Wearing this playful and unique bonnet will make your little one the centre of attention. Watch your child's face light up with joy!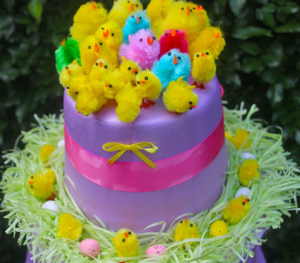 Tutorial: childhood101
What you will need:
Hat with a rim
Easter chicks in all sizes and colours
Shredded tissue paper
PVA glue
Ribbon
Easter Jester Crown
Make your kid's Easter parade memorable with this vibrant and playful jester crown. It is perfect for any school parade or Easter hat competition. This crown helps your child feel like the king or queen of the event.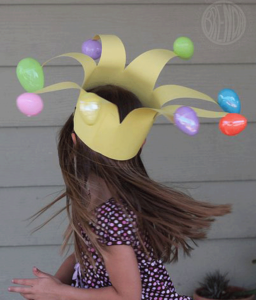 Tutorial: alphamom
What you will need:
Some plastic Easter eggs that pop open in the middle
1 Yard of craft yarn
Flowers and chenille stems for embellishment
Hot glue gun
Dinosaur Crown
Make sure your child's Easter roars with excitement with this cute dinosaur crown. It will bring your little one to a world of prehistoric adventure.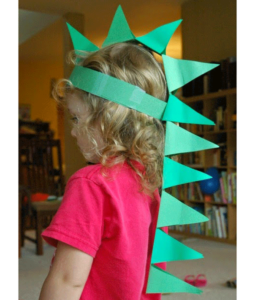 Tutorial: paper-and-glue.com
What you will need:
3 sheets of green construction paper
Glue stick
Scissors
Tape
Giant Pom Pom Bonnet
This Easter pom-pom bonnet will make a great addition to the Easter costume or festive attire of your children for any Easter activity. The bright colours give it a bold and vibrant look, making the crowd get a lasting impression on your child.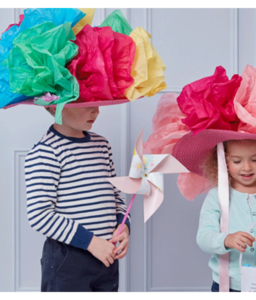 Tutorial: hobbycraft
What you will need:
Double-sided sticky tape
Tacky glue
Scissors
Light pink double-faced satin ribbon
Bunny Rabbit Easter Bonnet
Get ready to hop into Easter with this bunny-themed Easter bonnet. With this hat, your kids will involve themselves in Easter egg hunts, parades, and other outdoor activities.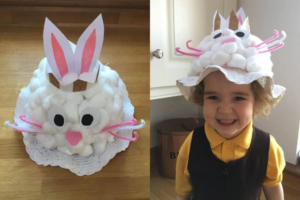 Tutorial: madeformums
What you will need:
Hat
PVA glue
Lots of cotton wool balls
Stiff white card
Glitter or glitter pen
Sticky tape
Pink felt-tip pen or crayon
Black felt-tip pen or crayon
Pipe cleaners, white and/or pink
Easter Top Hat
Celebrate the Easter season in style with this fantastic Easter magic top hat. Whether your kid is dressing up for parades or enjoying the holiday with classmates, it is perfect to add some festive flair to their outfit.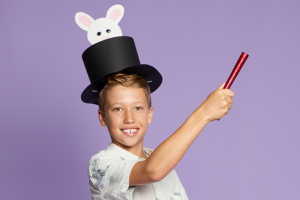 Tutorial: officeworks
What you will need:
Black board
Adhesive googly eyes
White board
A4 board pastel
Scissors
Glue stick
Craft glue
Floral Chic
Elevate your child's look and Easter outfit with this parade bonnet. It is carefully crafted with a touch of elegance and exquisiteness.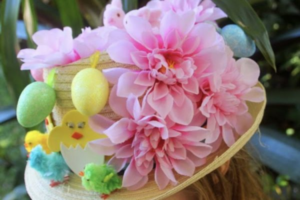 Tutorial: At Home With Ali
What you will need:
A hat with a wide brim
Silk flowers
Styrofoam eggs in assorted colours and coordinating ribbon
Chicks in assorted colour
Small pink bunnies
Foam cut-out chicken shapes or similar
Strong craft glue or a hot glue gun
Cheeky Chicks
This cute chicken bonnet is sure to turn heads and leave a lasting impression on everyone that your child meets. The cheeky chicks hat is easy to make.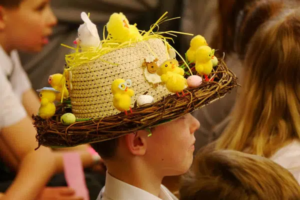 Tutorial: northshoremums
What you will need:
A hat with a wide brim (frayed edges are a plus)
About 6 fluffy toy chickens and another 6 baby chickens
Shredded paper
A round of cardboard to fit the top of the hat
Easter ribbon
Craft glue, stapler
When it comes to Easter crafts, decorations, and gifts, BestDeals has a large stock of Easter gadgets, toys, and supplies. Easter 2023 is around the corner, and this holiday will be one of the best opportunities to find great deals on big sales. Scan through our website to see the discounts, and add what you need to your shopping cart for a fantastic Easter. Beware of waiting too long; you may end up with only a few models to buy.
Comments
comments