Easter Sale 2022 | Enjoy at Least 50% Savings on Home, Kitchen, Toys, Pet Supplies & More
Easter 2022 is right around the corner. If you still need to pick up last-minute goodies, you've come to the right place. Whether you are shopping for yourself, your family or friends, BestDeals provides trendy and high-quality products and has a variety of Easter discounts and savings. We rounded up tons of great deals on home, kitchen, toys, pet supplies, garden and more. Not sure what you're looking for? Check out our list of the Easter sale.  
Enhance the organization, maximize the convenience in your life, and upgrade your life quality with various home supplies.
TV Stand Storage Cabinet Television Unit Modern Living Room Furniture High Gloss Front 1 Drawer (Easter sale discount: save 53%)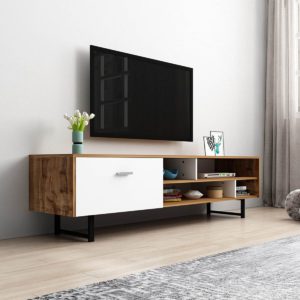 This TV stand with a storage cabinet will be the best option for a modern living room. Equipped with a drawer and open compartments, the TV cabinet provides different kinds of storage areas to store your items such as toys, books, ornaments, snacks, toys, etc. Apart from its unique storage function, the TV storage cabinet is built with a high gloss drawer face and other parts in a matt finish, giving your living area an added character and aesthetic appeal. Additionally, made of high-quality particle board, this television cabinet is designed for continual use and easy maintenance. Its simple design makes the assembly of the storage unit easy as a breeze.
Maxkon 300W Cordless Vacuum Cleaner 25KPa Stick Handheld Vac with HEPA Filter for Car Floors Furniture Stairs Pet Hair (Easter sale discount: save 53%)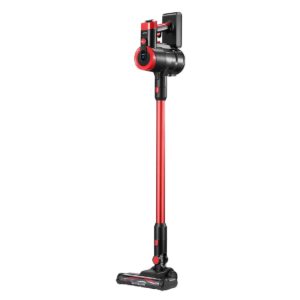 This Maxkon Cordless Vacuum Cleaner is a go-to stick vacuum that delivers the freedom and versatility for quick and thorough cleanups on almost all floor types such as carpet, area rug, tile, wood and marble. Combining a powerful 300W motor for maximum super 25KPa suction with wireless convenience, this stick vacuum cleaner makes vacuuming around your home a breeze, easily sucking pet hair, dust, debris and particulates from floor to ceiling. It has a lightweight but durable construction partnered with a long-lasting 2000mAh lithium battery for up to 30 minutes of runtime. Better even, the cordless stick vacuum can be easily converted into a handheld vacuum for cars, stair gaps, upholstery, narrow spaces and hard-to-reach areas. Do your daily cleaning chores without worrying about interference to others thanks to its lower noise level than 80dB. Lastly, a five-stage filtration construction with the high-density HEPA filter of the best cordless vacuum can capture 99.9% of the fine dust and microscopic particles for a cleaner and healthier environment.
Kidbot Kids Toy Box Wooden Storage Chest 80x40x44.5cm Crocodile Pattern Blue (Easter sale discount: save 73%)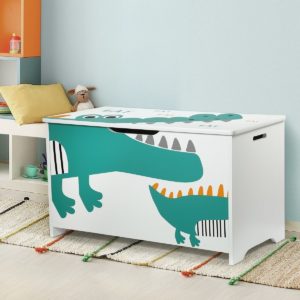 This toy box is a must-have for families with children as it can easily store toys, storybooks and dolls without any mess, saving your time and labour on house cleanups. This wooden chest has lovely patterns that fit perfectly in children's rooms. Tested and qualified by the German Safety Testing Standard, the paint of this toy box is non-toxic, harmless and eco-friendly, making it suitable for children. The large size design allows this box to accommodate plenty of stuff such as toys, clothes, pillows, blankets and other items. What is more, there are other safety features including secure hinges for soft closing and opening and a front groove for easy access. Shop this wooden storage chest to declutter your house for a better home organisation.
Modern White Leather Storage Bed Frame with LED – King (Easter sale discount: save 52%)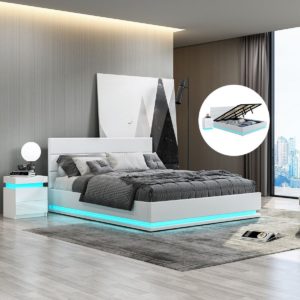 Give your bedroom a classy, modern design and style with this PU leather storage bed frame in a variety of colours and sizes depending on your requirements. Constructed using the highest-quality leather, foam and plywood materials, the bed frame offers you the durability necessary to last for years to come as well as functionality and style. The premium pneumatic gas lift arms are made for easy opening while the 15mm thickness of plywood ensures a high load-bearing capacity. The under-mattress storage area provides you with large storage space for extra pillows or bedding. Aside from the convenient storage, the area is also lighted with LEDs for easy viewing. It is best suited for any type of bedroom.
HOMASA Massage Chair 4D Electric Massager Zero Gravity Recliner with Bluetooth Speaker Grey (Easter sale discount: save 53%)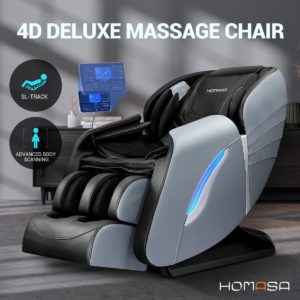 Experience a whole new level of relaxation with this HOMASA 4D Electric Massage Chair. Compared with the general massage chairs, it is characterized by a 4D roller with deep tissue massage, delivering a more comfortable massage experience. The 4D electric massage chair features a sophisticated 130cm SL type guide rail that can massage your head, neck, shoulder, back, waist and hip. Owing to its zero-gravity massage technology, the massage recliner will automatically move to an optimized posture position. Seven massage simulations make this massage chair a massaging master. In addition, the electric massager has 40 airbags for your shoulder, butt, arm, calf and feet. With a 3D Bluetooth speaker, you can listen to music when the Bluetooth is connected.
Kitchen
Adding some small but useful gadgets to your kitchen can not only create some convenience but also improve your lifestyle. 
Kitchen Shelf Microwave Oven Rack Stand Organizer for Utensil Tableware Condiment (Easter sale discount: save 60%)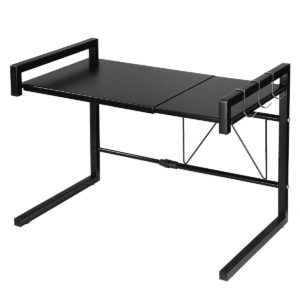 Use this kitchen shelf to neatly organize your microwave oven or other cookware. The sturdy carbon steel structure is integrated with extendable arms and four anti-slip suction cups on the bottom of the rack, highlighting a classic black finish, which is not easy to rust and wear. Featuring a large capacity of 50 kilograms, this kitchen rack is perfect for holding your treasured plates, crockery, mugs, or a variety of spice jars. Included are three removable hooks for spoons, shovels, turners and more. Just wipe it with a soft cloth regularly for prolonged use.
Gas Cooktop 4 Burner Gas Hob Black Tempered Glass Top Gas Stove NG LPG (Easter sale discount: save 57%)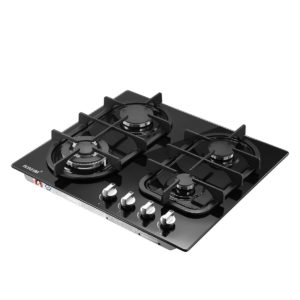 Make cooking more efficient and less time consuming with this gas cooktop. Adopting exquisite technology, the cooktop is completed with an automatic ignition system, premium tempered glass tabletop and heavy cast iron pan stand. There are four powerful burners including a triple ring work burner, a rapid burner, a semi-rapid burner and an auxiliary. Hence you can prepare varieties of dishes at the same time. Great for frying pans, stainless pots and enamelware and more, the gas hob allows you to use with natural gas or liquefied petroleum gas for maximum convenience.
Multifunctional 14L Oil-Less Air Fryer Convection Toaster Oven 16 Cooking Presets (Easter sale discount: save 65%)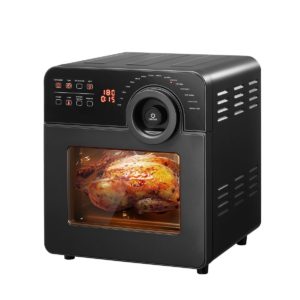 This functional air fryer oven is a professional oven to cook chicken wings, steaks and pizza in a much healthier way. It is not only an air fryer but also a toaster oven and a dehydrator. Its 16 preset modes will ease the cooking process from frying and grilling to dehydrating and roasting. The 360-degree hot air circulation makes foods cook more evenly and with fantastic tastes. Its 14 litres interior design is great for preparing fried foods for family gatherings, parties and other events. It is easy to clean and maintain thanks to its stainless steel housing and dishwasher safe parts.
Maxkon 3.2L Portable Ice Cube Maker Machine Home Commercial Fast Benchtop Freezer (Easter sale discount: save 54%)
Get ready for the hot summer and avoid the hassles of buying ice cubes outside by using this Maxkon portable ice cube maker machine. Perfect for family gatherings, house parties and commercial use, the ice maker will create a total of 13kg of ice per day. This ice machine is engineered with a built-in water reservoir that holds up to 3.2 litres of water for extra convenience. The easy-to-use panel and LED display make it much easier to take control of the ice-making process. For your peace of mind, the ice maker machine adopting advanced technology will produce ice quickly and easily. Portable and durable, you can put the ice cube maker on the tabletop or countertop in the kitchen, office, lobby or anywhere you need it. Get chilled and tasty beverages all year round.
WELS Pull Out Kitchen Tap Mixer Laundry Faucet Sink Tap 360 Degree Swivel with Hot and Cold Water (Easter sale discount: save 63%)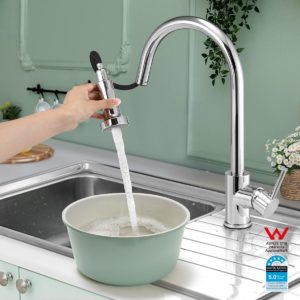 Bring this innovative and elegant pull-out faucet sink tap into your kitchen. Fitting a solid brass body with a gooseneck design, the sink mixer is certified by Watermark and WELS for ultimate safety and health. It features a 35mm drip-free ceramic cartridge for ultimate durability. The pull-out sprayer and 360-degree rotation offer superior practicability and convenience for single and multiple bowl sinks. You can choose hot or cold water depending on your needs. There is a flush button for you to easily and ergonomically switch it from spray to stream. Moreover, this kitchen tap mixer is compatible with sinks with a hold diameter between 35mm and 38mm.
Baby Toys & Hobbies
Baby toys can cultivate and train a variety of children's capabilities, including cognitive abilities, creative thinking, language and communication skills, physical activity and other emotional support. 
 3 In 1 Activity Centre Push Toys With Building Block Educational Toy for Toddlers Kids (Easter sale discount: save 50%)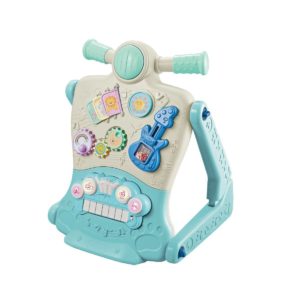 With this 3 In 1 Activity Centre Educational Toys, your little one will learn multiple skills while having fun. The gear-turning device will develop your child's hand coordination, and the flipping book stimulated their imagination and recognition. Coming with four modes including music, push toys, painting and building, this activity table offers endless fun to kids while allowing them to get some physical and mental benefits like problem-solving skills, motor development, improved concentration and better thinking ability. Besides, this activity centre can be used as a painting table and a building blocks table, satisfying the different needs of your kid.
Kids Ride-On Toy Bulldozer (Easter sale discount: save 50%)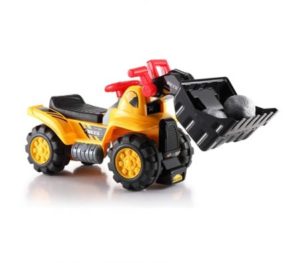 If your little child enjoys digging and hauling around as they explore the outdoors, this ride-on bulldozer toy will offer your child hours of great fun. The ride on bulldozer has a storage space under its seat, so parents will never have to worry about losing items or accessories when it is not in use. The accessories include toy stones and a safety helmet teaching your toddler about the importance of safety from an early age. Moreover, the ride-on toy comes with the simulation sound of "beep" and "vroom", providing your kid with a real experience of driving and bulldozing. Run by 3 AA batteries, the ride-on toy is easy to use and control.
55 PCS Toy Boat Ship Educational Pretend Play Food Toy Set Ice Cream Candy with Light Music Smoke (Easter sale discount: save 60%)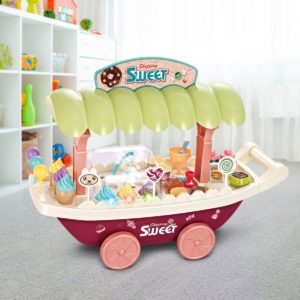 Engage your child in the constant pleasure of playing this 55 pcs boat ship educational pretend play food toy set. Measuring 47cmx36cmx20cm, the educational toy kit is durable and safe for children thanks to its high-quality materials which conform to European and American toy standards. The whole toy has cute ice cream, candy accessories, drinks, popcorn and other food, helping build on your kid's hand-eye coordination and recognition of food, promote his concentration, facilitate the interaction of parent-child or child-child. It is a good integration of viewing and listening as this toy kit is designed with brilliant colours, soft lighting, a beautiful melody and a smoke fog effect.
New 1.2m-1.7m Portable Basketball Hoop Kids Freestanding Backboard Stand System Outdoor Toys (Easter sale discount: save 50%)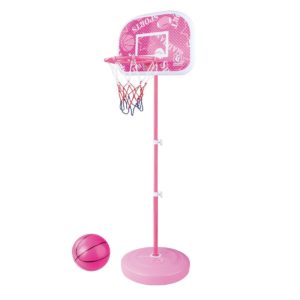 Provide your child with a good chance to enjoy basketball with their parents or fellows. As a great addition to your backyard, this freestanding basketball hoop in the size of 170cmx39.5cmx29cm is ideal for kids aged between 3 to 14. Built with an adjustable height, this basketball stand is designed for children with different statures. Furthermore, the portability of this basketball hoop allows you to carry it anywhere you want. With all included accessories, the basketball hoop is easy to assemble. You can fill its base with water or sand for increased stability and better safety. Kids can not only have fun but also practise the basic skills of basketball like shooting, dribbling, passing and more.
Deluxe Pink Electronic Organ (Easter sale discount: save 50%)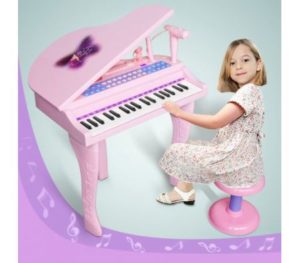 Develop and promote the potential of your little one in music with this Deluxe Pink Electronic Organ. The flashing keyboard lights provide an easy-to-follow way of learning simple songs. The interactive drums, a variety of voices, demo songs and rhythms help to promote engagement and experimentation. This electronic organ comes with a fantastic keyboard stand and a stool to get comfort anytime when your child wants to play. Children can even record themselves and play back their compositions. There is a microphone along with a voice synthesizer so that children can sing karaoke and play. It is easy to install and ready to use in minutes. The tempo and volume can be adjusted and the built-in speaker allows you to take it wherever you go. It is suitable for ages three and above.  
Care for your pet with our discounted pet supplies which include the dog safety vest, pet swimming pool, dog cooling mat, pet agility equipment and dog splash sprinkler. 
AFP Dog Reflective Jacket Pet Cat Vest Safety Harness Waterproof Outdoor Walking Clothes (Easter sale discount: save 96%)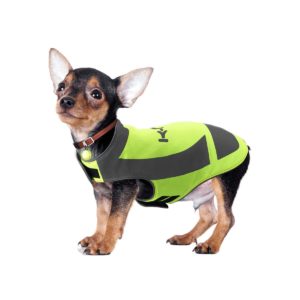 Clothing your puppy with a reflective vest for daily evening walks and keep them more visible and safer. The reflective dog jacket boasts extraordinary visibility at night and is comfortable to wear due to its high-quality 300 denier oxford fabric, which is lightweight, breathable and pet-friendly. The pet vest is also engineered with hook-the-loop neck fasteners for easy and quick adjustment. The waterproof design gives your pooch additional protection from elements. Coupled with double stitched straps, the pet safety vest is durable for daily outdoor use. It can also be used in the daytime while your dog goes hunting or hiking with you.  
AFP Portable Foldable Dog Puppy Swimming Paddling Pool Washing Bath Tub L Size for Cat Pet Children (Easter sale discount: save 72%)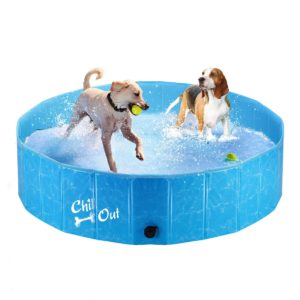 Pups hate the summer heat. Just cool off your pooch during hot weather with this portable foldable swimming paddling pool. Crafted with a rugged construction of extra-tough PVC and high-quality fiberboard, the water pond not only serves as a pet swimming pool, but also as a kid's bathtub. It is non-toxic, safe and friendly to children and pets. Ease of use is one of the features which makes this swimming bathtub favoured by owners. Better yet, a non-slip bottom is contained to prevent pets and kids from slipping when splashing or bathing. This pool folds down easily for effortless packing, storage and transport, ensuring it is perfect for indoor and outdoor use.
AFP Kiwi Pattern Pet Dog Cat Cooling Gel Mat Pad 60X60X0.8CM (Easter sale discount: save 90%)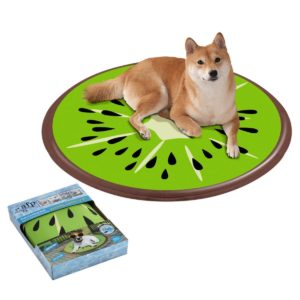 The AFP kiwi patterned pet dog cat cooling gel mat will absorb your four-legged friend's body heat to prevent overheating. The inner material of the pet cool pad is a non-toxic gel and the outer material is water-resistant fabric, both of which are completely safe and friendly for animals and humans. There is no need to add water, freeze or chill the pad. The cool dog pad delivers a continuous cooling sensation to relieve the pet's arthritis, joint pain and muscle stiffness. With 0.8cm in thickness and 1.9kg in weight, the pup cooling mat features optimal comfort, soft texture and easy portability, making it ideal for indoor and outdoor use.
Pet Dog Hurdle Bar Puppy Agility Equipment Interactive Toys Exercise Training Jump Set (Easter sale discount: save 50%)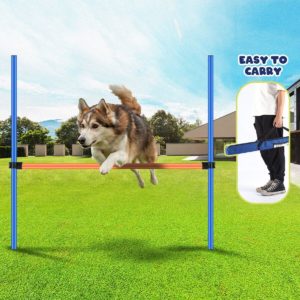 If your doggie has some bad habits such as getting obese, irritability, loneliness anxiety, destroying furniture and more, it is better to get them an agility training course. As pooches are active animals, they need to do something to release their energy. The pet dog hurdle bar is constructed of thickened PP, which ensures total stability and reliable durability. A lightweight design allows this dog agility to be set up quickly and change its height high or low easily. Furthermore, this hurdle bar comes with a carry bag for easy storage so that you can assemble it in the yard or take it to the park. Keep your dog active and trained with this dog agility equipment.
AFP Pet Dog Sprinkler Splash Pad Mat Kids Outdoor Water Play Spray Pool Toy 100cm (Easter sale discount: save 83%)
Coming with providing endless splashing fun for your water-loving pup on hot summer days, this pet sprinkler pad mat is a must-have. Available in a round shape and with a 100cm diameter size, the sprinkler is large to accommodate various dog breeds. Thanks to its easy-to-setup feature, your pup can enjoy a luxurious bath time in no time in your backyard. Moreover, the splash mat creates a fun splashing playground for your kids, improving their physical flexibility as well as enhancing their interaction and relationship with your pet. There is nothing more important than safety. This unit is built with high-quality and high-density PVC, plus an anti-slip surface for enhanced durability and maximum safety.
In addition to the introduced models, there are a large number of products on Easter sale in different categories sold at competitive Easter prices. You can enjoy holiday savings on Garden, Bath, Bedding, Sports Equipment, Musical Instruments, Tools, Electronics and more. Visit our website for all discount details. Enjoy our Easter sale!
Comments
comments