EOFY Sale 2022 | Enjoy Bigger Savings and Discounts This EOFY at BestDeals
EOFY sale is one of the biggest shopping events, which means the prices have dropped on a large variety of products, like Black Friday and Cyber Monday. The last day of the financial year falls on 30 June each year, which means the new financial year kicks off on 1 July. For customers, EOFY sale offers a perfect opportunity for them to grab great deals with huge discounts from their favourite retailers and brands. Simultaneously, brands and retailers can use the EOFY period to clear out old stock and make way for new arrivals in the new financial year. 
What to Expect?
Generously speaking, the EOFY sale will start weeks ahead of 30 June, so customers will have plenty of time to browse and buy the cheap items that they need. BestDeals is ready for this shopping event and offers the never-before-seen discounts. In this article, we have rounded up everything you need to know about the best EOFY bargains at BestDeals, from how much you can save to the product information. We provide savings on all sorts of product categories – home appliances, furniture, fashion, beauty, fitness and tech. You will see prices slashed on our products. Therefore, it is the perfect time of the year for you to stock up or replace what you need.
EOFY Sale List
Gaming Accessories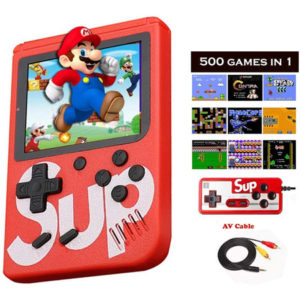 Remind your childhood gaming memory and play it with your children or mates. This mini portable game box offers 500 built-in classic games for adults and children, including 2D, sports, racing, shooting and fighting games. Supporting two players gaming simultaneously, users can connect the screen game console to the TV for a thrilling and lively video gaming experience on a bigger screen. Besides, the red terminal of the AV cable is for audio, while the yellow terminal is for video.
Coming with a 1020mAh large capacity lithium battery, users can play up to five hours each time if it is fully charged. Hence, even if you are on a business trip, travelling and camping, you do not need to worry about power shortage. This video game console is a perfect gift to enhance parent-child relations and keep your children entertained.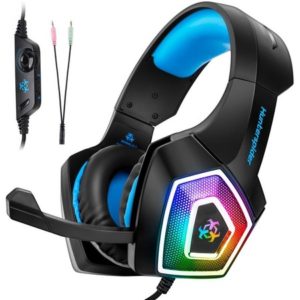 This professional gaming headset has a super cool appearance and high performance, delivering a superior comfortable gaming experience for users. Seven automatically changing colours will enhance the gaming ambience. The headset with a bendable headband is adjustable and fit for all head shapes. Furthermore, the soft and skin-friendly leather material boasts a longer lifespan and wear resistance. Partnered with the over-ear pads, the headset can help reduce hearing impairment and sweat.
Better still, the convenient in-line controls allow users to control the volume directly on the headphones. Additionally, the retractable microphone can pick up your voice at any angle. It has versatile compatibility for multi-platform, such as Xbox One X, Xbox One S, Xbox One, PC, NS, 3DS, Laptop, PSP, Tablet, iPad, Mac, mobile phone, PS4, PS4 Pro and PS 4 Slim.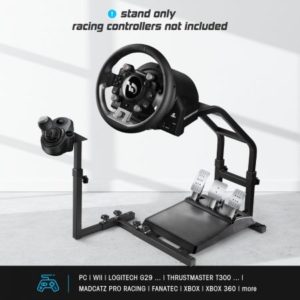 The wheel stand is the perfect addition to a home video arcade for game lovers. Made with a stainless steel main body and a black plastic powder-coated surface, the wheel stand is strong and durable to last for years to come. For additional stability, the racing wheel stand has double-arm support and anti-skid pads. Thanks to the fully adjustable height, this steering wheel mount is ideal for users of any height. Conforming to the principle of ergonomics, the wheel mount is comfortable to drive with the free-to-switch left and right gears.
Besides, the pedal mount has an inclined angle, allowing the pedal to move closer to or away from you while gaming. This wheel stand is compatible with PC, PLAYSTATION2, Wii, XBOX, XBOX360, LOGITECH G25/G27/G29/G920, THRUSTMASTER T 150RS/T30RS/TX RACING WHEEL/T500RS/T3PA/T300 FERRARI GTE/FERRARI 458 SPIDER, MADCATZ PRO RACING, FANATEC and more.
Home Appliances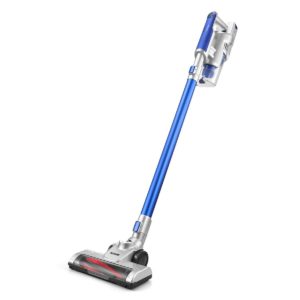 This cordless vacuum cleaner makes the daily cleaning routine a breeze. Available in a chic and compact design, the vacuum cleaner can effectively remove hair, mite, dust, particles and bacteria for maximum cleanness and hygiene. Featuring a powerful motor with strong 10000 PA suction, the stick vacuum cleaner has a 2200mAh detachable battery for 25-45 minutes of continuous working. There are two selectable speed modes for normal and powerful cleaning.
This handheld vacuum cleaner is versatile and works on different surfaces, like flooring, curtains, sofas and corners. As the vacuum cleaner has an LED dust searchlight, it can illuminate every dark corner and help track dust. Coming with swivel steering and a low profile head, the vacuum cleaner is easy to maneuver for easily cleaning every corner and hard-to-reach places. What is more, users can convert between stick and handheld modes within seconds.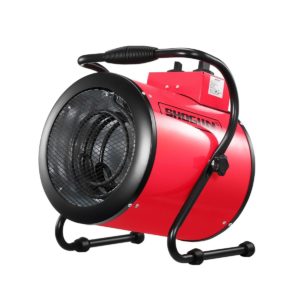 This fan heater is a reliable way to heat a roomy area instantly while saving energy and cost on your bills. Featuring a powerful 3000W motor, the electric fan heater is of high efficiency and low consumption. Its increased air outlets ensure a max air output of 360m3/H and quickly heat a large space. It is a two-in-one device serving as either an industrial fan heater or a carpet dryer. Excellent designs include the dual temperature control switch and automatic constant temperature modes. Better yet, the heater works quietly and ensures a peaceful environment for relaxation and sleep.
Certified by SAA standards, this electric heater guarantees comfy warmth as well as maximum security. Moreover, the fan heater has IP24 waterproof grade and an anti-tipping switch for enhanced safety. With adjustable angles of up to 30 degrees, the dryer boasts convenient and optimal air output. It is also perfect for warehouses, garages, workshops, building sites, etc.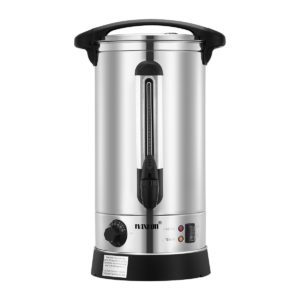 Eliminate the need of using kettles for boiling water with this hot water urn. With a 15L capacity, the water urn can hold enough water to serve customers and guests constantly without adding water frequently. The dual-layer stainless steel wall works for unparalleled insulation for hot or cold water. Featuring heating and insulation functions, the water dispenser can work as a heater or thermos urn with adjustable temperatures from 0 to 110-Celsius degrees, satisfying all of your needs in various situations.
In addition, the hot water dispenser comes with high-temperature auto power off and boil-dry safety designs, ensuring maximum security and protection. Other highlights contain the lockable safety lid, a visible water gauge, a durable water faucet and an on/off switch, all of which make for ease of use, long-lasting durability and convenience.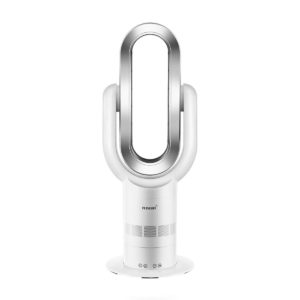 Suitable for all seasons, this blades fan is a great cost-effective alternative to air conditioning and space heater. Powerful to beat the heat and coolness, the bladeless fan features a ten-gear stereo wide-angle design for cool air supply while a three-gear encircling design for hot wind supply. Adopting an air multiplier technology, the fan can effectively project heat or cool flow into the room quickly and evenly for a comfortable zone.
Additionally, the intelligent thermostat monitors the room to reach and maintain the selected temperature in the heat mode without energy wastage. It can be adjusted 180 degrees up and down as well as 90 degrees left and right for ease of use. The bladeless design allows for incredible safety, especially for families with children or pets. The blades fan has a 1-9 hours timing function and quiet performance, without disturbing or affecting your sleep. Thanks to the remote control and touch digital display screen, you can easily adjust or control the fan.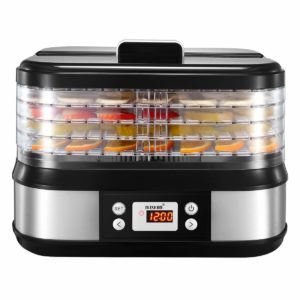 Reduce food waste and extend shelf life by using Maxkon digital electric food dehydrator. This is an upgraded 450W five-tray dehydrator with more drying space and fast dehydrating. Built with 72-hour timing, the dehydrator will shut off automatically when finishing working. Users can choose drying temperatures from 35 to 70-Celsius degrees. The easy-to-watch LCD digital temperature settings allow you to dry out different types of food, such as banana chips, apple chips, jerky, dehydrated vegetable and homemade dried soup mixes.
The food dryer has five transparent trays for easily checking the drying process and two stacking ways depending on different sized food. Furthermore, the bottom-mounted fan and heating elements deliver constant airflow for absolute drying. Compact and fashionable, the food dehydrator is easy to store when not in use.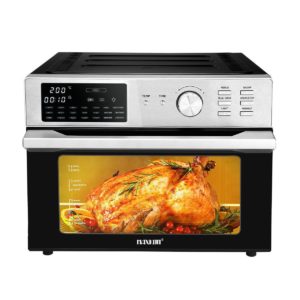 Make frying and baking more professional and healthier with the Maxkon air fryer. Featuring a dual cook function, users can program the air fryer oven to start cooking with one preset, and then the machine will automatically transit to a second preset for a perfect cook on any meal. The air frying machine combines 18 presets, including French fries, chicken wings, steak, pizza, vegetables, toast, broil, bake, roast, dehydrate and more. Its 30-litre large capacity is enough to serve six to eight persons at a time. What is more, the convection toaster capitalizes on an up and down balanced heating method to cook food.
Users can choose the temperature from 30 to 230-Celsius degrees and the timing from 0 to 60 minutes as needed. Constructed of food-grade stainless steel and galvanized sheet, the air fryer oven is more durable and easy to clean. Meanwhile, it is convenient for users to control the cooking progress with the big buttons and digital display. Owing to the 1800W strong power for 360 degrees of hot air circulation, the food will be crispier and more delicious under the superheat convection airflow. The oven also comes with non-slip footpads, a heatproof handle and a transparent window for your safety and convenience.
Furniture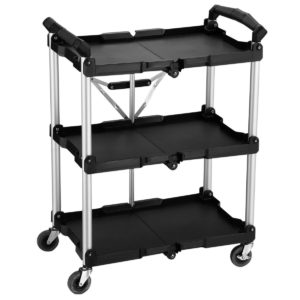 This portable collapsible cart will be a perfect storage solution for your kitchen. Measuring 67cmx43cmx84cm, the cart owns two storage layers, each of which is heavy-duty and strong to withstand the max capacity of 25kg. Foldable and space-saving, the rolling cart can be used for a wide range of applications on multiple occasions, such as garages, restaurants, banquets, workshops, offices and studios.
Made of high-quality aluminium and strong plastic, the portable cart has reinforced firmness, long-lasting durability and optimal stability. Three collapsible shelves provide plenty of space for moving equipment, tools, files, garden supplies, etc. Moreover, smooth castor wheels with brakes boast easy transport while the handle assures of comfortable grip.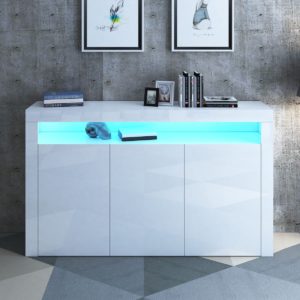 Add a chic and sleek statement to your living room with the modern buffet sideboard dresser. Constructed from heavy-duty particleboard finished in PU paint, the storage sideboard is sturdy and durable for years to come. It is also easy to clean and maintain. Featuring three doors, the buffet creates ample storage space to accommodate your kitchen or dining room utensils and dishware.
Meanwhile, the sideboard can also store other necessities or belongings, like video game consoles, photo frames, china, vases and ornaments. The dresser adds storage to any room without compromising on integration with any interior decor. Moreover, the built-in RGB LED lighting helps produce a pleasant and inviting environment.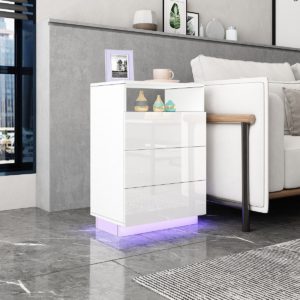 This white bedside table provides storage without giving up the design. By having this nightstand, you can store your items on its three drawers and tabletop, such as night light, alarm clock, books and knick-knacks. Elegant and classic, the bedside can complete your bed and define your style quotient.
The combination of high-quality particleboard and UV paint in the front ensures enhanced sturdiness and reliable durability. Besides, the high gloss front helps deliver the reflection effect to highlight the stylish design. What makes the end table advanced is that the LED lighting in four auto transform modes and 16 kinds of changing colours.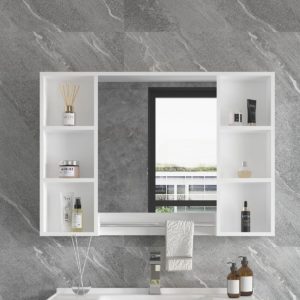 Adds more space to your bathroom for a new vibe with this mirrored wall cabinet. Featuring six small compartments, two large shelves behind the mirrored door, as well as a long towel pole under the mirror, the cabinet optimizes the storage space for your toiletries and essentials for a tidy bathroom. Crafted from premium MDF board in 15mm thickness, the medicine cabinet is eco-friendly, non-toxic and easy to clean for a long lifespan.
The high-quality mute hinge makes for silent and gentle opening and closing. Available in a stylish look with elegant white colour, the storage cabinet complements seamlessly to the existing decors in your bathroom. The HD mirror is burst-proof and shatterproof, offering you a good reflection to wear makeup, shave and check your outfit.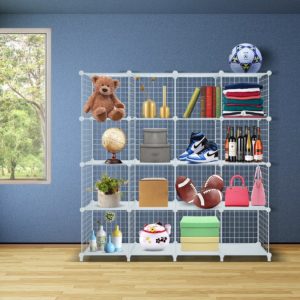 Buy this multifunctional storage shelf cabinet to keep your stuff organized and avoid mess. The storage organizer has 16 wire shelving cubes, each of which measures 35cmx35cm, providing abundant space for your items, such as shoes, toys, clothing, handbags and books. Coupled with durable ABS plastic connectors and metal wire panels, the cabinet will stand firmly and hold a weight of up to 15kg per cube.
Versatile and practical, the storage cube cabinet works for many purposes, such as a collection shelf in the study room, a clothes organizer in the bedroom, a display shelf in the entrance and a toy storage solution in the children's room. Better even, users can assemble the wire storage cube set into a variety of shapes to meet the space requirements and personal needs, making it suitable for limited or small areas.
Fashion & Beauty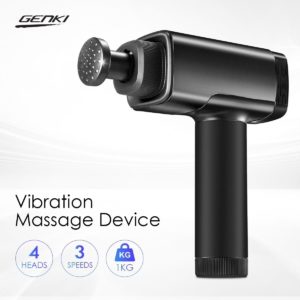 Alleviate your muscle soreness and pain with the Genki massage device. Adopting advanced technology, the muscle massager features a brushless high-torque motor delivering a thoroughly deep tissue massage. The vibration massage device has three-speed settings and four massage heads, enabling you to customize your massage programs. The percussion of this massage machine can reach up to 3200 per minute for a comfortable massaging experience. Lightweight and portable, users can use the handheld massager at home, in the office or even when travelling. The rechargeable lithium-ion batteries can last four hours of use on a full charge.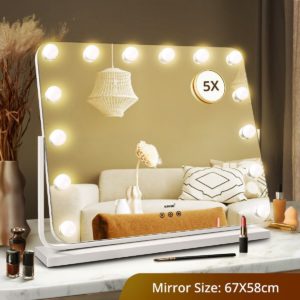 This Hollywood makeup mirror will be a centrepiece on your dresser. With a large size of 58cmx51.5cmx12cm, the makeup mirror offers a clear image for your makeup application and dress-up. This vanity mirror is 360 degrees rotatable and offers an ideal angle for you. Four sleek corners allow for reliable safety and free you from being hurt. Featuring a convenient touch control design, you can switch and choose from three lighting colours including cool light, natural light and warm light to suit your different needs. In addition, the vanity makeup mirror is surrounded by 15 bright and lasting LED bulbs. As the LEDs have a life span of 50000 hours, you will never need to replace the bulbs.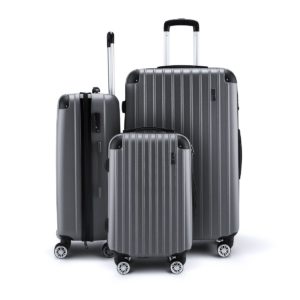 Make your business trips or vacation travelling stress-free with the 3pcs luggage set. It is a whole set including suitcases measuring 20 inches, 24 inches and 28 inches for your different travelling needs. The 20 inches and 24 inches models can be stored easily in the 28 inches piece that is expandable for added capacity. Constructed of rugged ABS material and polyester lining, the luggage set is sturdy and durable for years of service. For easy grip, the suitcase set comes with an aluminium pull rod as well as top and side handles.
The three-piece luggage set has a built-in retractable trolley system for users of different heights. Due to the smooth 360-degree dual wheels spinner, these super lightweight suitcases are easy to roll and transport. The TSA secure combination lock effectively prevents your belongings and stuff from being stolen and lost. The 3-piece suitcase set has three non-woven fabric covers to resist water and dust.
Bed and Bath Essentials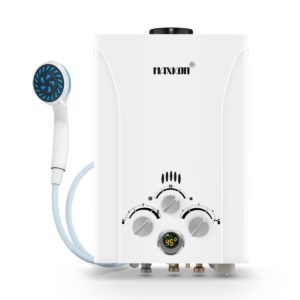 Ensure a hassle-free and instant hot water shower during your outdoor trip by using Maxkon portable shower water heater. The water heater comes with a smart thermostat device and a visible indicator, allowing you to read real-time temperature and choose the ideal temperature for overheating protection. The instant shower water heater can produce constant water flow up to 550L per hour even with low water pressure. Certified by Australian standard AS2658, the water heater boasts high performance and maximum safety. Furthermore, it prevents gas leaks and water for enhanced security. This outdoor water heater is environmentally friendly, energy-saving and cost-effective.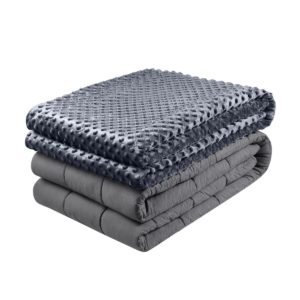 This is a 2 in 1 model that includes a seven-layer weighted blanket and a removable velvet cover. The weighted blanket is filled with hypoallergenic, non-toxic and odourless glass beads for a comfortable and safe sleep. Additionally, the blanket adopts advanced sewing technology to spread the beads evenly and prevent leakage. Its ultra-soft velvet cover not only fits closely to your body for comfy warmth, but also features a hidden zipper for easy removal for hassle-free cleaning. The weighted blanket has designs of moisture-wicking and powerful insulation, suitable for any adult and all seasons.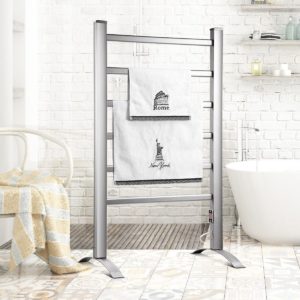 Drying up your towels without mildew and bacteria is beneficial to your health, especially during wet days or winters. You can simply turn on the switch, and then the heated towel rail will reach an optimum temperature ranging from 40 to 50- Celsius degrees within 30 minutes. The on/off switch with a safety cover and the light indicator will let you know whether the warmer is on or not.
Constructed of robust but lightweight aluminium, the towel warmer is more sturdy and durable than chromed or bronze rails. There are six heated crossbars for multiple towels and robes storage. What's more, the built-in thermostat can safely maintain the temperature and conserves energy. Freestanding and portable, the electric drying rack is perfect for the bathroom and laundry room.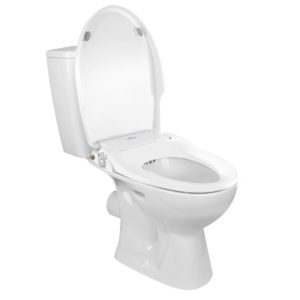 Achieve the highest level of hygiene by using this bidet toilet seat cover. Made with anti-bacterial and non-toxic materials, the non-electric toilet seat cover comes with a water flow check valve which ensures smooth and easy pressure control. In addition, the bidet seat cover has dual adjustable nozzles for buttock and bidet washing. The feminine wash function is also included. What is more, the toilet seat cover has adjustable water spray strength and a soft closing lid. Easy to assemble and use, the bidet seat cover is suitable for children, the disabled, the elderly and those who have hemorrhoids.
Pet Supplies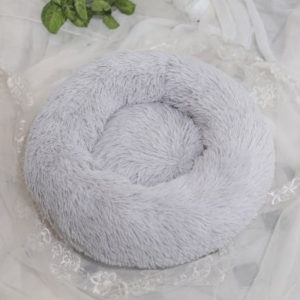 There are plenty of pet supplies on the EOFY sale, and this velvet plush dog bed is no exception. The pet bed is super soft, comfy and not easy to fade, ensuring your furry child will have a high-quality sleep. In addition, This comfortable dog mattress closely contours your pooch's body, and provides muscle and joint relief with strong support. Suitable for all seasons, the pet mattress offers enough warmth and cosiness under air conditioning during the summer and allows your four-legged friend to shrink into a ball in the winter.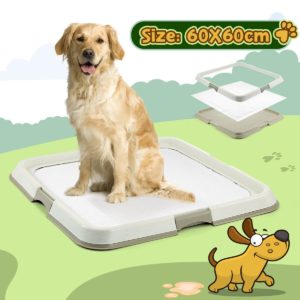 The pet peed pad holder makes life easier for pet parents and fur children. Designed to accommodate training pads, it offers your fur babies a safe and mess-free place for toilet training when you are absent from home. Holding most pads with a size of 60cmx60cm, the dog pee pad holder is easy to clean. You can simply wipe it down, rinse it off or scrub it gently with water. The snap-in frame design secures the doggy pads in place and prevents your puppy from chewing the pads. For more firmness, the portable trainer has a double latch, This training tray protects your floor from moisture and is durable enough for the toughest pups. Also, the doggy pee pad holder is perfect for training puppies or senior dogs.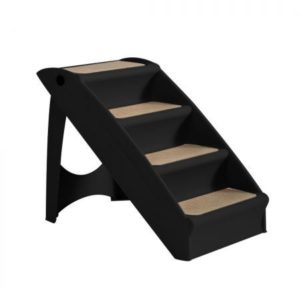 This pet ramp is a great helper to elevate your small pets or elderly animals to a piece of furniture or a vehicle. Made of robust and non-toxic materials, the pet stairs are durable and stable with a max load-bearing capacity of 76kg. The integration of an anti-slip mat and safety buckle design contributes to enhanced security and slippage prevention. Foldable and lightweight, the pet steps are easy to store and take wherever you need. The pet ladder boasts easy cleaning by wiping the dust and dirt off.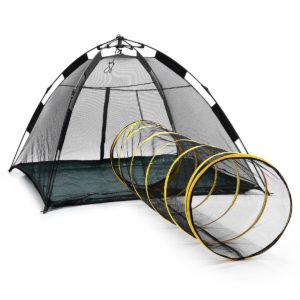 Keep your puppies active and healthy by using this outdoor pop-up tent with a tunnel. The pet tent is versatile and suitable for a wide range of animals such as rabbits, cats and hamsters. Excellent features include lightweight, portability and foldability, all of which favour easy storage and effortless movement. The stable construction is highly durable against clawing or scratching.
Furthermore, the nylon zipper is beneficial for smooth opening and closing. The tent ensures better visibility and air circulation for your pets. In addition to a removable tunnel, your dogs can play and relax comfortably and safely with a large capacity. For more comfort and stability, the tent has a detachable PE bottom and four fixation stakes.
Conclusion
If you want to save money on the products in your shopping cart during the EOFY sale period, you've come to the right place. BestDeals have exclusive EOFY discounts just for you. Hurry up! Visit www.bestdeals.co.nz for more crazy EOFY bargains. You could not miss this good buying opportunity.
Comments
comments