Five Stunning Christmas Gift Ideas that Make Your Kid a Universe Explorer
Are you looking for fun, special and amazing Christmas gifts for your kids? Lacking of any creative Christmas gift ideas? Isn't it awesome if you are able to create a colorful starry sky or a vast blue sea for your kids? That's not nonsense. You really can do that!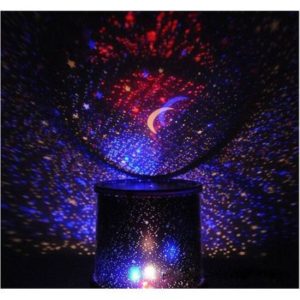 ---
"How should we like it were stars to burn
With a passion for us we could not return?
If equal affection cannot be,
Let the more loving one be me.
Admirer as I think I am
Of stars that do not give a damn,
I cannot, now I see them, say
I missed one terribly all day."
This beautiful poetry The More Loving One by W.H. Auden shows the poet's strong passion and yearning for stars. Do you or your kids have the same feeling towards the profound mystery of the sky when you are looking up at the starry sky at nights? There is a chance that you can bring home the whole universe for your curious kids. Check out the colorful LED projector lamps below to explore the mysterious cosmos with your children.
Star & Moon Colorful Cosmos LED Projector Lamp Night Light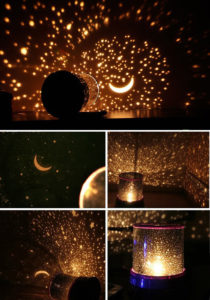 As the kids grow, their curiosity grows too. With this colorful star and moon LED projector lamp in bedroom, you can tell your kids the knowledge of and stories about stars, moon and the universe. Your kids are surely willing to stay with you and enjoy this brilliant light show together. The LED projector lamp shows the magic of starlight indoors, creating a larger, more brilliant light show for your viewing entertainment. Easy to use, this lamp has two function keys, one for star projection control and another for colorful LED control. It can also adjust the different scene according to 12 months in a year.




Astro Star Laser Projector Cosmos Light Lamp

We believe that the longing for the exploration of constellation hides in everyone's heart, not only in children's. Since the stars are unattainable and only appear at nights, we all have a wish to touch, to study, or just to look at right before our eyes. Dreams come true when you project a map of the heavens onto your ceiling and walls with this new starlight projector. The Astro Star laser projector is ideal for astronomy or astrology fans, romanticists, kids who'd appreciate a nightlight with a difference or anyone who wants to bring some starlight into their home. There will be different colorful space, find the constellation that you belong to it.
---
"See the line where the sky meets the sea?
It calls me.
And no one knows, how far it goes.
If the wind on my sail in the sea stays
behind me.
One day I'll know, how far I'll go."
After seeing the movie Moana, do your kids fall in love with the wonderful and kind ocean? Just as the theme song sings, you and your kids are also wondering how far you'll go to find the secret beneath the sea someday. Look for the LED projector lamps of ocean below, and you'll recognize that without any distance you can find the answer—at your home.
Beautiful Ocean Star Underwater World Projector Night Light Lamp



With our colorful ocean projector night light, you can see dolphins, angelfish, striped fish and other various kinds of underwater creatures swimming with freedom. When you are lying in bed, it seems that you are also a small fish of the vast wonderful sea. Isn't it amazing? Your child must cheer for this great Christmas present.




LED Blue Night Light Lamp Ocean Wave Effects Projector

The color of blue can bring people a peace of mind. The LED blue projector with blue ocean wave effects can reproduce the sparkling sea with glorious natural beauty to let you feel as immersed in the deep sea calmly embracing a peace of mind. It creates a romantic, leisure and cozy atmosphere of the space to achieve physical and mental relaxation effect. You can apply it to bathrooms, living rooms, bedrooms or any other spaces you want to fill with a waving ocean scene.



Cupid Romantic Colorful LED Projector Lamp Night Lig

ht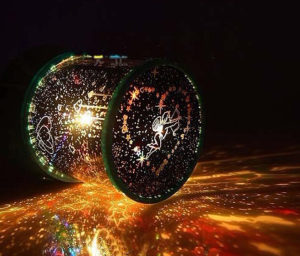 Project a scene of colorful stars, hearts and Cupid onto your ceiling and walls. This Cupid night light can not only attract children with sparkling lights but also create a romantic surprise for lovers. Imagine that the goddess of love Cupid arrives at your house and fires an arrow to you and your lover, meanwhile giving out good blessings to your lovely children. The exquisite appearance of Cupid and the little stars and hearts around protract a wonderful light show to make your room extraordinary.
---

If your children really show a strong curiosity towards the real sky outside and want to get deeper understanding of Astrophysical Sciences, buy a telescope for them. The telescope reveals many distant stars to your sight so that you can witness the actual changes of the sky from a more visualized, closer angle.
Let your kids' Christmas of this year be unique and memorable with these amazing gifts!
Comments
comments