Genki VS Confidence: Vibration Machine Reviews and Comparison 2017
It is so hard to keep in shape, isn't it? But there is a quicker and easier way to lose weight, would you like to try? With the help of fitness machine, you're able to enjoy better workouts with minimal effort. As vibration machines continue to sweep the world, an increasing number of people (or even their pets) can enjoy the fun and effective exercises by whole body vibration. To start your home gym workout plan, a vibration fitness machine is definitely an indispensable piece of gym equipment. But how to choose the right one for you and your family? Here check out the comparison of Genki Ultra Slim Vibration Platform and Confidence Fitness Slim Full Body Vibration Machine. From the aspects of the price range, performance, and key features, you can see the differences between the two and decide which one to buy.
Genki Ultra Slim Vibration Platform
VS Confidence Fitness Slim Vibration Machine
Price (RRP)

$169.95-229.99

$350-420

Warranty

12 months

12 months

Colours

White, Red, Yellow, Black, Pink

Black

Speed Range

1-120 speed levels

1-50

Control Panel

Digital display and press button controls

Digital display and press button controls

Pre-set Programs

3-10 auto running programs

3

Platform Type

Oscillating

Oscillating

Amplitude

0-12mm

0-10mm

Max Power

400-500W

500-600W

Maximum User Weight

150-160kg/330-353lbs

136-140kg/300-308lbs

Product Weight

16-20kg/35-44lbs

29kg/63lbs

Included with Purchase

1x mat
1x platform
1x plug & cord
2x resistance bands
1x Wireless Remote controll
What's the Difference Between the Vibration Machines?
Vibration machines are designed for those who want to focus on weight loss and have limited time to dedicate to exercise. As a matter of fact, they are all oscillating plates that perform as similar programs by whole body vibration. However, as to some specific details, they are quite different, as you can see from the above table. Every fitness machine has its pros and cons. To have a clear understanding of the features you value most can help you make the most appropriate decision.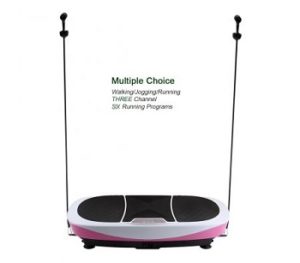 It is an all-in-one vibration machine for you to strengthen muscles as well as lose weight. With two resistance handles, it's also steady to perform upper body workouts. The base features strong and steady vibrations so that you can get the full workouts in just 10 minutes, equivalent to 60 minutes of conventional exercise. With 120 speed levels and 10 auto running programs, users can choose freely according to their own conditions. Compact enough for the tiniest apartment or office, yet as powerful as a large-sized machine.
PROS
Fairly lightweight design for easy portability and storage
Large weight capacity
More options at speed range
More running programs
Includes a remote control
Attached straps for upper body workout
Great value for the money
CONS
Without arm rails or wheels
Confidence Fitness Slim Vibration Platform
It features a user-friendly display console and simple navigation for an easy, comfortable experience. The machine also offers 50 various speed settings, 3 built-in programs, a compact build, and a platform big enough to stand, sit, or lay on. Due to its larger size, it is best suited for larger homes and basements.
PROS
Greater number of user reviews
Includes yoga straps and arm trails
Includes wheels for easier transportation
CONS
Some users complain the machine has a short lifespan
Less built-in programs

A bit noisy




---
What to Look for When Purchasing a WBV Vibration Machine
Amplitude. It is the distance the plate moves from peak to peak as it moves. The deeper the amplitude on a pivotal machine the more intense the muscle reaction. Genki vibration platform has a great amplitude from 0-12mm while Confidence fitness machine has maximum 10mm amplitude.
Space. Some vibration plates are compact and portable while others are larger and meant to stay in one place. For instance, Genki vibration platform has a lightweight design so it is easy to store out of sight when not in use. Although Confidence vibration platform has wheels for easier transportation, due to its design with a display console and arm rails, it should stay in somewhere at your home.
Budget. Both Genki and Confidence are excellent vibration machines that ensure incredible workouts. But when it comes to prices, Genki vibration fitness machine is obviously cheaper than Confidence. To those who have a limited budget and look for the best piece of gym equipment under $200, Genki will be your undoubted first choice.
With a vibration platform, you will enjoy:
Increased muscle strength
Improved blood circulation & bone density
Weight loss and body toning
Reduced joint stress
Massage & relaxation
Injury prevention
Free bonus: Listening to music while exercising would be better. J
---
After comparing the above two kinds of whole body vibration machines, we find out that Genki WBV exercise plate is a better choice according to its lower prices, various speed options and compact design.
What Did Previous Buyers Talk About Genki Vibration Machines
The age of customers who choose Genki vibration machines online in New Zealand ranging from 3-70, and they love it greatly. This is what most of them comment, "When I get off of this oscillating machine I feel refreshed and relaxed. It seems I have really done something great for my body. This is so far the best piece of health and exercise equipment I have ever purchased, and I recommend it to everyone!"
Tips for Your Vibration Training Plan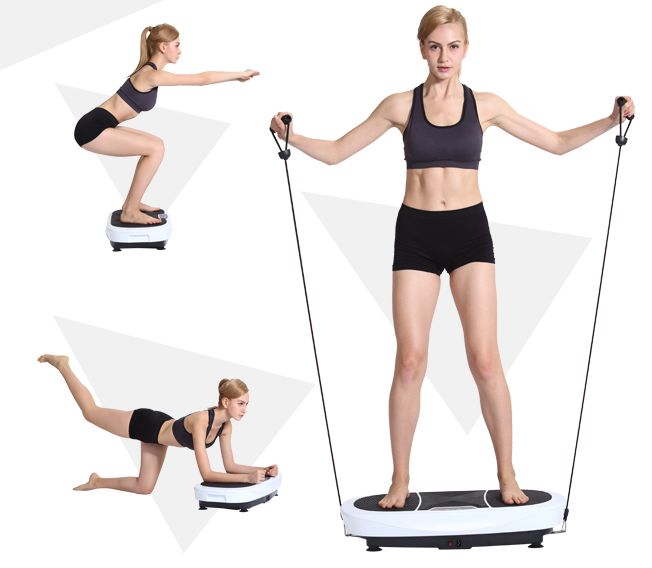 Just 10 minutes a day on the vibration plate equivalent to 60 minutes of conventional exercise. You can begin to see results using for 10 minutes 2-3 times a week as part of a low-fat and low-calorie diet. Use the yoga straps to train your upper body and arms as well. Extending the straps in different positions works different muscle groups, pulling against the resistance of the straps further the muscle fibres for growth and toning.
For Beginners, follow the simple poses below and you might receive better workout for specific muscles than just standing on a vibration machine.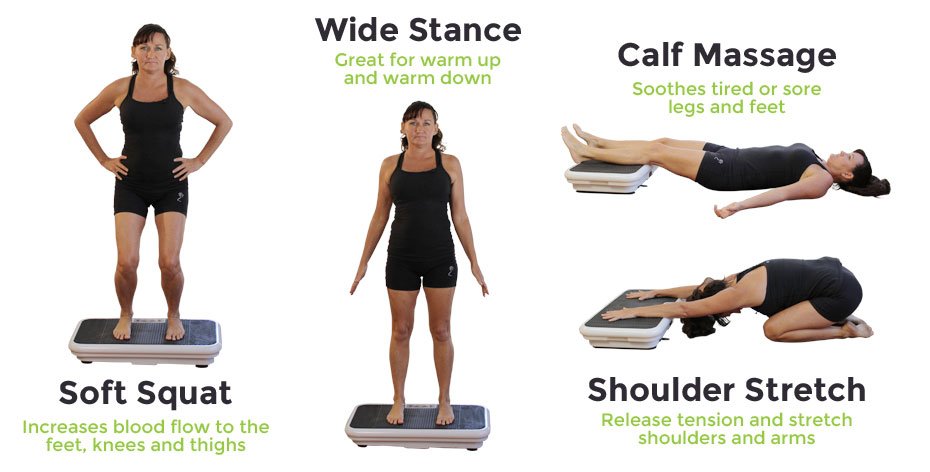 Advanced weight loss exercises are suitable for those who become more familiar with the machine and want further intense workouts by aerobic and strength exercises. The combination of some simple yoga poses with vibration training would double the exercise effects. Three minutes for each pose might be appropriate.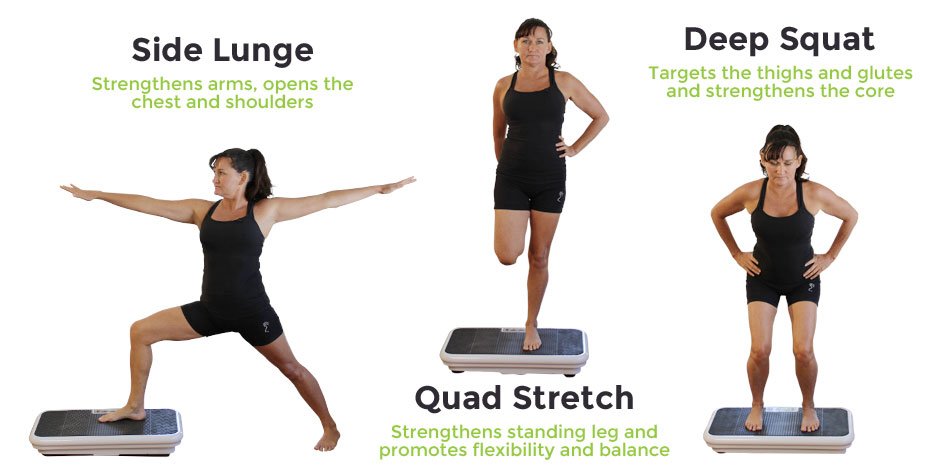 ---
Still need to find motivations before making a purchase? Check out our previous article: Get Fit or Die Trying: Five Most Efficient Home Gym Workouts, to give yourself the reason and advice to keep fit and compact cellulite.
Comments
comments