Get Ready to Satisfy Your Stomach on Christmas Day
Everyone has an edacious stomach, especially when it's time to have a big meal at Christmas. We've sourced delicious recipes that are impossible to go against you and your family's stomach.
Baked Ham Slices
If you ask me which course can best reflect the Christmas atmosphere, I would definitely recommend you juicy baked ham slices, a festive course that can make you feel full and satisfied on Christmas Day. Baking the glazed ham is much easier than you've ever thought. With very little effort, you can taste the original flavor of ham and feel refreshed with orange glaze to stimulate your appetite.
Ingredients: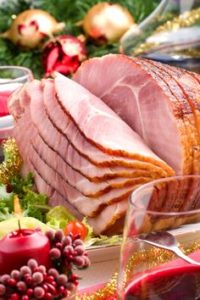 1 shank-end smoked ham, about 5 lbs.
1 Tb. butter
2 Tbs. peeled and minced fresh ginger
3 Tbs. dark rum, bourbon or fresh orange juice
1/2 cup bitter orange marmalade
1 Tbs. Dijon mustard
Directions:
Position a rack in the lower third of an electric convection oven and preheat to 325℉. Line a roasting pan with aluminum foil and place a roasting rack in the pan.
Using a sharp knife (get a knife sharpener when necessary), score the fat on the ham in a crosshatch pattern, creating 1 1/2-inch diamond shapes. Place the ham, flat side down, on the rack in the roasting pan. Add 2 cups water to the pan and cover loosely with aluminum foil. Bake until an instant-read thermometer inserted in the thickest part of the ham away from bone registers 125°F, about 1 1/4 hours.
Meanwhile, make the glaze. In a small saucepan, melt the butter over medium heat. Add the ginger and cook, stirring occasionally, until it softens, about 2 minutes. Add the rum and boil until it is reduced by half, about 2 minutes. Stir in the marmalade and mustard and bring to a boil, then remove from the heat and set aside to cool.
Remove the ham from the oven and discard the foil on top. Increase the oven temperature to 400°F. Spread the glaze all over the ham, forcing some of it into the scoring marks. Return to the oven and bake, uncovered, until the glaze melts onto the ham, about 15 minutes.
Transfer the glazed ham to a carving board. Let stand for 15 minutes, then carve into slices parallel to the bone. Serve hot or warm. Serve 12.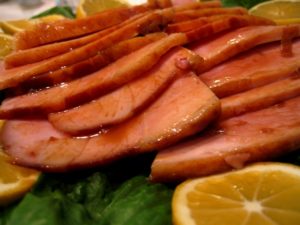 Variation: After the ham is sliced, be sure to save the ham bone for adding to your favorite recipe for split pea soup or a big pot of beans. Chop the leftover ham and stir it into the soup or beans, too.
Reference: http://www.yummly.co/#recipe/Baked-Ham-456177
Fruit Pavlova
Pavlova is a meringue dessert with a crisp crust and soft, light inside, usually topped with fresh fruit and softly whipped cream. With attractive look and delicious taste, it is an absolute summer show-stopper.
Ingredients:
Meringue:
4 large (120 g) egg whites
1 cup (200 g) superfine (castor) sugar
1/2 teaspoon pure vanilla extract
1 teaspoon white vinegar
1/2 tablespoon cornstarch (corn flour)
Topping:
1 cup (240 ml) heavy whipping cream
1 1/2 tablespoons (20 g) granulated white sugar (or to taste)
1/2 teaspoon pure vanilla extract
Fresh fruit – kiwi, strawberries, raspberries, blackberries, passion fruit, peaches, pineapple, or other fruit of your choice
Directions:
Preheat oven to 250℉(130℃). Put your egg whites into a clean bowl and whisk them at a medium speed until they start to form nice firm peaks.
With your mixer still running, gradually add the sugar and a pinch of salt. Turn the mixer up to the highest setting and whisk for 7-8 minutes more until the meringue is white, glossy and smooth. If it feels grainy, whisk for a little bit longer, being careful not to let the meringue collapse.
Line a baking tray with baking paper. Divide the meringue mixture evenly in it and shape each blob into a circle about 20cm in diameter. Put the tray into the oven and bake for 1 hour until the meringues look slightly golden and are fluffy in the middle. Then take it out carefully with an oven glove.
Using a fruit peeler, a fruit cutter, peel, halve or quarter the fruit and mix them together. Whip the cream with the sugar until it forms soft peaks, then stir in the yoghurt and fold in the vanilla seeds.
Spoon the cream mixture on top of the meringue and smooth it out.
Sprinkle your mixed fruit evenly around the cream mixture. Scatter over a few small mint leaves and enjoy! Serve 6 to 8.
Reference: http://www.jamieoliver.com/recipes/fruit-recipes/summer-berry-pavlova/
Creamy Bacon Carbonara
As a classic, appealing and substantial dish, Bacon carbonara ranks the top of my staple food list. Pasta alla Carbonara is based on eggs, cheese, pork and pepper and a key feature is that it relies on the heat of the pasta to cook the eggs.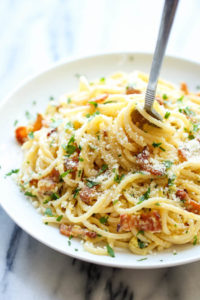 Ingredients:
500g packet fettuccine pasta
1 tablespoon olive oil
80g butter
1 large onion, finely chopped
250g shredded bacon
200g button mushrooms, sliced
300ml pure cream
1 cup grated tasty cheese
1 raw egg (optional)
Directions: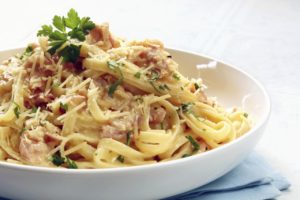 Cook pasta in a large saucepan of salted boiling water according to packet instructions. Drain well.
Meanwhile, heat a large frypan over high heat. Add oil, butter, onion, bacon and mushrooms. Cook, stirring for 5 minutes or until bacon is crisp and mushroom is tender.
Add cream. Bring to the boil. Simmer 2 minutes or until slightly thickened. Add pasta and cheese to pan. Stir through sauce until heated through. Season with salt and pepper.
Add a raw egg immediately when the pasta is well done and wait for the egg being cooked by the heat of pasta. (optional)
Reference: http://www.taste.com.au/recipes/38250/creamy+bacon+carbonara
Rudolph-Tini
There's no better way to get into the Christmas spirit than with a cocktail. Grab yourself a Rudolph Tini to celebrate this festive holiday. With Cinnamon sticks and a cherry on the edge of the glass, you've got antlers and reindeer nose for your cocktail. "Drink me up", the lovely "Rudolph" is right here waiting for you.
Ingredients:
2 fluid ounces vodka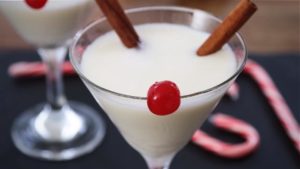 1 fluid ounce hazelnut liqueur, such as Frangelico
1 fluid ounce coconut flavored rum
1 fluid ounce half-and-half cream
2 (4 inch) cinnamon sticks
1 maraschino cherry
Directions:
Pour the vodka, hazelnut liqueur, rum, and half-and-half into a cocktail shaker over ice (made by ice maker). Cover, and shake until the outside of the shaker has frosted. Strain into a chilled martini glass; garnish with the cinnamon sticks to look like antlers, and the cherry on the rim to look like a nose.
Reference: http://allrecipes.com/recipe/76809/rudolph-tini/
Besides, if you want to hold an outdoor party with your family and friends, we also get tasty Christmas BBQ recipes for your free reference. Enjoy a big meal on Christmas Day!
Comments
comments