Halloween Sale 2022 | 20 Best Halloween Decorations & Gifts at Discounted Prices Starting From $9.99
Halloween, also known as All Hallows' Eve, Allhalloween, or All Saints' Eve, is a holiday celebrated in many countries on October 31st each year, and Halloween 2022 is no exception. On this special day, people will carry out or attend celebration activities including trick-or-treating, Halloween costume parties, divination games, apple bobbing, playing pranks, visiting haunted attractions, telling scary stories, carving pumpkins into jack-o'-lanterns, lighting bonfires and watching horror films. Meanwhile, it is also a large holiday for e-commerce. If you do not want to miss any sales on this shopping craze, you'd better get prepared right now at BestDeals. We've compiled a list of 18 must-have deals to get you started.
This vampire fangs kit features high-quality and non-toxic materials, which is are safe on your teeth and look realistic. You will get four pairs of false teeth in various sizes (13mm, 15mm, 17mm, and 19mm) for your different cosplay needs and a tube of solid adhesive. Furthermore, these vampire fangs are perfect for Halloween-themed parties, carnivals, role plays, and other costume parties.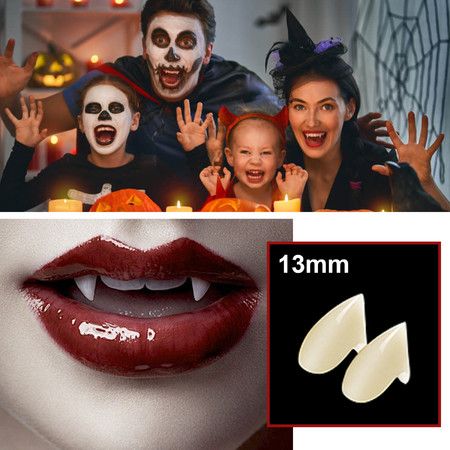 Bargain Sale Price >>> $9.99
Enhance the Halloween ambience and scare birds, puppies, and even your neighbours by using this scarecrow. It will swing the air with the wind. As it has an upgraded spring at the bottom, the scarecrow is free to move and lies like a real ghost. Even better, the Ghostface screaming scarecrow is detachable for minimal storage when not in use. You can set this scarecrow up in the grass, bar, or tree in the courtyard, or for role-playing parties.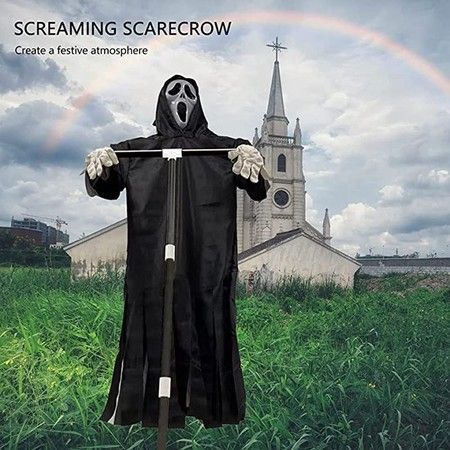 Bargain Sale Price >>> $39.99
Create a horror atmosphere for your home or garden with this lighted witch. The Halloween witch stakes are dressed all in black with RGB lighted heads. The head will change colours automatically between red, purple, blue, green and yellow. In addition, it is easy to set up and use by connecting the stakes to the witch's body and adjusting the shoulder. Place it anywhere you like.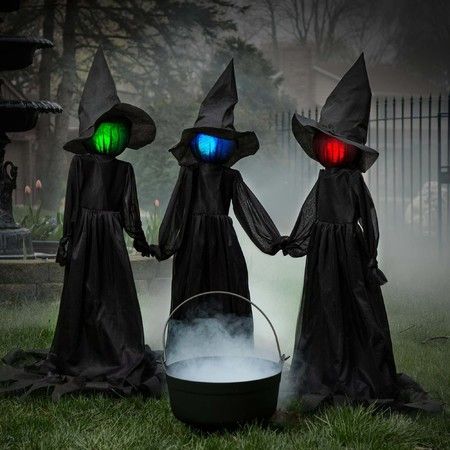 Bargain Sale Price >>> $19.99
The makeup paint sticks set includes 12 colours and can paint on the face and body. The colourful makeup sticks are non-toxic, safe and gentle on the skin. It is easy to use and wash. Simply wash the paint away with water and soap, effortlessly. Moremover, the paint sticks can work for Halloween dances, performance shows, actor makeup scenes, children's performances, fancy dress parties, etc.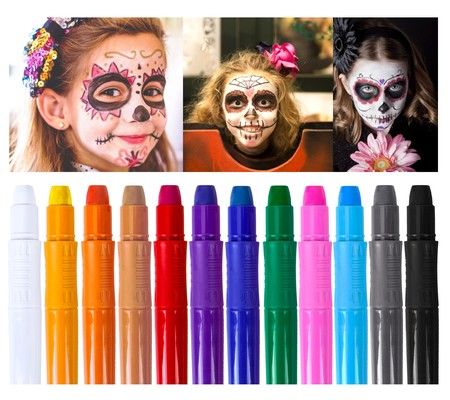 Bargain Sale Price >>> $19.99
Decorate your porch, yard, or patio and give yourself the best festive feeling with this LED string light. The 3D pumpkin string light, constructed with polyester material and LED lights, is cute and classic for decoration on balustrades and trees. It is suitable for indoor and outdoor use. Furthermore, this foldable lantern is designed with a timer function. You can use a long flexible wire to customise this light string into any shape as needed.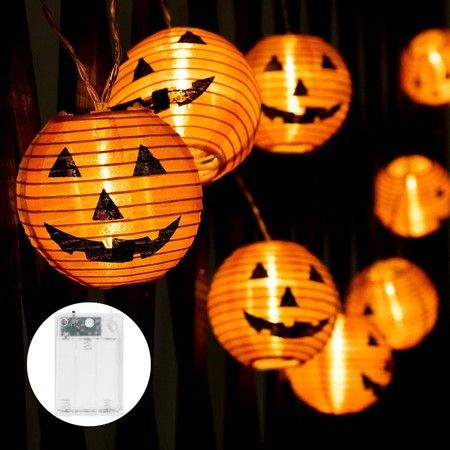 Bargain Sale Price >>> $24.99
Bring a scary touch to your backyard with this outdoor skeleton ghost solar light. It is a 2-pack set that features 300 mAh batteries and solar panels. Plus, this solar fence light can work for six to eight hours at night and be charged for eight hours in full direct sunlight. Since the outdoor solar wall lights can detect brightness changes in the outdoors, they will automatically turn on at night and turn off at dawn.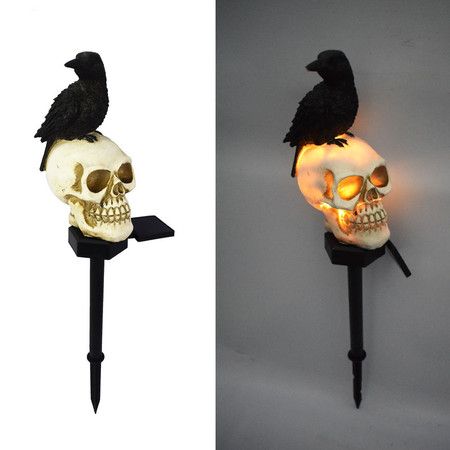 Bargain Sale Price >>> $29.95
This Halloween decoration tree is collapsible, reusable, and easy to disassemble and pack away in a box for the next holiday. Perfect for indoor and outdoor use, users can use the tree in the living room, bedroom, hallways, porch, office, supermarket, and other commercial sites.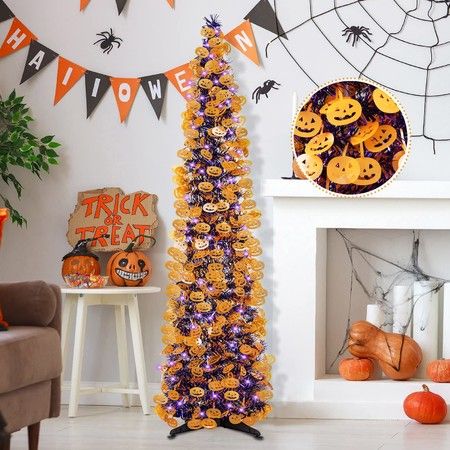 Bargain Sale Price >>> $44.99
Featuring high-quality wood and beautiful colours, the wooden pumpkin house decoration is sturdy and durable. It includes all the elements of Halloween like the Ghost tree, spooky pumpkin, and a black cat. It measures 9x8x2 inches and illuminates a warm yellow light. Further, it requires 2 packs of AAA batteries for ease of use. Perfect for decoration, the haunted pumpkin house brings an eye-catching touch to your home.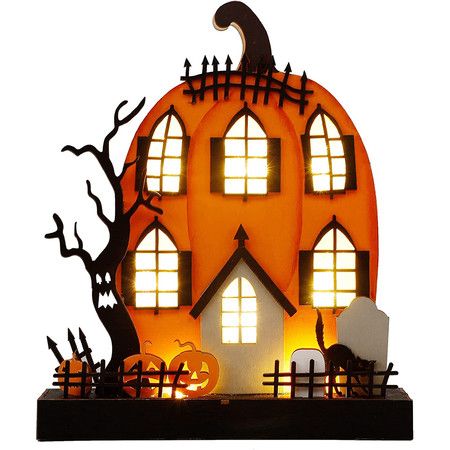 Bargain Sale Price >>> $29.95
The toss game banner comes with classic Halloween elements such as pumpkins, bats, witches, spiders, spiderwebs, tombstones, and skulls, adding a festive air to the Halloween party. It is easy to play the Halloween bean bag toss game. You can use the attached rope to hang it anywhere for the ultimate indoor or outdoor fun. Made of high-quality materials, the decoration is eco-friendly, non-toxic, odourless and durable. Moreover, you can use it for other parties all year round, not just during the Halloween event.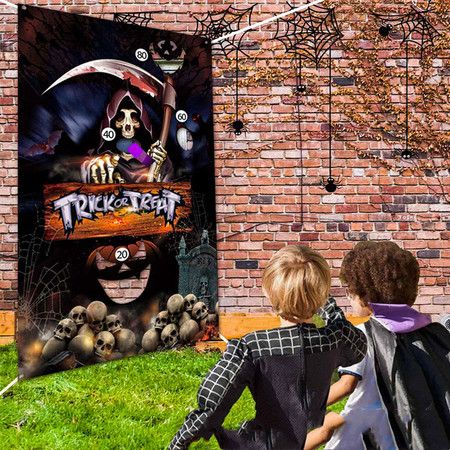 Bargain Sale Price >>> $14.99
This decoration set includes three wooden Halloween signs and a bead garland. All the wooden pieces are available in a rustic look and last for years, making them perfect for Halloween parties and events. The decoration kit is eco-friendly, sturdy and not easy to break or fade. You can display this tiered tray decor on your dining table, fireplace, bookshelf, desk, and so on, enjoying an unforgettable party time with your family and friends.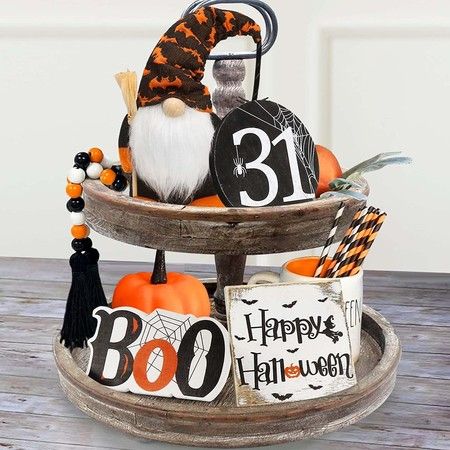 Bargain Sale Price >>> $24.99
This doormat is a great decoration for your home during the Halloween period, in addition to its utility. Featuring a soft crystal velvet front and an anti-skid rubber back, the doormat has a low profile to reduce tripping or slipping. It is durable, washable, and comfortable. Besides, the entrance rug can keep your floors clean and dry against water, dust, sand, mud, sleet, grass, rain, and snow. It is easy to clean by hand or machine. Surprise your guests and make your life more interesting with this seasonal doormat. It can serve for the front door, back door, kitchen, patio, porch, foyer, bedroom, bathroom, living room, balcony, laundry room, entrance, and garage.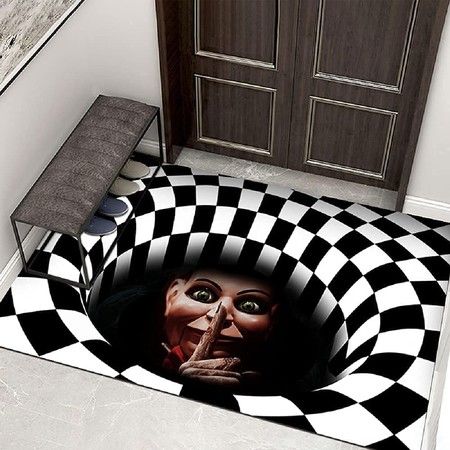 Bargain Sale Price >>> $19.95
Spook your friends and neighbours with this decoration set, including a skull and two skeleton arms. These scary models look creepy and add a strong, eerie atmosphere to any Halloween scene or decoration. Each part is made with hard and durable material that will not easily break. The jaw of the skull can adjust the opening and closing of the mouth. Place the skull and arms on a lawn to complete the illusion of a scary skeleton trapped in the ground.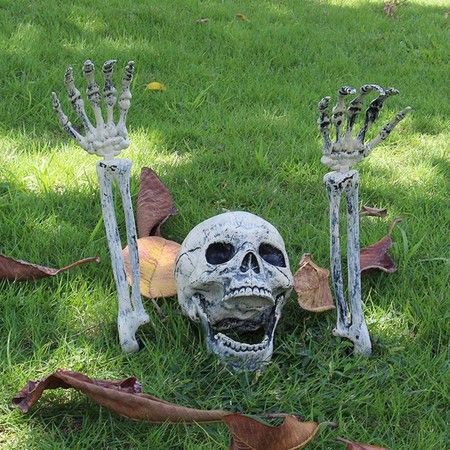 Bargain Sale Price >>> $24.95
Perfect for home decoration, the spider web light can impress and amaze your guests and friends. The ornament comes with a classic spider web and a big spider toy and measures 100 cm in diameter with orange lights. You can take the spider anywhere you like. Powered by three AA batteries, this web light string is convenient to use and can be hung on the wall, window, or door. At the same time, the decorative string lights can serve as a perfect addition to the backdrop, curtain, garden, yard, lawn, porch, patio, and balcony.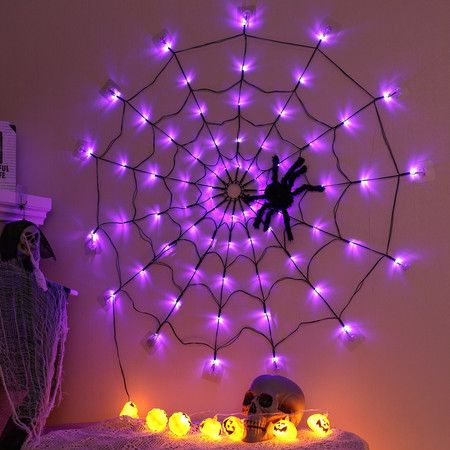 Bargain Sale Price >>> $34.99
This is a soft and comfortable long hooded cloak that is constructed of 100% velvet, lasting a long time without itchy fabrics or trims. Thanks to a short string in the neck to tie, the hooded cloak of 150 cm in length is not easy to loosen, making it suitable for kids and adults. Available in a classic black colour, the full-length cloak can work for Halloween parties, role plays, weddings, stage costume shows, and dress-up events. It is also a perfect gift for friends or family.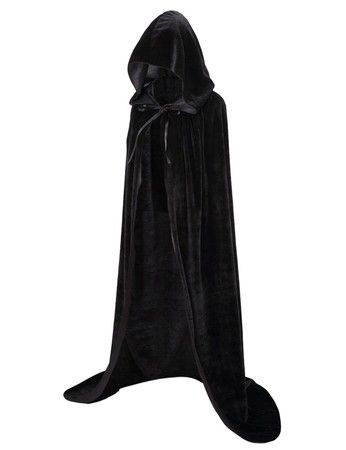 Bargain Sale Price >>> $24.99
Provide a strong festive atmosphere for your parties and trick-or-treating events with these unique hanging decorations. It is easy to use and hang in any corner, such as a desktop, fireplace, door, stair handrail, porch, window or tree, creating a mysterious atmosphere. The light string is IP65 waterproof, energy-saving and compatible with indoor and outdoor use. What is more, the LED string is a good combination of witch hats and beautiful lights to greatly light up Halloween parties, Christmas, masquerades, carnivals, and other holidays.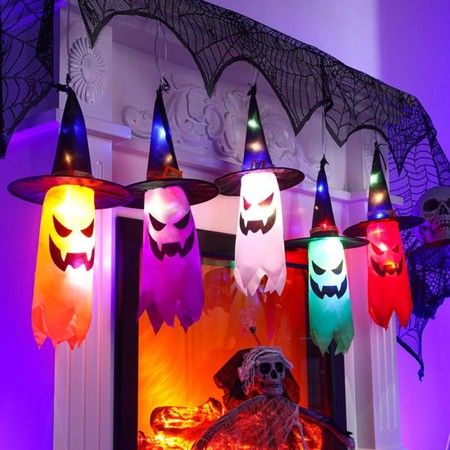 Bargain Sale Price >>> $39.99
Add a romantic and charming atmosphere to your garden, patio, lawn, porch, gate, and yard with this waterfall LED light string. Compared with the electric light strips, this solar-powered light is more eco-friendly and convenient. You can use it anywhere, such as in rooms, curtains, and fences for decoration. Plus, it can work for different occasions, including Halloween, Christmas, birthdays, weddings, etc. Since it is IP65 waterproof, the waterfall light can withstand rain and snow all year round.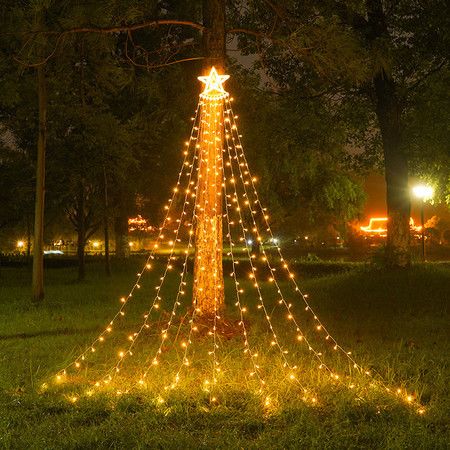 Bargain Sale Price >>> $34.99
The gnome is a good home ornament that can be used for parties, weddings, birthdays, and other festive occasions. The durable construction and fine workmanship contribute to long-lasting use and wear resistance. Use this gnome set to welcome Halloween at home, office, restaurant, café, bar, shop, grocery store, hotel, and other locations.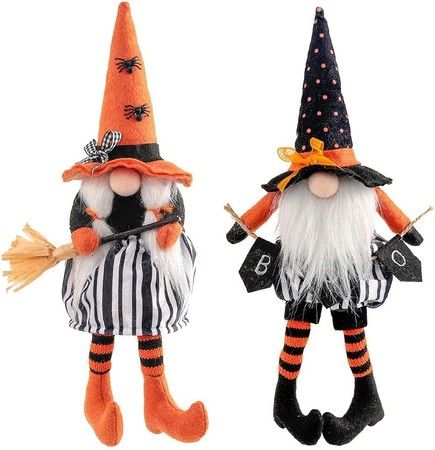 Bargain Sale Price >>> $24.99
These string lights in the shape of cute little bats in 3D design will add more fun and atmosphere to your porch, front walkway or patio. The bat light string has eight lighting modes, including flashing, blinking, waves, sequential, slow glow, chase, slow fade, and steady on, which is easy to use and versatile to suit your needs. You can hang these adorable bat string lights in your yard, fence, garden, lawn, patio, gate, porch, or any other corner of your house for decoration.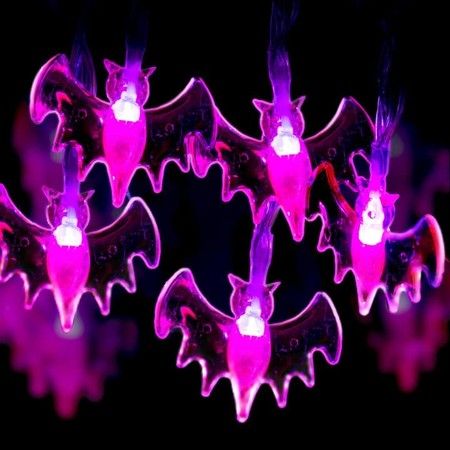 Bargain Sale Price >>> $24.95
Conclusion
Apart from the introduced models, there are a large number of products on Halloween sale covering different categories and sold at competitive prices. You can save up to 90% and get products sold at prices starting at $9.99. Keep your eye on our website and the event. For more information about our products and sales, do not hesitate to contact our customer service team. Have fun with our Halloween Sale 2022!
Comments
comments