Hot-sale Portable Ice Maker Reviews at BestDeals.co.nz
Which is the perfect beverage in summer? Cold iced drinks. Which is the perfect ice maker for you? Check out the best portable ice maker reviews at BestDeals. The following ice making machines we recommend are all-around great products for the money. 
Now get ready for the warm weather and cool drinks with this white 3.2L home ice maker. It features a full ice basket and water deficiency alarm with display. It's fast, efficient and reliable. Never run out of ice since getting this ice making machine, a good small kitchen appliance that is simple to set up and easy to operate. Bring a touch of cool to your kitchen with this portable home ice machine. 
Powerful Cooling Ability: This ice maker produces ice at a high rate of every 10-15 minutes, up to 80% compared to other ordinary ice machines with a low ice rate of less than 50%. Ice are always at hand with this high-efficient appliance.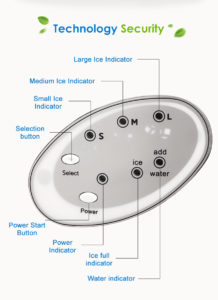 LED Indicator: It has an LED control panel, which is very easy to read. You'll know when the ice are full and when they are in shortage according to the LED lights.
Transparent Window: The transparent window allows you to see the process in action.
Three Ice Sizes: When operating it, you can choose from three different sizes of cubes, which respectively are small, medium or large. Ice thickness can be adjusted according to the desired size, suitable for a variety of uses.
Large Capacity: It has a water ice storage bin with a storage capacity of up to 3.2L.
ABS Shell: This white ice maker has a mechanical bearing design—thicker ABS shell.
This high quality home ice maker is a right alternative for those who like having parties or hosting events. Different from commercial ice makers, it is compact and portable, so you can easily take it with you for an outdoor party. There is no need of worrying about being short of ice again. Just get ready for a relaxing summer with cool fun drinks filled with cool refreshing drinks with this home ice maker! 
Energy Conservation: Using modern science and technology, this ice maker will full use every drop of water without wasting any additional electricity.
High Efficiency: This ice maker can make up to 67 cubes in an hour, and up to 16.2kg of ice in a period of 24 hours. You could always have ice cubes at your fingertips in just a few minutes.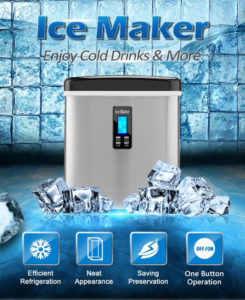 Crystal-clear Ice Bullet: Unlike the inferior ice bullets made by other ice makers, the ice particles of our silver 3.2L home ice maker are full, crystal with carved bullet shape, perfect for any occasion at home or work.
Stainless Steel Shell: This ice maker has a stylish modern appearance with a corrosion-resistant and durable shell.
Different Ice Shapes: With a choice of 3 different shapes of ice cubes, you can satisfy all the needs of your thirsty guests, friends and family.
Optional Sizes: You can choose from bullet-type ice shapes in small, medium and large and enjoy an endless supply of ice.
2.4L Portable Ice Maker Easy Sizes S/L with LED Display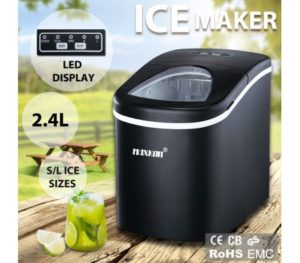 With a smaller capacity than the above two automatic ice machines, it's much more portable yet big enough for your daily use if you prefer a lightweight and handy ice machine. Also, if you are manage to buy on a budget, this Maxcon portable ice maker is perfect for you. No need to look around other products anymore. 
LED Screen Display: Operated with a modern LED control panel with an intuitive design, it allows you to control the sizes of the ice from S/L. Although there are only two sizes of ice you can choose, but it's not a big deal. There is even an alarm system to prevent the shortage of ice if the water reserves run low.
High Efficiency: You can be assured that you'll never run out of ice since this ice machine will automatically make ice of up to 12kg per day. A batch of 12 ice cubes is produced in as little as seven minutes.
Compact and Portable: It only weights 8kg. You can take this portable small appliance with you anytime and anywhere as long as you need ice.
---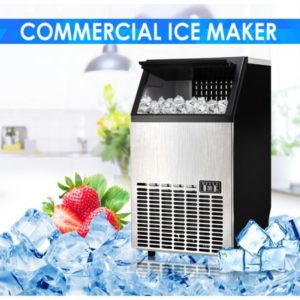 Besides these countertop home ice makers, BestDeals also offers commercial ice machines for large-scale ice use, which have a powerful cooling ability of making ice up to 60kg every 24 hours!  This kind of ice cube maker is very popular and in stock again recently. Don't hesitate for quite a while to buy your favourite one!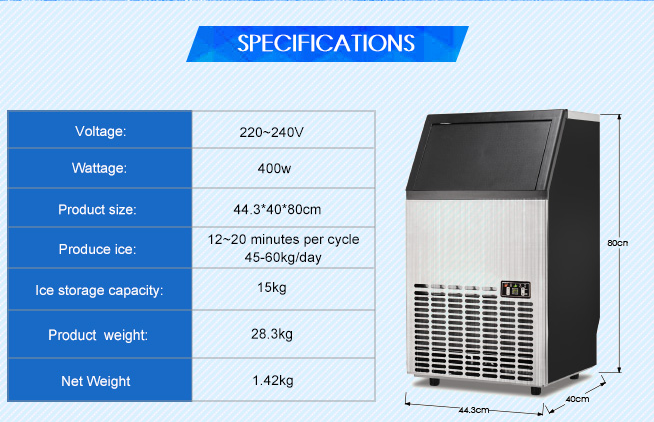 This commercial ice maker produces crystalline square shaped ice cubes, and the steel internal construction will ensure this machine has a long service life. There's an easy access door which slides up and out of the way making it easy for you to easily scoop out large amounts of ice. It's great for home, bars, BBQ and parties! 
---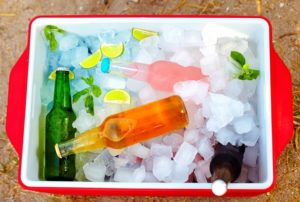 To figure out which ice maker is the right one for you, think about the volume that you require on a daily basis, the size of ice cubes that you are comfortable with and the dimensions of the appliance itself. Set a budget in advance, as well. Because if you have a predetermined price in your mind, it's much easier to choose the right one that is perfect for you. All these ice machines we review at BestDeals are great options when you're looking to purchase one for your family's daily use, parties and get togethers.
Comments
comments