Last Call Sale | 15 Last-Minute Christmas Gifts and Decors of up to 99% off to Buy
Christmas shopping is in high gear with last-minute deals from different online retailers, including BestDeals. The Christmas sale event is one of the last opportunities at the end of the year, so customers can achieve low prices on everything from kitchen appliances, LED lights, children's toys,  beauty supplies, and pet supplies.
To make your holiday shopping easier, BestDeals has gathered up the models and created this buying guide for you to enjoy a final festive sale. Whether you are looking for things for your family, friends, colleagues, or others, we've got you covered. Keep reading below and add your favourite products to your shopping cart!
Christmas Sale Price: $19.99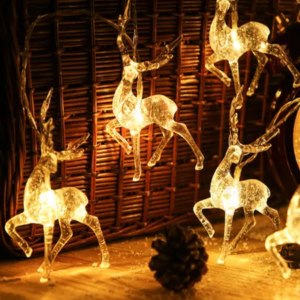 Bring this Christmas decoration to brighten up the inside or outside of your home. A white, scattered light brings a pleasant and cosy atmosphere. Also, it highlights the beauty of your furniture and decor. Meanwhile, it can serve as a beautiful garden ornament. You can hang the lights on the wall, place them on the windowsill, or wrap them around the bed frame. As the led decoration has a high-grade and wear-resistant plastic construction, it can last for years of use. Moreover, it is battery-operated and energy-saving. Even better, the Christmas lights are easy to assemble within five minutes.
Christmas Sale Price: $89.98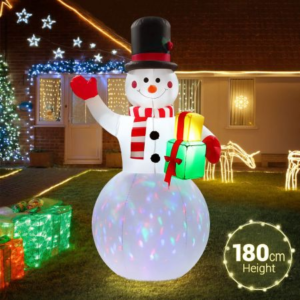 Light up your holiday season with this inflatable snowman wearing a top hat and holding a small present. This colourful rotating light looks fantastic at night and creates a winter wonderland in your backyard. It helps spread the festive cheer in your neighbourhood, and catches the attention of your family, friends, and anyone who drives by. This snowman package includes a built-in air blower, two poly bags, four ground stakes, and two ropes. Thanks to the high-quality polyester cloth, the blow-up snowman is weatherproof and fade-resistant, making it suitable for indoor and outdoor use. In addition to standing 180cm tall, the inflatable snowman is ideal for various occasions, such as homes, offices, shopping malls, parties, and so on.
Christmas Sale Price: $34.95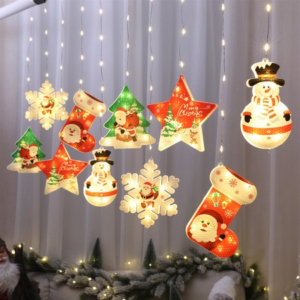 Create a cute touch to your house by hanging these Christmas light ornaments. The light-up decorations consist of high-quality waterproof full copper wire and LED lights. It features 4.5V low voltage and lasts a long time. It contains 10 festive Christmas elements in random patterns. There are two lighting modes available, including strobe and constant lighting. This battery-powered Christmas light-up adornment is convenient and safe to operate. What is more, it boasts easy application to anywhere you need it, such as rooms, gardens, patios, parties, and other events.
Christmas Sale Price: $29.95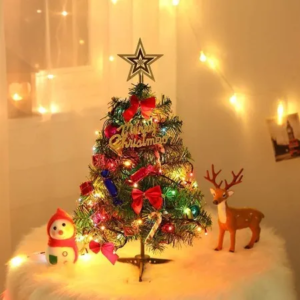 Fill your home or office with holiday cheer with this awesome artificial Christmas tree. Measuring about 50cm, the tabletop Christmas tree is perfect for decorating family gatherings and creating a festive atmosphere for your table, craft displays, shop windows, and more. It is a whole package, including a Christmas tree, multiple tree decorations, and string lights. Besides, this unique fairy light tree is a great gift for family and friends.
Christmas Sale Price: $129.99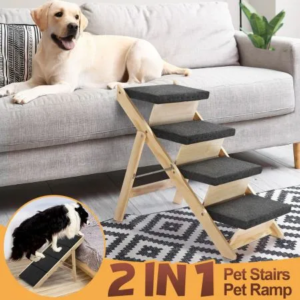 A 4-step dog ramp allows your lovely furry friend to easily enter and exit higher vehicles or taller furniture. The sturdy pine wood construction contributes to long-lasting durability and remarkable steadiness, which is strong enough to withstand a large weight of up to 60kg. In addition to the wear-resistant and soft fabric, the pet stair offers ultimate comfort and appropriate friction to prevent your pet from slipping or falling off. It is a 2-in-1 model that can switch from a smooth ramp to 4-step stairs. Suitable for pets of different shapes, sizes, and types, the pet ladder can help elevate your pooch to beds, cars, sofas, couches, and more. Furthermore, the pet stairs are lightweight and foldable for easy storage and hassle-free mobility.
Christmas Sale Price: $129.99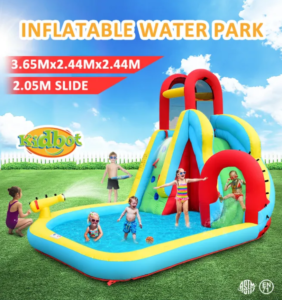 Entertain your children with hours of water play fun during the hot summer by using this inflatable water park jumping castle. Featuring high-class and heavy-duty oxford material, the bouncer park is durable, non-toxic, and odourless. Measuring 3.65 x 2.44 x 2.44 m, the water jumping castle is large enough for your children and their partners to jump, run, and play with ultimate safety. This inflatable bouncer has a full package: a jumping castle, a huge blow-up pool, a blow-up water slide with a tunnel, a climbing wall, and a cannon for extra joy. Further, this outdoor playset has a storage bag with premium straps for easy portability. With a colourful design, the blow-up water park can help develop your toddler's motor skills, coordination, imagination, and social skills.
Christmas Sale Price: $99.96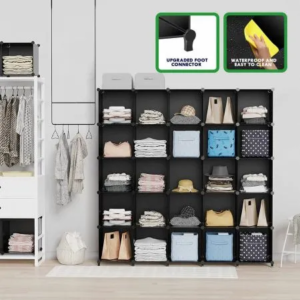 Declutter your home or office and optimize your space with this 25-cube storage display shelf. The combination of durable metal, premium plastic, and strong ABS connectors makes the organiser sturdy and firm enough for a long service lifespan. Better still, users can customize these 25 stable cubes into any shape according to their needs, making this storage cabinet suitable for different spaces. The DIY storage cabinet delivers spacious storage for varieties of items, such as books, magazines, papers, toys, artwork, clothing, bags, bedding, and more. Available in a compact design in stylish black, this storage unit can be used in your living room, bedroom, child's room, guests' room, study room, office, etc.
Christmas Sale Price: $39.95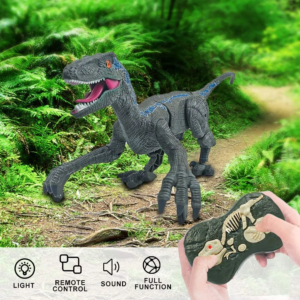 Allow your child's imagination to run wild in Jurassic World by giving him this realistic dinosaur toy. Your kid can use the remote control to make this dinosaur toy walk and fly. There are simulated sounds to make your children feel like they are on a Jurassic Park adventure. When the dinosaur play toy walks, its mouth will emit LED lighting. This RC robot dinosaur is a perfect gift for boys and girls, not only beneficial to early education, but also great for accompanying your child.
Christmas Sale Price: $149.97
This bed frame boasts style and function for your bedroom. The unity of a headboard and a footboard helps keep your mattress topper in place and adds aesthetics to this bed base. Additionally, the bed frame has 10 reinforced steel slats and nine legs that have plastic caps to prevent scratches and reduce noise. Meanwhile, this metal bed frame has a 28-cm under-bed space for convenient storage of luggage, containers, shoes, and other items, keeping your room tidy and clean. Since all parts are clearly labeled, the bed platform is easy to set up with the included instructions.
Christmas Sale Price: $99.95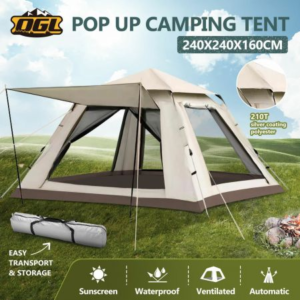 Enjoy outdoor activities with your family by using this 4-person camping tent. The instant pop-up tent's hydraulic system makes it set up easily and quickly in just three seconds, saving you time and energy in assembly. Its 210T silver-coated polyester and Oxford cloth ground sheets offer 3000 mm of water resistance and excellent UV resistance. In addition, the family tent has zippered doors and waterproof PU tape for the rainfly seam and inner seam. There are two doors, two large windows, and a top screen window to prevent insects and create air convection and ventilation. Furthermore, the mesh pockets inside the beach tent and a hook at its top create storage for your belongings. With a package size of 88 x 18 cm, the sun shade is lightweight and compact for easy transport for camping, hiking, fishing, picnics, BBQs, adventures, family gatherings, field trips, and more.
Christmas Sale Price: $69.95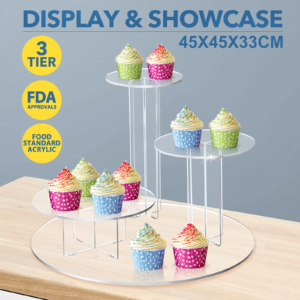 Showcase your bakery artwork to your guests or friends by using this acrylic cupcake stand. Measuring 45 x 45 x 33 cm, the cupcake display unit in a 3-tiered appearance is food-grade, UV-protective, and wear-resistant. Furthermore, it is long-lasting, safe, and stable. Apart from easy cleaning and stress-free portability, the cake display tower is versatile and multifunctional for weddings, parties, bakery shops, food buffets, and more. With detailed instructions, the cupcake storage shelf is easy to install.
Christmas Sale Price: $34.95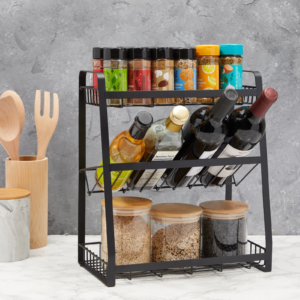 Tidy up your kitchen and improve your cooking efficiency with this countertop storage rack. Featuring a 3-tiered shape, the storage organizer can hold your most-used spices while keeping them easily accessible. Besides, this spice rack organiser can serve a variety of practical functions. And the angled middle layer is great for wine bottles, sauces, vinegar, oils, and more. Its reinforced steel structure promises lasting durability, strong support, and impressive stability. This spice rack is perfect for home and professional kitchens.
Christmas Sale Price: $89.99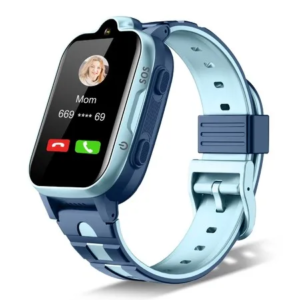 This smartwatch can do a lot of things that a smartphone cannot. It features multiple powerful functions, which include GPS positioning, SOS design, 2-way calls, voice chat, history tracking, a stopwatch, a quick learning game, a 4G network, a photo album, and more. The watch with GPS can display a precise real-time location, which can keep track of all of your children's movements and give parents peace of mind. The integration of video and voice calls provides additional fun. This GPS tracker watch is suitable for children aged 4 to 12 years old. Once there is an emergency, children can press the SOS button to ask for help. What's more, this kid's smartwatch features a 1.69-inch bright, clear, and IP67 waterproof touchscreen.
Christmas Sale Price: $39.95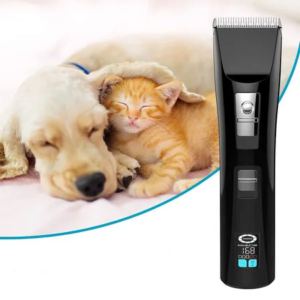 Make your dog look better with this black pet grooming shaver. Along with an LCD display, the dog shaver will also display the operating status and battery capacity, which helps you better control the grooming process. Meanwhile, this dog hair clipper has a fixed stainless steel blade for excellent cutting performance. Plus, the R-shaped rounded edge protects your fur child from injury and harm. The detachable blade is easy to replace and clean for maximum hygiene. You do not need to worry about the noise because it is less than 50 dB when working. With a large-capacity lithium-ion battery, the dog grooming kit can work for more than two hours on a full charge, making it suitable for the requirements of the grooming store and home use.
Christmas Sale Price: $39.97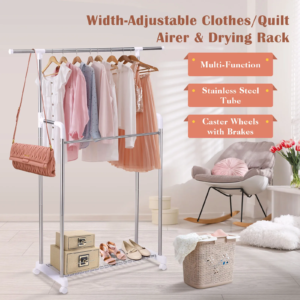 This multifunctional cloth drying rack strikes the right balance between convenience and utility. Made of reinforced stainless steel and strong plastic, the cloth drying stand is sturdy, durable, and stable to bear a maximum load of 25kg. With four smooth caster wheels, the cloth stand is easy to move around. Suitable for indoor and outdoor use, the upper rail of the cloth airer is length-adjustable from 91cm to 160cm, so you can adjust it according to your needs. This cloth rail with a firm bottom shelf is able to dry clothes, shoes, quilts, towels, pillows, and more.
Conclusion
Aside from the selected products, the last-call Christmas sale at BestDeals offers a wide variety of categories, so you can do all your holiday shopping here without stress. BestDeals' Christmas sale provides impressive discounts and fast shipping, so you can grab the bottom prices and last-minute gifts and decors without hesitation. For more reference and information, please click and read our other blog Christmas Gift Guide. If you have any questions about our Christmas sale event, feel free to contact our customer service team.
Comments
comments