How Do Portable Ice Makers Work? Maxkon Icemaker VS Igloo Icemaker Reviews
Have you ever imagined when the party is going well, all guests are getting a chilled drink in their hands and clearly having a fun time, but at this time you found you are out of ice? Portable ice makers can save you from this kind of embarrassed instances. Various configurations and styles are available in the market. Which brand will be the best choice for you? The famous Igloo Icemaker? Or other more affordable ones? Make your decision after reading this detailed ice maker review.
---
How do Portable Ice Makers Work?
Portable icemakers are convenient appliances of cost-effective and easy to use, as well as consume less power. What the greatest advantage is they're highly portable, an ideal accessory for camping, boating, tailgating or RV trips. The working of the portable ice maker significantly differs from the operation of freezers or other ice machines. Instead of filling an ice mould with water and then putting the ice mould into a freezer, a portable ice maker machine freezes the water directly, so it takes much less time to complete a batch of ice. Here is a detailed explanation of how it works.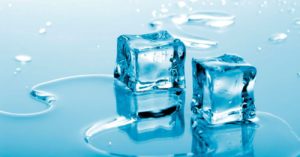 The first you need to do is to fill up the reservoir with water to the fill line, which means you just pour in water using a jug, faucet, bucket, etc. Next, you need to plug in your device to commence the ice making process. The water will be pumped through an opening or hole in the base of the reservoir, up to the freezing tray located at the top of the machine. Any overflows spills are directed back to into the unit's reservoir for future use. When the refrigeration cycle begins, the 1/2-inch prongs on the heat exchanger are lowered into the water of ice tray. These spikes tend to get cold faster, allowing ice to form on them in just a few minutes.
The size of ice cubes depends on how long the prongs are left in the water. Small ice usually takes about 6 minutes, while large ice is about twice that. When the ice has reached the proper size, the ice tray empties any remaining water back into the water reservoir. The heat exchanger reverses itself and the spikes start to heat up, just enough so that the ice pieces slide off the prongs and tumble into the ice bin that is above the water reservoir. The second sensor on storage basket monitors the amount of stored ice and shuts off the system if it gets too full.
---
Factors to Consider When Choosing a Portable Ice Maker?
Capacity and Volume
This is the first and basic aspect you need to think about while browsing your options. It will determine how much ice you can have on hand at any given time. All portable ice cube makers hold a certain amount of ice at a time and are available in various sizes. Smaller machines make around 24 pounds of ice per day while bigger makers can produce over 35 pounds in a day. If you simply want to have a maker for home-use or entertaining, they are more than enough for an average family.
Production Speed
In addition to figuring out the amount of ice your machine can hold, then you need to make sure the ice maker for sale will produce ice quickly enough for you, that is, you need to know how fast and how many times will you need ice in a given time. The cycle time of an individual batch of ice usually ranges from 6 to 15 minutes. If you want to be confident that your party goes great and guests will never wait for a refill, the higher production speed the better you will be.
Type and Size of Ice Cube
There are several different shapes of ice cubes ice makers nz are capable of creating, such as bullet-shaped ice, crushed ice, cylindrical-shape ice and so on. And the size of ice cubes for selection varies from S to L depending on yourself. Some automatic ice makers only produce one type of cube while others have up to 2 or 3 different sizes and shapes.
Durability
Freezing is a hard work, which suggests you need to choose an electric ice cube maker made of sturdy and durable materials. As such, you can be likely to buy a high-quality maker that can be used for a long time safely and smoothly.
---
Maxkon Icemaker VS Igloo Icemaker Reviews
Price
$ 229.95-$349.95
$ 239
Feature
Energy saving
Large heat fan
Comes with ice scoop
Lower-water alarm system
Interior foaming structure
Modern designed LED control panel
Transparent window
Modern compressor refrigeration technology

water drain cap
LED indicators
Transparent window
compressor cooling system
Soft-touch electronic controls
come with Keurig iced beverage tumbler and ice shovel
Cycle time
6-13 minutes
7-12 minutes
Size
24.2*36*33 cm (L*W*H)
11.25*14.5*15 inch (W*H*D)
Material
stainless steel
ABS plastic
Ice Size
S/L ice sizes
S/L ice sizes
Ice Shape
bullet-shaped
bullet-shaped
Water Tank Volume
2.4 L
2.3 Quarts
Ice Basket Volume
0.75 KG
1.5 Lbs
Ice Capacity
up to 12KG of ice/day
up to 26 Pounds of ice/day
Ice Making Current
0.7A
1.5A
Warranty
1 year
90 days
---
Introduction of Other Portable Icemakers
Silver 3.2L Home Ice Maker ($349.95)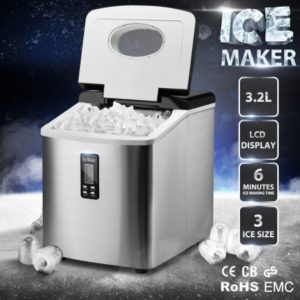 Features:
3.2L Water tank capacity, 1KG Ice storage capacity

Compact, portable, stainless steel shell

Low-water alarm, Full-container alarm

Inspection window, Earthed power plug

Powerful cooling ability, intelligent core

Convenient drainage plug, efficient compressor, LCD indicators

Bullet-shaped / Hollow cylinder ice cube shape, 3 choices of ice sizes

Fast, 6-15 min cycle time, up to 16.2KG ice per day

1-year Australian warranty
Commercial Ice Cube Maker ($899.95)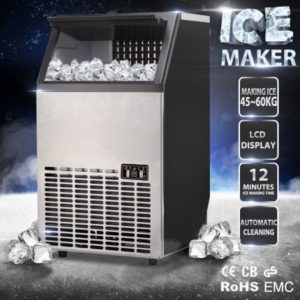 Features:
15 KG Ice storage capacity

Self-cleaning capability, energy saving

Steel internal construction and steel enclosure

Water shortage auto-detection system

LED screen, Ice cube tray, water tank

Built-in positive and negative ions sterilizer

Front air intake and exhaust facilitates

Highly-efficient heat exchange, 3 cooling fans

Crystalline square shape

 ice cubes

Fast, 12-20 min per cycle, 45 ice cubes per cycle, 

45-60KG ice per day

1-year warranty
Comments
comments