Medical Supplies Reviews | How to Protect Yourself against Coronavirus
Coronavirus, also called Covid-19, is in the middle of an outbreak. The World Health Organization has declared the number of cases continues to rise around the world, and recommends people take basic steps against coronavirus to protect themselves and help prevent the spread of viruses and other infections.
Stay home and self-isolate
Stay home, stay safe. Even if you have no underlying health conditions and no symptoms, be extra cautious to protect other people. Scientists believe that the coronavirus spreads from people to people, so limiting your exposure to other people is an effective way to protect yourself. Don't go to crowded restaurants or bars. Avoid public transportation, skip social gatherings and limit nonessential visits or travels.
Portable Air Purifier Home Car Ozone, Carbon Filter Eliminates Smoke, Dust, Pollen Bad Odors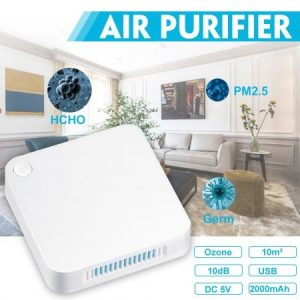 This best air purifier is small and compact. Its unique technology and carbon filter easily and quickly remove up to 99% of chemical particles, bacteria, toxic gases, the smell of cigarettes and dirt in the air, either your house or your car. This mini car air purifier constantly cleans the space around you, making the air safe and healthy. It works automatically once connected with a USB charger and is convenient for transportation.  
Wash your hands correctly and often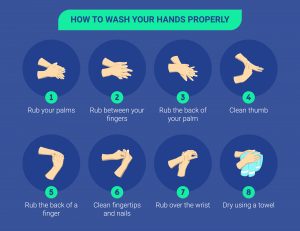 Clean your hands with running water and soap correctly. Lather your hands, including the palms, backs, between your fingers, the end of your fingers and under your nails and scrub for at least 20 seconds, then rinse the soap from your hands. Or use an alcohol-based hand sanitizer when soap and water are not available.
Be cautious to the touched objects and surfaces
Your hands are likely to touch many surfaces and can pick up viruses. Once contaminated, your hands can deliver the virus or germs to your eyes, nose and mouth, through which the virus can enter your body and get you infected. So, it is suggested that you wear disposable gloves when you are outside to use frequently touched surfaces. For example, when you are using an elevator or a shopping trolley.
100Pcs Disposable Clear Vinyl Gloves Powder Free Gloves Size M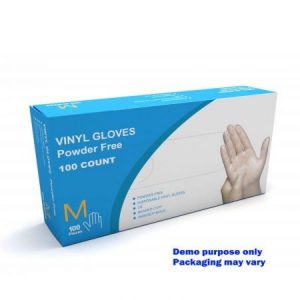 These vinyl gloves offer great comfort and convenience for jobs like food preparation, cleaning or hair dying. The textured fingertips design provides excellent fit and grip under all operating conditions. The beaded cuff adds extra strength, quick donning, fast removal and tear resistance. They also made with powderless treatment to reduce sensitivity and allergies. The gloves are in a wide application, including food service, cosmetology and health care.
100Pcs Disposable Nitrile Rubber Glove Thick Powder Free Strong Stretchy Gloves for Home Food Laboratory Use – Size M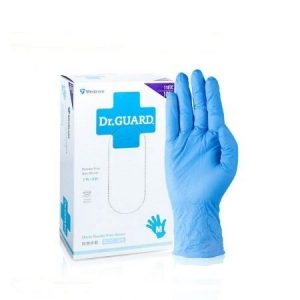 Protect your hands while performing a variety of tasks with these nitrile rubber gloves during this flu season and coronavirus outbreak. Made with tear-resistant, waterproof rubber, these gloves are a great solution for tough jobs and unpleasant messes. Featuring textured fingers and beaded cuff, the gloves minimize slippage and enhance grip. These durable gloves shield sensitive skin from hot water, chemical cleaning products, grime and dust. Ideal for indoor and outdoor use, the rubber gloves are built to last and can be used many times over.
Maintain social distance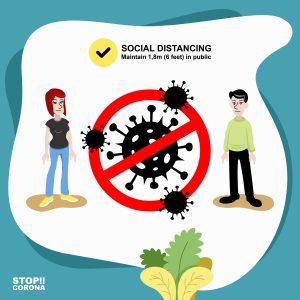 Maintain at least one-meter (three-feet) distance between you and other people, especially who is coughing or sneezing. When you cough or sneeze, cover your mouth and nose with a tissue. Then throw the tissue in the bin and wash your hands. If you do not have a tissue available, cough or sneeze into your elbow rather than your hands.
Wear face masks
Face masks offer extra protection. Disposable surgical face masks, also referred as medical masks, can block particles or respiratory droplets from entering your mouth and nose, which stop the spread of flu and coronavirus. The most useful are KN95 masks, which are effective in shielding you from airborne illnesses and prevent smaller particles. All these face masks could significantly help protect you from getting a viral infection.
12 Pcs Disposable Face Mask Medical Earloop Mask 4-Ply Soft Breathable Dust Filter Mask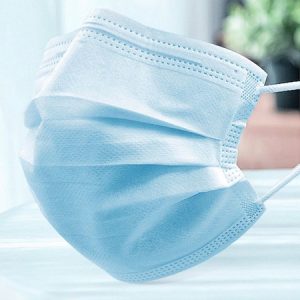 This surgical mask is made of high-quality medical standard material, having strong filtration and full protection from germs, viruses and dust. It comes with a 3-ply construction, including the leak-proof non-woven fabric, high-density filter layer and direct-contact skin layer. The mask is breathable and comfortable to wear. The soft ear hook allows you to wear it easily and the individually packaged design adds extra security and hygiene. These disposable face masks can be used widely, ideal for cleaners, chefs, builders, doctors and students.
20 Pack KN95 Medical Face Mask Filter Particulate Bacteria Virus Disposable Dust Mask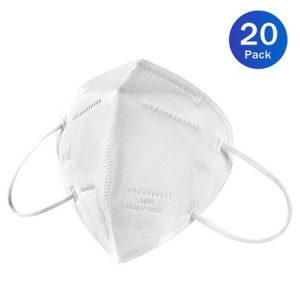 This KN95 face mask is equipped with an intimate design. The built-in sponge strip device enhances the sealing of the mask and makes it conform to your face. Constructed of top-quality PP non-woven fabric, high-efficiency melt-blown fabric, cotton filter with activated carbon, the KN95 mask provides the best protection against bacteria, virus, PM2.5 particles, pollen, dust, and automobile exhaust. The elastic cotton straps are highly stretchable and comfortable for long-time wearing. The perfect fitting ensures the breathability and keeps your eyeglasses from fogging up. Easy to wear and high-performance, this KN95 is suitable for hospital, restaurants, malls, cinemas and schools.                                                                                             
Seek medical help early
Preparation is the best way to protect yourself. Stock up on enough supply of medical items or prescriptions for an emergency. If you have a fever, cough and difficulty breathing, seek medical attention and call in advance. Follow the directions of your local health authority.
Your routine may be affected by coronavirus in different ways. But do not be anxious and please stay calm. High stress levels can attack your immune system to make you sick. So, you'd better take care of your mental health as well. Try to keep some structure in your day, like maintaining a healthy diet, keeping regular sleeping routines, and exercising regularly.
Comments
comments