Mother's Day Easy Recipe Ideas | Tasty Gift for Mom
As Mother's Day is around the corner, instead of selecting a present for your mom in a hurry, treat her with delicious homemade food. On this special day, speak out your love and gratitude to the mom in your life. Prepare a big meal for her as breakfast, brunch or dinner with these Mother's Day easy recipe ideas.
Air Fried Sweet Potato Chips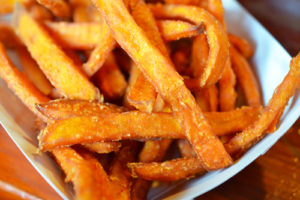 Total: 30 min
Ingredients:
2 large sweet potatoes
1 tablespoon olive oil
Directions:
Peel the sweet potatoes and then slice them into chips.
Preheat your air fryer to 180 degrees C.
Put the sweet potatoes in a snap-lock bag then add the oil. Shake the bag so the sweet potatoes are covered in the oil.
Tip the sweet potatoes into the air fryer. Cook for 15 minutes, a little longer if the chips are thick.
Tips:
Try and keep slicing the sweet potatoes as regular as possible so there is a consistent cooking time. To make it crispy, soak the chips in water for a few hours. After that drain and dry before you fry them.
With an oilless frying and toasting method, air fryers can make fried food consisting of 80% less fat. To be specific, airfryers create hot air circulating the food to cook instead of using oil. Therefore, air fryer nz is perfect for those who love the taste of fried food but dislike getting fat.
---
Dried Fruit Pancakes
Total: 15 min
Ingredients:
2 eggs
1 cup all-purpose flour
3/4 cup milk
2 tablespoons sugar
2 tablespoons vegetable oil
1/2 tablespoon baking soda
1/2 teaspoon salt
Directions:
In a bowl, mix all the ingredients together, breaking up any lumps. Pour batter onto a hot griddle. Flip pancakes when the edges appear cooked and the batter bubbles on top. Top it off with dried fruit.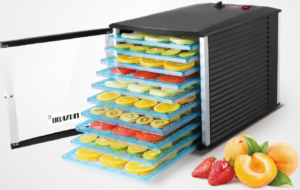 Create your own healthy and delicious dried food with food dehydrators which help make the food drying process an easier task. Food dehydrators not only dry out foods, such as fruits, meats and vegetables, they preserve them without additives or preservatives, which retain the original taste of food as well as guarantee it beneficial and healthy for human.
---
Love Toast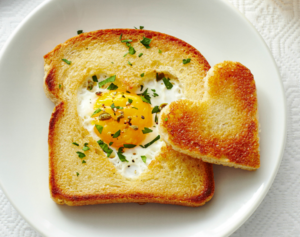 Total: 20 min
Ingredients:
4 tsp. mayonnaise
2 slice white sandwich bread
1 tbsp. butter
2 large eggs
salt
pepper
Finely chopped capers
Finely chopped fresh herbs
Directions:
Spread mayonnaise on both sides of 2 slices white sandwich bread.
With medium heart-shaped cookie cutter, cut centers from bread.
In 12-inch nonstick skillet, melt butter on medium.
Add bread (and centers) to skillet. Cook 5 minutes or until golden brown.
Turn bread over. To each heart-shaped hole, add 1 large egg; sprinkle eggs with pinch of salt and pepper.
Reduce heat to medium-low. Cook 5 to 7 minutes, or until whites are set.
Sprinkle with finely chopped capers and herbs (such as parsley, chives or basil) if desired.
---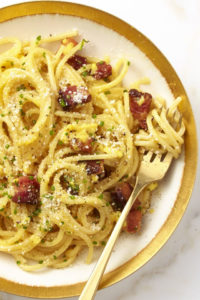 Scrambled Carbonara
Total: 30 min
Ingredients:
1 lb. spaghetti
5 large eggs
1/2 c. finely grated Parmesan, plus more for garnish
4 slices thick-cut bacon, chopped
1 small onion, finely chopped
Snipped chives, for garnish
Directions:
Cook spaghetti as label directs in a slow cooker, reserving 3/4 cup cooking water before draining.
Meanwhile, whisk eggs, Parmesan, 1/2 teaspoon salt and 1/4 teaspoon pepper until combined.
In 12-inch skillet on medium, cook bacon 5 minutes or until browned and crisp, stirring occasionally. With slotted spoon, transfer to paper towels to drain. Pour off all but 2 tablespoons fat.
To same skillet on medium add onion and cook 4 minutes or until tender, stirring occasionally. Add eggs to skillet; cook 1 minute, stirring only once or twice, until almost set and large curds have formed.
In large bowl, toss eggs, bacon and reserved pasta water with hot pasta. Garnish with chives and Parmesan.
With 18-in-1 multiple functions, the slow cooker can finish almost all your daily cooking procedures. Equipped with sufficient accessories, this master cooker is able to slow cook, steam, roast, braise, fry and more. Everyone can become an expert chef thanks to the easy operation and multi-functionality of slow cooker.
---
3 Simple Mimosa Recipes to Try
---
You may also like: Top 5 Mother's Day Gift Ideas 2017 | Get Mom What She Wants
Ref:
http://allrecipes.com.au/recipe/27254/sweet-potato-chips–air-fried-.aspx?o_is=Hub_TopRecipe_2

http://www.foodnetwork.com/recipes/pancakes-recipe0

http://www.goodhousekeeping.com/food-recipes/a16725/love-toast-recipe-ghk0215/

http://www.goodhousekeeping.com/food-recipes/a43185/scrambled-carbonara-recipe/
Comments
comments