Office Chairs Buying Guide: How to Choose the Right Office Chair
Have you thought about why do you feel so tired after work? Is your work load too heavy? Does your job make you feel stressful? Or, maybe the most possible reason, your office chair doesn't fit you at all! Office chairs are the most important pieces of office furniture. Finding the right office chair for your body is important for your health and work productivity.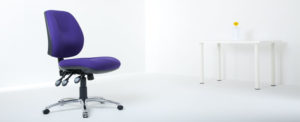 ---
Ask Yourself 5 Questions
Do I have back pain after sitting for long periods of time?
Do I suffer from a pain in your knee?
Am I gaining weight sitting down?
Am I feeling sluggish or depressed?
Am I getting more headaches somehow?
These unexpected pains of your body are the results of many reasons that you sit for extended periods of time, your muscular and cellular systems become inactive when you're sitting down, or your sit without using the proper posture. But most importantly, you've chosen the wrong office chair. These are the painful warning signs that you should replace your uncomfortable computer chairs nz. Having a quality ergonomic office chair that you can relax in is a non-neglectable thing that you should carefully consider.
---
Three Best Office Chairs at BestDeals
---

Product Name
Racing Recliner Seat
High Back Gaming Chair
PU Leather Office Computer Chair
Color
Orange, Blue, Red, Black
Red, Black
Blue, Orange, Red, Black
Seat Height
48-58cm
46-56cm
49-59cm
Seat Width
53cm
54cm
53cm
Seat Depth
44cm
48cm
50cm
Backrest Height
85cm
77cm
71cm
Max Capacity Weight
150kg
150kg
120kg
Swivel
360 Degree Swivel
360 Degree Swivel
360 Degree Swivel
Features
Removable and adjustable Head Cushion/ Lumbar Cushion
Ergonomic reclining to 180 degree
Double cushion
PU padded armrest
Adjustable Back and Seat Tilt
What Features Should a Good Ergonomic Office Chair Have?
Seat height: Office chair seat height should be easily adjustable. If the positioning is too high, there will be too much pressure on the sensitive area behind the knee or it can limit blood circulation. If it is too low, the knees will be higher than the hips, which causes your body weight to shift back and put pressure on the sitting bones.
Seat width and depth: The seat must have sufficient width and depth to support any user comfortably. Usually 17-20 inches wide is the standard. The depth needs to be adequate so that the users can sit with their back against the backrest of the ergonomic chair whilst leaving about 2 to 4 inches between the seat of the chair and the back of the knees.
Lumbar support: The good ergonomic  office chairs should have the support for lower back. The lumbar spine has an inward curve, and sitting for long periods without support for this curve tends to lead to slouching and strains the structures in the lower spine. A reliable ergonomic office chair must possess a lumbar adjustment feature so each user can get the appropriate fit to support the inward curve of the lower back.
Seat material: Comfortable is the key! The material on the office chair seat and back should have enough padding to be comfortable after hours of sitting in it. Also, there should be enough cushion to support the users.
Mobility: Chairs should allow you free movement in your work space. If you work at a large desk, o chair with wheels or a swiveling seat may be best.
---
Do Ergonomic Office Chairs Have to be Big & Heavy?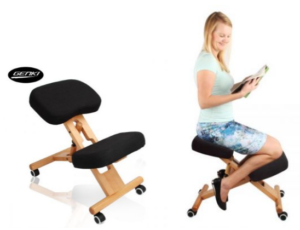 No! Look at this Adjustable Ergonomic Office Chair, it's much lightweight to save your space! Constructed with a well- padded seat and knee pads that keep your body from sliding forward, this desk chair allows you to work comfortably while reducing the stress on your back. The ergonomic design provides maximum comfort and features manual height adjustment ranging from 52cm x 67cm approx. Equipped with wheels for ease in mobility and which lock for stability this kneeling chair is perfect for any home or office!
---
Comments
comments