Queen's Birthday Sale 2022 | Best & Cheap Deals Up to 90% Off
Queen's Birthday is a well-known public holiday in New Zealand. It is also the perfect time for you to shop for the best-discounted products during Queen's Birthday Sale. Many retailers and shops will give massive discounts or coupons to celebrate Queen's Birthday. Therefore, customers will get further savings and reductions on their favourite or needed products. BestDeals is no exception. We have all the royal deals on a wide range of products covering every category for you this June, but be in a hurry!
Queen's Birthday Sale Price >>> $139.99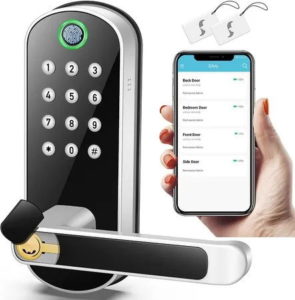 This is one of the new arrivals for sale at a discounted price. It is powerful enough to store 200+ codes and 150+ fingerprints. Among permanent, timed, recurring and custom codes, users can generate the ideal code for themselves. Further, users can generate the codes remotely. While the Sifely Gateway can help generate the custom codes remotely.  Better still, it has an auto-lock design, to remove your fear of forgetting to lock.
Thanks to the voice response, the entry door lock will let you know its real conditions, including unlocking, being locked or low battery level. Even if you miss the low battery notifications, you can use a power bank to charge it. Included are compatibility with smart speakers, low energy usage and instantly created codes, making this keypad door lock easy to use and convenient flexibility.
Queen's Birthday Sale Price >>> $64.95

This baby playmat is on sale at a discount of 28% off. Adopting 100% eco-friendly polyester material, the baby mat toy is BPA-free, non-toxic and safe for babies to play and rest. Besides the premium materials, the round edge designs are friendly and safe for babies, which prevents your child from being scratched, poked and damaged. In addition, the cute patterns on the play mat are printed with vegetable oil ink, which is comfortable for infants crawling and playing.
Together with rattles, tactile elements, detachable stuffed animals and a carrying bag, the baby playmat can help cultivate kids' capabilities, including fine motor skills, sensory, cognition and gross motor development. Better even, the foldable yet lightweight mat is easy to store and pack, in addition to taking less space. The playmat is also waterproof, so you can wipe it directly with a damp cloth to keep it clean.
Queen's Birthday Sale Price >>> $29.95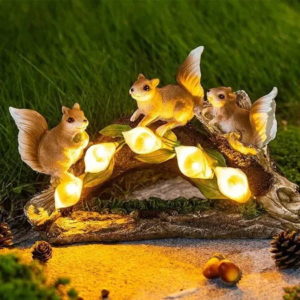 Bring a creative and decorative touch to your garden with this solar LED squirrel sculpture. Made with premium materials, the squirrel statue is long-lasting and wear-resistant for years of use. Additionally, a hand-painted UV-resistant coating makes the resin sculpture solid, water-resistant and can withstand all weather conditions, such as rain, snow, frost and wind. It is solar-powered and energy-saving to cut down your bills.
When you turn on the power switch before use, the solar squirrel sculpture will automatically charge and store energy during the daytime, and it will automatically light up your yard at night. This decoration goes well with any outdoor scene, including lawn, backyard, patio, fence and walkaway. It is also a perfect ornament gift for different holidays, like housewarmings, birthdays, Easter, Halloween, Thanksgiving and Christmas.
Queen's Birthday Sale Price >>> $29.97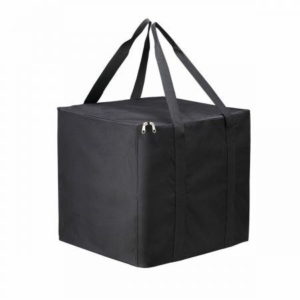 Constructed of sturdy materials, this large toilet carry bag comes with a high capacity bearing 20kg. There is double cross stitch reinforcement on the stressed part. Moreover, three fabric layers are at the bottom while two fabric layers are on the sides and lids. The toilet carry bag is machine washable and will not shrink or discolour.
Additionally, two durable handles and a smooth double slide zipper are included for stress-free carrying and easy opening and closing. Measuring 45cmx28cmx41cm, the toilet carrying case fits with most portable toilets from 10 litres to 24 litres. The carrying case is easy to clean and foldable into a compact size for hassle-free storage in your vehicle or drawer of your home furniture. It brings the ultimate convenience for your outdoor activities or travelling on the go.
Queen's Birthday Sale Price >>> $189.95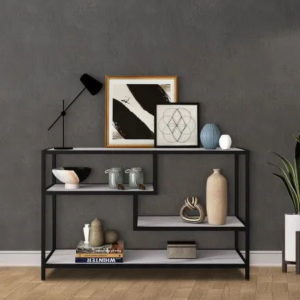 For any style of living room, this modern console table will be a focal point to impress your guests and highlight your space. Featuring a white faux marble countertop paired with a black metal frame, the 4-tier end table with a max 90kg load capacity is pleasingly aesthetic, and will not be out of fashion. In addition to the clean lines creating simplicity and elegance, the entryway table emerges into your furniture, as well as levels up your room to a new height.
Better yet, the different-height board design allows for storage of items in various sizes, such as family photos, collections, vases, flower pots and more, keeping your stuff organised and your home neat. There are adjustable feet to prevent wobbling from uneven surfaces, and protect the floor from being scratched. Versatile and flexible, the console table can serve as a TV stand, a sofa table or a storage rack, working for different purposes and occasions.
Queen's Birthday Sale Price >>> $229.95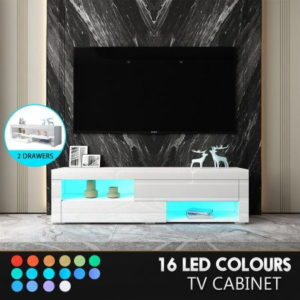 Bring a stylish and elegant statement into your living area with this TV cabinet stand. Available in a white chic look, the TV storage cabinet, measuring 160cmx35cmx45cm, fits most apartments or small rooms. Featuring heavy-duty particle board construction with a UV high gloss paint front, the entertainment unit is reinforced and durable for years to come, in addition to creating the reflection effect and highlighting the contemporary design.
Two large drawers and a spacious top offers a roomy storage area to hold your stuff, such as your television, vases, photo frames, console accessories and ornaments. Besides, its LED light system has four interchangeable modes and 16 kinds of lighting colour options, creating a realistic and unique ambience when you are watching movies, TV shows or listening to music. Last, the entertainment stand is easy to clean with the least maintenance.
Queen's Birthday Sale Price >>> $49.95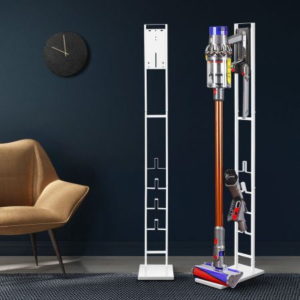 Easily hold your vacuum cleaner and leave no drill marks or scratches on the wall by using this vacuum stand rack. Thanks to the free-standing design, your vacuum cleaner will stand stably and safely and you do not need to drill holes in the wall. Equipped with a reinforced and corrosion-proof metal frame, the cleaner stand includes a stable base and high-quality fixings to withstand daily use in the coming years.
Furthermore, its large and sturdy base boasts firmness, space-saving and ease of mobility. This vacuum rack can neatly store your Dyson vacuum attachments and accessories, as well as allow your vacuum to charge effortlessly, therefore, you can easily access this cleaning stuff when they are needed. The freestanding mounting bracket works for Dyson V7, V8, V10, V11, Xiaomi, Dreame and most cordless vacuums on the market. The storage stand is easy to install with the included tools and instructions.
Queen's Birthday Sale Price >>> $269.95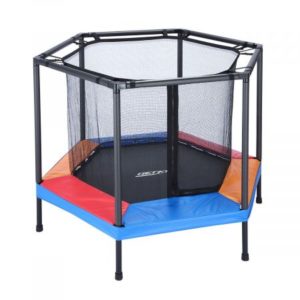 Keep your toddlers active and entertained with this Genki kid trampoline. This children's trampoline with anti-rust springs has excellent elasticity and can last for a long time. Plus, the circular jumping mat made of heavy-duty polypropylene is highly resilient and durable. For ultimate safety and ease of use, the trampoline rebounder is coupled with a foam-covered handle, an ergonomically-designed handle height and a surrounding net.
As the trampoline has a height of 113cm, parents can monitor and protect the kids at the same time during play. This 55 inches rebounder is ideal for children above three years old, encouraging them to like sports and promoting their sense of balance and coordination in the game. The trampoline has a maximum load capacity of100kg, hence parents can rest assured that younger children can jump securely and confidently on it. The waterproof jumping mat of this kid's trampoline contributes to indoor and outdoor use.
Queen's Birthday Sale Price >>> $49.95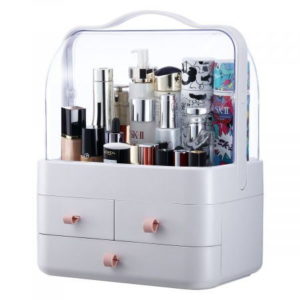 If you're going to shop for a storage box for your makeup supplies, look no further than this exquisite yet cheap makeup storage case. Crafted of heavy-duty plastic materials, the makeup organiser promises to last for years to come. Users can store a range of stuff and items including makeup tools, skincare products, jewellery and fashion accessories in its multiple compartments and drawers.
Meanwhile, the cosmetic display organiser boasts dust resistance for easy cleaning and less space occupation for effortless storage. Better even, the transparent lid of this cosmetic holder allows users to easily view and get what they want. Coupled with a carry handle, users can take this makeup organiser anywhere as needed. The stylish and elegant style makes the makeup storage stand fit for different occasions, including dressers, bedrooms, makeup rooms and beauty salons.
Queen's Birthday Sale Price >>> $39.99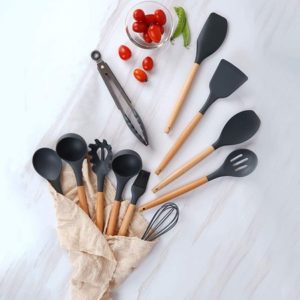 Get the cost-effective set of kitchen utensils for your family or friends who love cooking. It is a safe and user-friendly cooking utensil kit that is made of premium food-grade silicone and with wooden handles. Including 13 pieces, the utensils are BPA free, odourless and non-toxic to use for any type of food. The silicone utensils are soft and will not scratch your non-stick cookware or expensive pans.
Moreover, these kitchen utensils will not chip, warp or melt thanks to their great resistance to high temperatures up to 230 Celsius degrees. The wooden handles not only ensure a comfortable grip but also withstand heat. All these baking utensils are durable for daily use for a long time without being worn down. The 13 different types of cooking utensils with unique functions will be the best helper for cook lovers.
Queen's Birthday Sale Price >>> $89.95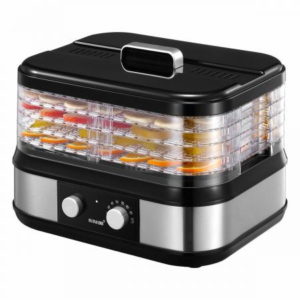 Enjoy fresh hydrated foods in the comfort of your home with this 5 Trays Food Dehydrator Dryer Machine. Featuring BPA-free and non-toxic plastic construction, the food dryer is sturdy and durable to last for years of use. For more protection and safety, the fruit dehydrator has a built-in fan system and auto shut-off mechanism to prevent high temperatures and burning.
Coming with a large storage capacity, the dehydrator machine has two stackable ways to suit different sized foods. Further, the adjustable temperature modes range from 35 to 70 Celsius degrees to fit different types of foods. It has a humanised transparent design for easy viewing of the drying process and optimal convenience without having to remove its cover. What's more, the food dryer machine is space-saving and hassle-free to clean.
Queen's Birthday Sale Price >>> $109.95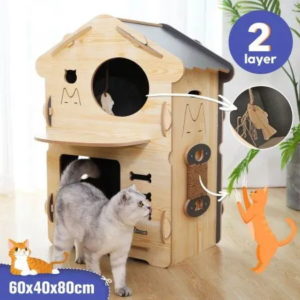 Spoil your feline friend with this large wooden cat house. Available with a contemporary look with two layers, the cat condo is made of rugged MDF wood material for incredible sturdiness and reliable durability. In addition to the neutral colour tones, this cat scratching house for indoor use will perfectly integrate with your home interior and existing decors.
Easy to assemble, the kitty house in a collapsible design allows for space-saving storage. Additionally, the cartoon-shaped hollow window and footprint decoration not only increases ventilation, but also attracts your pets' attention. This cat playhouse offering plenty of space is suitable for pets to play, relax, crawl or do whatever they want.
Queen's Birthday Sale Price >>> $59.95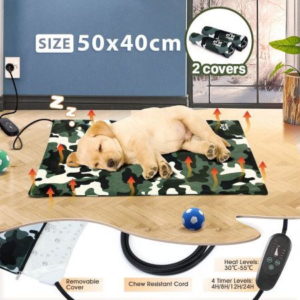 Keep your cute animals warm and cosy in the chilly winter with this electric pet heat pad. Coming in a size of 50cmx40cm, the pet heating mat features an IC control box with an LED indicator, which works to show the temperature and timing. Due to six temperature levels ranging from 30 to 55 Celsius and four timing modes, pet parents can programme the best condition to meet the different needs of their furry friends. The built-in thermal protector not only contributes to overheating prevention, but also ensures maximum protection for the dog's skin and fur.
Besides, you can set the electric heating blanket in a thermostatic state to warm your pooch's body comfortably and effectively, which is perfect for pets that are senior, newborn, pregnant, arthritic or after surgery. The pet heat bed has a cord covered with PVC, which is chew-resistant and wear-resistant so that your furry companion will not easily bite or chew it. For easy cleaning and maximum hygiene, the dog heat mat has a soft but removable fleece cover that is machine washable.
Queen's Birthday Sale Price >>> $119.95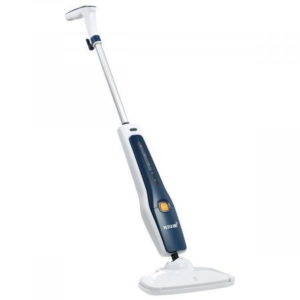 Make your daily cleaning routine a breeze to save your energy and time with this Maxkon professional steam mop. Owing 13000W power, this steam cleaner is more effective than a traditional mop, creating hot steam to easily remove dirt and dust from your space, including the living room, dining room, kitchen, bedroom and bathroom. Two replaceable mop pads serve as a standby. Featuring a big clear 450ml water tank for 22-minute cleaning, you do not need to refill water frequently. And you can see the amount of remaining water. For the best user experience, the steam cleaner has an ergonomic handle for a comfortable grip. Also, there is a button on the handle for convenient control of the steam levels from low to high.
Better yet, the steam mop will automatically shift to standby mode and cut off the steam when the mop is put vertically to the ground. Without using chemicals, the floor cleaning steamer provides a safe and friendly environment for families with kids, seniors or pets. This mop can swivel 180 degrees horizontally and 90 degrees vertically, ensuring it is easier to clean the hard-to-reach edges. The 5m long power cord allows you to mop the whole room, every corner and underneath of the furniture with ease. It is a must-have for every household.
Queen's Birthday Sale Price >>> $199.96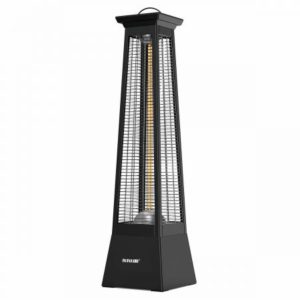 Heat your zone fast and safely with Maxkon infrared tower heater. Designed in a unique pyramid appearance, the Maxkon patio heater with a 1.8m radius delivers heat in all directions and everyone will have comfy warmth. The combination of a handle and lightweight design allows you to effortlessly move the instant heater wherever you need it. Create a warm and comfortable zone for parties with friends and your family.
Adopting advanced carbon fibre infrared heating tech, the patio heater emits instant heat in five to ten seconds. Its higher efficiency and precise heating can help cut down your electricity cost by about 40% to 60%. To avoid strong wind or accidental collision, the heater has a built-in sensor that will automatically shut off once it is tilted or tipped at 45 degrees. For more safety, the outdoor heater comes with overheating protection to prevent accidents. It is ultra-quiet without disturbing your gatherings or sleep.
Queen's Birthday Sale Price >>> $139.95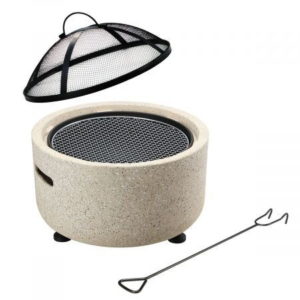 The portable fire pit is sheer bliss for those who love barbeque outdoors during winter. Made from Magnesium Oxide which is a weather-resistant material, the outdoor fire pit is eco-friendly and durable for lasting use without compromising on the aesthetics. It is also rustproof, anti-UV and moisture resistant. Versatile and multifunctional, the fireplace can serve as a BBQ for backyard, camping or wherever you need it, or a patio heater to warm up the surrounding environment, creating a comfy zone for your leisure time.
Moreover, the safety mesh lid can entirely prevent sparks and debris from flying out without being scalded. The bottom grate ensures reliable ventilation. With two easy-carry handles, the outdoor portable fire pit allows you to quickly move it around your garden. It is easy to empty and clean. This bbq smoker works with wood and charcoal.
Queen's Birthday Sale Price >>> $149.95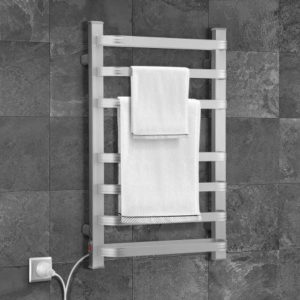 Dry up your robes easily and quickly with this Maxkon electric heated towel rack. coming with a robust but lightweight aluminium alloy structure, the towel warmer is sturdier and more durable than chrome or bronze warmers. You can put your towels or cloth on its seven square heated crossbars. Just turn on the switch and the heated rail will reach the optimum temperature of 40 to 50 Celsius degrees within 30 minutes. What is more, the on and off switches come with safe covers and a light indicator helps show if the warm is on or not.
It can effectively free from the growth of mould and mildew. Better still, the built-in thermostat maintains the temperature and conserves energy, in addition to drying silently. Aside from offering warmth, this heated towel rail will give your home a touch of lavish indulgence. With a wall-mounted design, the heated towel warmer makes the most available space, great for bathrooms and laundry rooms.
Conclusion
BestDeals provides never-seen-before discounts and savings for all products. In addition to the listed models, a wide variety of deals are available. Simply glance through our website to choose what you need and like. Share this blog post with your friends! Come together to celebrate the Queen's Birthday by stocking up on the cheapest products.
Comments
comments