Rowing Machine Reviews 2020 | Workout at Home During the Coronavirus
Keeping fit has become a trend in the current society. But it's a tough goal to stick to for those with unpredicted chores or unexpected accidents, such as the bad weather and the tedious housework. Also, gyms are often expensive and crowded, working out there is both time and money consuming. So, why not choose a type of gym equipment to train yourself at home and improve your immune system whenever you need, especially during Covid-19 lockdown? Now, what we recommend is the home rowing machine and we'll provide in-depth and honest reviews.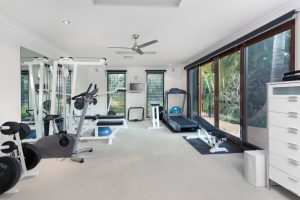 The Best Rowing Machine for Your Home
Rowing machine allows you to enjoy an intense workout which will exercise different muscle groups in your body, including your arms, shoulders, backs and legs, strengthen cardiovascular function as well as improve your endurance. Besides, it can help safely burn calories. Whether you are exercising to build up lean muscle, lose weight, train for a sport or simply keep an active healthy lifestyle, an indoor rower is a great option for home fitness to satisfy various needs.
How to choose the Best Rowing Machine
Resistance types
Rowing machines for sale can be divided into four types of resistance system: water, air, magnetic and hydraulic piston. All have their unique features and strengths. As the name suggests, a water resistance rowing machine is like a real rowing experience. Air resistance rowers are often found in fitness centres due to its smooth and natural rowing stroke. Magnetic resistance rowers are often quiet, easy to maintain and provide a smooth rowing motion. Hydraulic resistance rowers use cylinders which contain either air or fluid, and pulling against them to provide the workout. They are usually quiet, easy to store and more affordable.
Space considerations
Rowing machines are typically longer than most other exercise machines. They usually have large footprints, many of which are as big as a small couch and not built to be folded up and organized in a closet. Unless you have a large home gym, you should be aware of the room you'll have to work with and the size the rowing machine you need to get. Ideally, you need to check and measure the dimensions in your intended space, and match them up against the dimension of your rowing exercise machine. This will tell you what size and style of rowing machine you can choose.
Durability & comfort
Rowing machine should be easy to operate and comfortable for particular body type and fitness level. Four factors can determine its comfort:
Seat: A moulded and cushioned seat makes long rowing motion bearable and acceptable.
Handles: Handles should be easy-to-grip and padded to maintain a natural elbow height.
Foot pedals and straps: Foot plates should pivot to make them more comfortable, and the ones made of metal will withstand pressure better. Separate belts for each foot rather than a single strap are more preferable. If the unit depends on pull-drive, belts are quieter than chains and will be strong to last long.
Helpful monitor
Air or water rowing machines often come with monitors to help you track your power output. A basic rowing machine monitor will display workout metrics like your distance, time and speed. Some advanced ones will have a full gamut of features, like heart rate, a calorie counter, racing games and preset programs.
Hydraulic Rowing Machine Reviews
| BRAND | Genki Hydraulic Exercise Rowing Machine | Stamina 1215 Orbital Rower with Free Motion Arms |
| --- | --- | --- |
| IMAGE | | |
| PRICE | $249.96 | $399.99 |
| DIMENSION (L X W X H) | 120CM X 55CM X 35CM | 127CM X 81CM X 79CM |
| FRAME | Steel Frame | Steel Frame |
| ROWING BEAM | Aluminum Beam | Aluminum Beam |
| RESISTANCE TYPE | Hydraulic Cylinder Resistance | Hydraulic Cylinder Resistance |
| WEIGHT LIMIT | 150KG | 113KG |
| MONITOR CONTROLS | Scan, Timer, Stroke Count, Tempo, Calories, Distance | Time, Stroke Count, Calories, Speed, Distance |
| TARGETED TRAINING | Full Body Workout Fitness | Whole Body Workout Fitness |
| FEATURES | 12 Resistance Levels, Smooth Magnetic Resistance, Double Resistance System, PU Leather Padded Seat, Full-Motion Arm Rotation, Non-Slip Grip Handlebars, Anti-Slip Foot Pedals, Adjustable Foot Straps, LED Digital Display, Foldable Rowing Arms | Thick Padded Seat, LCD Monitor, Adjustable Tension Controls, Full Range Rowing Motion, Single button monitor, Pivoting Foot Plates, Foldable Rowing Arms for Easy Storage, Non-Slip Grip Handle |
| CERTIFICATE | Certificate-CE, RoHS | Unspecified |
| RECOMMENDED USE | In-Home/Office Use | In-Home/Office Use |
Stamina 1215 Orbital Rower with Free Motion Arms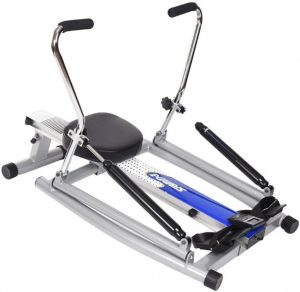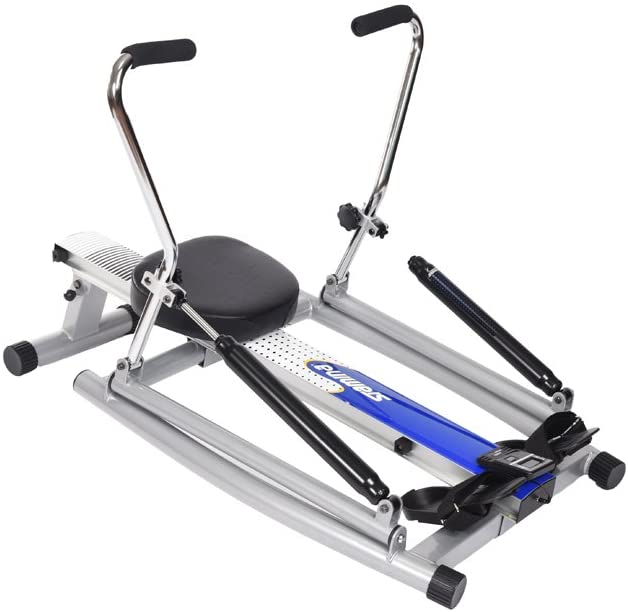 The Stamina orbital rower can help reshape your body and provide you with a fitness workout. This rower costs $399.99 and measures 127CM X 81CM X 79CM with a max weight capacity of 113kg. But the price, dimension and load capability are not the best choice. The rowing equipment is built with a steel frame for strength and aerobic training. Featuring a full-range rowing motion, this rower mimics rowing on the water. This workout machine features with a padded seat and foam handle grips. This rower can build up a strong back while tone your arms, legs and abs. Compact and portable, this rowing machine is suitable for any home or office.
Genki Hydraulic Exercise Rowing Machine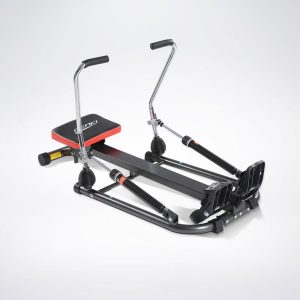 The Genki adjustable rowing machine works for large muscle groups and provides great cardio simultaneously. This indoor rower costs $249.96 and measures 127CM X 81CM X 79CM with a max weight capacity of 150kg. The heavy-duty steel construction can accommodate a max weight capacity of 200kg. This fitness machine comes with 12 resistance levels, which allow you to choose resistance level and hold onto the slip resistance handle bar for full arm rotation. It is built with double resistance system – leverage variable resistance system and silence hydraulic cylinder system. Featuring safety pedals, a large PU leather seat, 360-degree rowing and multifunctional LED display, this rower offers a real rowing experience and ensures a safe total body workout in the comfort of your own home.
Via comparison, Genki hydraulic rowing machine is more affordable and space-saving without compromising its performance and quality.
Conclusion
If you're looking for a full-body and low-impact workout, look no further. Rowing is the best choice. It not only builds up your cardiovascular endurance, but strengthen your large muscle groups. If you look for another home gym equipment to support your fitness goals, you can visit Sports & Fitness for more reference.
Comments
comments