Summer Buyer's Guide 2023 | Shop This Week's 16 Best New Arrivals at Cheap Discounts
It seems like every major retailer is launching a new arrival sale for summer products right now, and BestDeals is no exception. We are carrying out a summer sale that slashes prices on thousands of new arrivals in every category, like appliances, bedding and bath, toys and games, furniture, home and garden, outdoor and leisure, and more. For many people, summer means warm weather, vacations, and water games. To make things easy, we compiled a sale guide of new arrivals to bring you 16 great deals to shop while they are still in stock.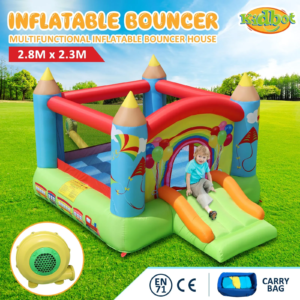 WAS: 499.95
New Arrival Price: $329.95
Introduce this inflatable water park world into your backyard or garden to provide hours of water play fun for your children. Thanks to the eco-friendly and BPA-free Oxford fabric, the blow-up water jumping castle is sturdy, durable, and safe for years of service. It can let your children play with confidence while giving parents peace of mind.
Besides, this inflatable jumping castle comes with mesh safety netting for appropriate airflow and additional safety. There is a pack of necessary accessories for practical convenience and stress-free mobility, including a blower motor, a carry bag, stakes, and four repair patches. With a bright and colourful look, the inflatable water play toy draws your kids' attention and improves their motor skills.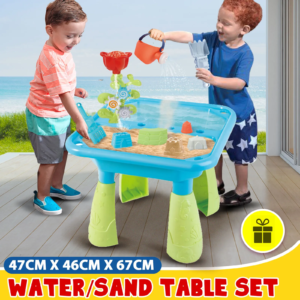 WAS: 129.95
New Arrival Price: $59.97
Help your children improve their coordination, cognition, and gross motor skills with this 2-in-1 water and sand table. The eco-friendly and BPA-free construction is not only durable to last a long time but also safe to use by passing through safety standards. With a size of 47 x 46 x 67 cm, the water table includes a pack of cute toys and accessories, including a water wheel set, a watering can, and spades.
In addition to a lightweight and four-legged design, the sand water table boasts remarkable steadiness. The sand table is appropriate for children aged three and up and can be used at the beach, poolside, garden, backyard, or nursery center.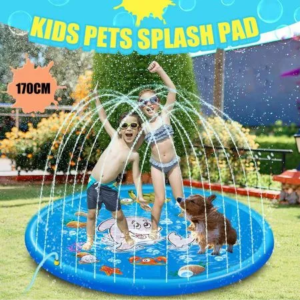 WAS: 99.95
New Arrival Price: $39.98
Nothing beats splashing in the hot summer sun with this water play mat sprinkler. Featuring a round shape with a 170 cm diameter, the water sprinkler has a heavy-duty PVC structure of 0.22 mm thickness in addition to fine sewing craftsmanship. It is wear-resistant, durable, and non-toxic, making it friendly to kids and pets.
Meanwhile, this water mat is not easy to leak or damage. Children can play in this splash pool with their parents, friends, or pets. It can assist children in getting away from electronic screens and improving their social interaction skills. The pool game centre is suitable for pool parties or beach games.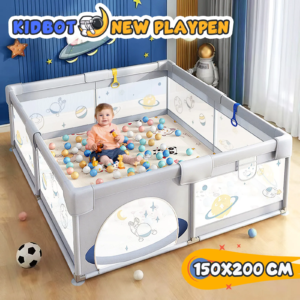 WAS: 299.95
New Arrival Price: $119.95
Create a safe and spacious spot for your little one to crawl, sit, stand, and walk with this baby playpen. Measuring 150 x 200 x 70 cm, the baby safety playpen boasts a combination of heavy-duty metal, encrypted Oxford cloth, and strong fabric, which is tougher and more durable for years of use. Even better, the fence is BPA-free and non-toxic, ensuring children's safety.
For added stability, the baby pen comes with four TPR suction cups on its base to bear heavy loads. Meanwhile, the four side walls of this baby playground have visible and breathable mesh, so your baby can look around easily and obtain a sense of security.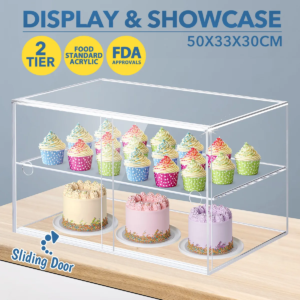 WAS: 299.95
New Arrival Price: $199.95
Display tasty baked treats to your guests with this cupcake cabinet, which is made of 5mm-thick food-grade crystal clear acrylic. The cupcake display shelf is safe, non-toxic, and durable enough to last a long time. What's more, the transparent design makes your bakery artwork completely visible. Meanwhile, there is a solid shelf to separate the display unit into two compartments for different types of bakery products to be showcased.
Besides, the cupcake case has a rear sliding door to make the food inside easily accessible. This acrylic cupcake cabinet is not only for storing food but also for dolls, models, collections, souvenirs, and more, making it perfect for homes, cafes, bars, grocery stores, bakery shops, convenience stores, etc.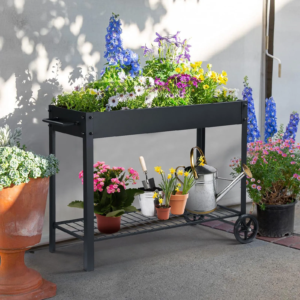 WAS: 199.95
New Arrival Price: $109.95
Add a decorative touch to your outdoor space with this raised garden bed. The raised planter box, measuring 100 x 40 x 80 cm, combines heavy-duty galvanised steel and black rust-proof paint, promising remarkable sturdiness, long-lasting durability, and easy cleaning. Moreover, this garden planter has strong support and excellent resistance to tear, wear, and the elements, making it suitable for indoor and outdoor use.
With a rectangular appearance, the planter stand is space-saving yet roomy enough to grow a wider variety of plants, including vegetables, fruits, flowers, herbs, and more. Better still, the smooth wheels and robust legs contribute to flexible portability and ergonomic design without bending over.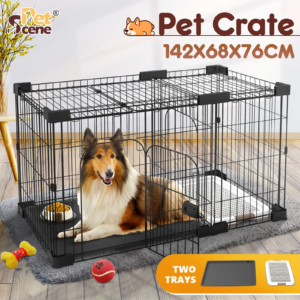 WAS: 299.95
New Arrival Price: $169.95
Make it easier and safer to transport your dog by car during long-distance travel or summer vacations with this extra-large pet crate. The integration of a heavy-duty structure and a long-lasting anti-rust powder coating boasts high strength, lasting durability, and excellent resistance to tear and wear. Meanwhile, a door divides the dog crate into two separate compartments, one for rest and the other for toilet training.
Even better, the corner guards will protect you and your family from being hurt or injured, which is friendly for families with children or the elderly. For easy cleaning and maximum hygiene, the dog kennel has removable plastic trays and a large front door. Compact and lightweight, the dog enclosure is easy to store and transport.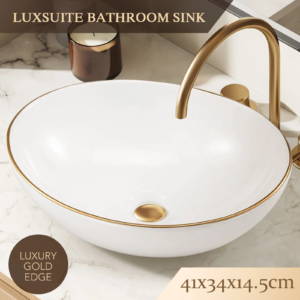 WAS: 189.95
New Arrival Price: $78.95
Bring a statement of luxury and utility to your bathroom with this white vessel wash sink. The dimensions of the bathroom sink are 41 x 34 x 14.5 cm, which is suitable for any type of bathroom counter. The unity of robust ceramic and a non-porous baked-on finish ensures incredible durability, scratch resistance, and hassle-free maintenance.
This oval basin creates a minimalist and elegant style for your toilet. In addition, the centre drain location provides optimal draining capacity. Please note that the faucet and the pop-up drain are not included. Modern and sophisticated, the bathroom wash basin is easy to install.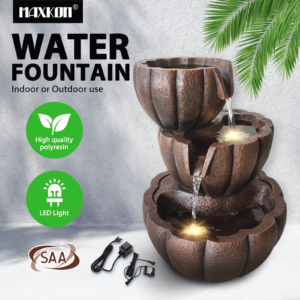 WAS: 299.95
New Arrival Price: $99.95
Boost the appeal and value of your backyard with this garden water feature, which stands at 39.5 cm. Suitable for indoor and outdoor decoration, the water fountain is available in three tiers and adds a touch of rustic beauty to the space. Also, the water feature fountain brings a sense of calm and tranquillity to the surroundings. It features LED lighting to illuminate the fountain for a special ambience. This garden feature is made of high-quality polyresin material, which is corrosion-resistant, anti-fade, and weatherproof.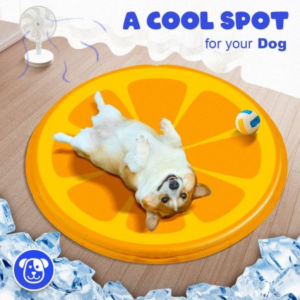 WAS: 149.95
New Arrival Price: $29.97
Your pet will feel comfortable and cool when lying on this dog gel mat. It is washable, deformation-resistant, and anti-fade. This cooling gel pad comes with 100% cooling gel and premium fabric. It measures 60 x 60 x 0.8 cm and features a bright orange look. Soft and smooth, the cooling mat is friendly to your pet's skin. What is more, it is lightweight and innovative for easy portability and wide application on the floor, in the car, on the furniture, and in a bed or crate. You can use this pet cooling gel mat in the home, garden, backyard, patio, and so on.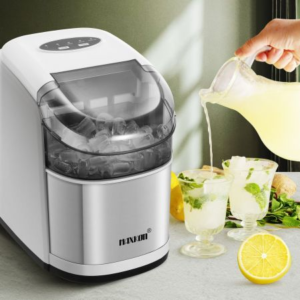 WAS: 459.95
New Arrival Price: $229.95
Enjoying chilled juice or iced water to beat the intense heat is sheer bliss. This ice-making machine is a good helper. With an upgraded and powerful compressor, the ice-making machine only takes 6 to 12 minutes to produce 9 pieces of bullet-shaped ice cubes and create up to 12 kg of ice per day. What's more, it is an excellent alternative to your existing freezer. The ice machine operates quietly at a decibel level of less than 45 dB.
Plus, it comes with a quiet cooling fan to quickly dissipate heat from the compressor for a long lifespan. Better still, the countertop ice maker has a self-cleaning design to save you time and energy. It can make two ice cube sizes, depending on your needs. For easy observation, the portable ice maker has a large transparent window. Compact and lightweight, the countertop ice cube maker promises minimal storage and effortless transport.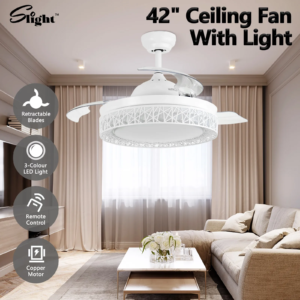 WAS: 299.95
New Arrival Price: $199.99
Distribute air throughout your home to let you enjoy a steady breeze with this ceiling fan with LED light. The fan has an ultra-quiet and energy-efficient AC motor, operating at its highest performance. You can choose the ideal speed and light colour as this ceiling fan has three speed settings and three colour temperatures for options.
Besides, you can schedule the built-in timer that includes one, two, four, and eight hours. Additionally, the ceiling fan has retractable PC plastic blades with a 106-cm span and an internal balance system. A remote control is available for easy operation.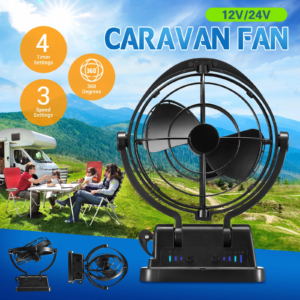 WAS: 299.95
New Arrival Price: $159.96
If you are heading for holidays in warmer climates with your caravan, do not hesitate to buy this camping fan for appropriate airflow. A gimbal design allows the caravan fan to deliver an omnidirectional breeze and be used in small spaces. The camper fan is energy-saving, long-lasting, and quiet in operation. Even better, the gimbal fan is foldable for minimal storage when not in use.
Furthermore, other highlights include a 12V/24 auto-sensing capacity, three speed settings, four timer modes, and a remote control, making the RV fan the best buy for campers. This caravan fan has a wide range of applications in boats, caravans, trailers, RVs, motorhomes, and campervans.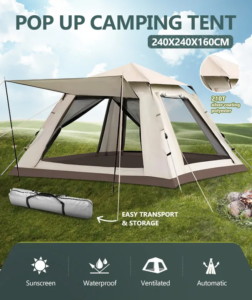 WAS: 199.95
New Arrival Price: $99.95
Enjoy the beauty and simplicity of nature by using this 4-person camping tent. Featuring an instant pop-up hydraulic system, the beach tent can be set up easily and quickly within three seconds. The mix of 210T silver-coated polyester and Oxford cloth ground sheets produces water resistance and UV resistance. Furthermore, the PU tape for both the rainfly seam and the inner seam can withstand harsh weather.
For mosquito prevention and better ventilation, the beach shelter has two doors, two large windows, and a top screen window with mesh screens. Moreover, the mesh pockets and a hook at the top can store small items and hang your camping light. Compact and lightweight, the sunshade is easy to take for camping, hiking, fishing, picnics, barbeques, adventures, gatherings, and field trips.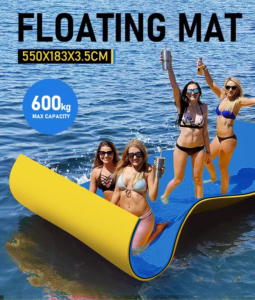 WAS: 999.95
New Arrival Price: $349.88
This water floating mat is a summer must-have water accessory. Featuring eco-friendly XPE foam in a blue and yellow look, the floating water pad can withstand a large load of up to 600 kg. Measuring 550 x 183 x 3.5 cm, the water floating pad is strong enough for adults and kids to have a ton of fun on the water. You can use this floating water anywhere, such as on the beach, by a lake, or in the pool.
For additional safety and stability, the floating pad comes with a banding belt with a buckle and a heavy-duty mooring device. Further, you can easily roll the floating water pad and tighten it with the included click-close straps. What's more, the lightweight and compact design make it easy to transport and store.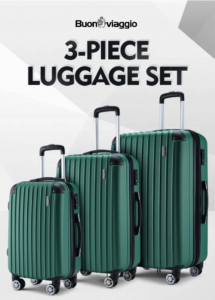 WAS: 299.95
New Arrival Price: $199.95
Make your summer vacations stress-free by using the 3-piece luggage set. The carry-on suitcase set, coming with a sturdy ABS shell, a premium polyester lining interior, and a solid aluminium pull handle, promises high build quality and top performance. Additionally, the travel suitcases have corner guard protectors to avoid injury and a TSA-approved secure combination lock to protect your items.
Thanks to the smooth wheels and retractable trolley, the checked bags are easy to manoeuvre and transport. It is a complete set that includes three different types of hard-shell luggage suitcases, making it suitable for both short and long trips.For easy storage and maximum hygiene, the carry-on luggage set has two non-woven fabric covers when not in use.
Start your summer shopping for new arrivals right away! When you start early, you have plenty of time to find the best deals and compare prices without feeling rushed, so early shopping can help you save money and reduce overspending. Aside from the recommended list, there are plenty of new arrivals sold at BestDeals at attractive discounts, covering a wide selection of categories. Do not hesitate to start your summer shopping and scan through our sale page of new arrivals.
Comments
comments