Top Food Dehydrators 2017 that Create a New Healthy Lifestyle
What's your worry about drying food on the market? They are unsanitary, subject to weather, and full of additives that might cause food security problem and hence threaten the health of human beings. If you are a healthy food follower and seeking for a healthier, safer way to meet all nutritional needs of you and your family, then the most effective and economical method is to buy a food dehydrator, a useful small kitchen appliance that you and your kids will crazily love.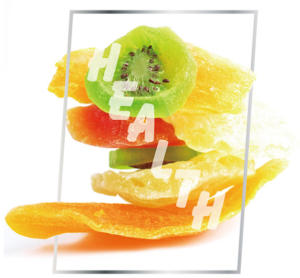 What benefits a food dehydrator can bring? Dehydrating food opens a whole new dimension in preserving fruits, vegetables and meats. With this handy kitchen appliance, you can dehydrate your favorite summer fruits and snacks easily and well preserve them for the whole year without adding any preservatives or additives, which keeps the original and natural taste of nutritious food in a much healthier way. The versatile dehydrators can not only dehydrate edible treats such as fruits, vegetables, meet jerky, nuts, but also dry out herbs, flower petals, leaves and spices. From an economical aspect, it can provide almost all kinds of snacks and natural seasoning you need and save you a lot of cost from grocery.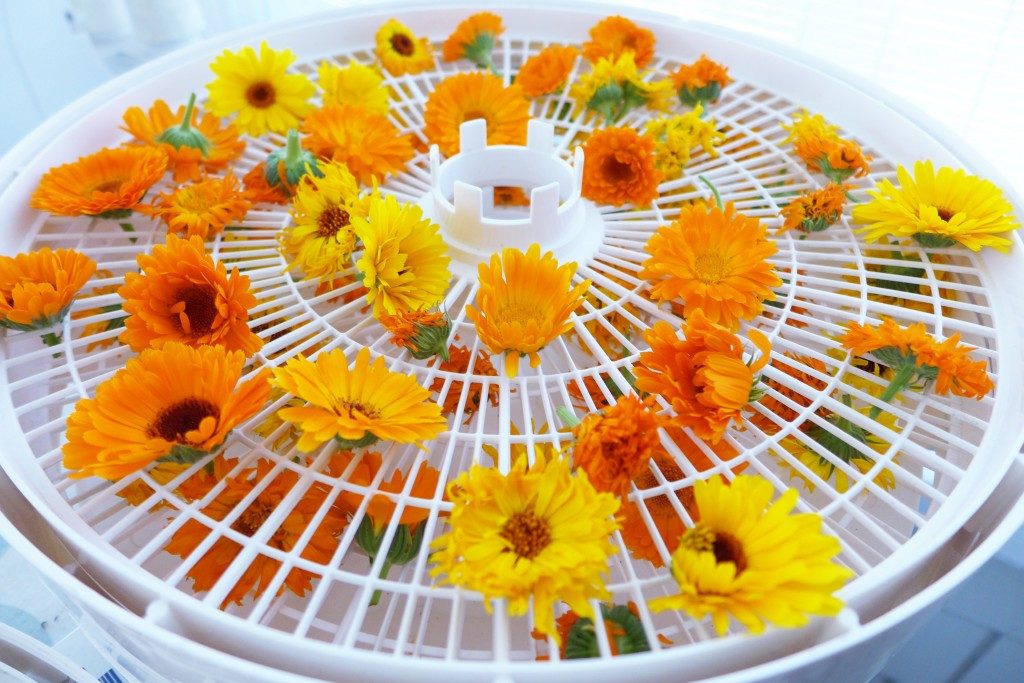 When browsing at BestDeals.co.nz, we discover the best models of top-quality food dehydrators for sale and their appealing features, which absolutely are the amazing ones among a variety of food dehydrators on the market. What's more, their favorable prices are also competitive compared to other dehydrators online for sale in New Zealand.
---
Maxkon 2-IN -1 Food Dehydrator Fruit Jerky Dryer Yogurt Maker -7 Trays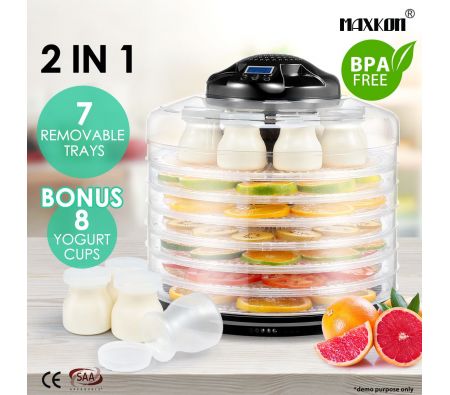 Eating clean food just got a lot easier with this 2 in 1 Food Dehydrator! This amazing fruit dehydrator is ideal for drying whole or fruit slices, beef or pork and even homemade yogurt with the adjustable thermostat! Get all the healthy snacks you and loved ones can eat in one amazing machine. The high-powered fan with fan flow technology allows food to be dried quickly and evenly without rotation. The 7 removable trays allow you to dry as much food as desired. Adjust the thermostat to dry food exactly the way you like. When finished simply detach the fan head and place the trays in the dishwasher for a quick clean-up. Easy to use and clean, this efficienty food dehydrator is a must have for any home or company! Buy now at discount price from BestDeals and get a bonus of 8 yogurt cups! If 7 trays are too much for small family, you can also check out the same design of Maxkon fruit dehydrator with 5 trays. 
---
10 Trays Food Dehydrator for Commercial & Home Use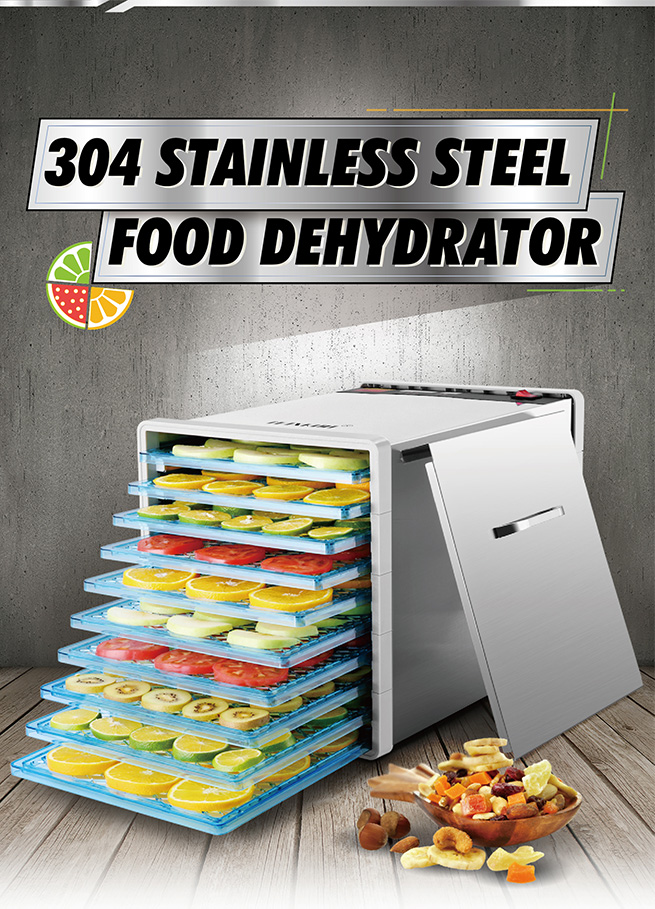 This food & jerky dehydrator with chic stainless steel design will help you preserve your food in a safe way for a long time. You can prepare a whole range of preserved food, from dried fruits to beef jerky, as delicious snacks for the camping trip. All is done with an LED display panel with intuitive controls. It works by circulating warm air around stacked trays, allowing water to evaporate evenly and simultaneously. This dehydrator machine comes with 10 flexible and adjustable trays made of food grade non-toxic AS plastic. Dry your meet, fruits and veggies in this food dehydrator safely. All you need to do is push the button and the dehydrator will do the rest. Another popular option for sale is 8 trays stainless steel food dehydrator.
---
Maxkon Food Dehydrator with Adjustable Trays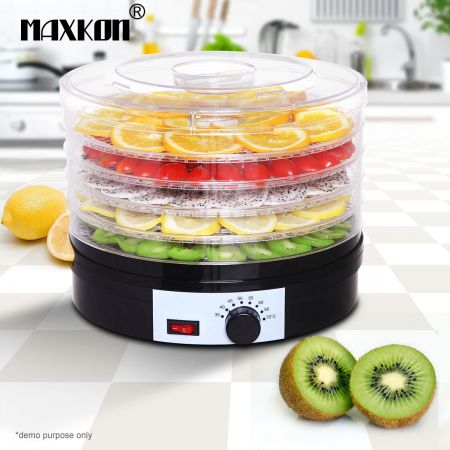 Are you longing for preserving food without the harmful preservatives? This Maxkon Round Food Dehydrator with Adjustable Trays is the perfect kitchen companion for you and your family. Just place the food prepared in advance in the food dehydrator's five rotatable and removable trays and watch as the heat flows through, drying away moisture from the food while locking in that in-season goodness without compromising good nutrition your body needs. Convenient and easy to use, it's perfect for preserving ingredients for at-home or on-the-go snacking, or last-minute meal preparation. The food dehydrator takes storing food to a different level as it makes food less likely to spoil while retaining its natural taste. Take your dried foods to camping, boat or backpacking trips and experience first-hand how preserving different fruits, vegetables and meats can change your prospect on food preparation.
---
Maxkon Rectangular Food Dehydrator with Timer LCD White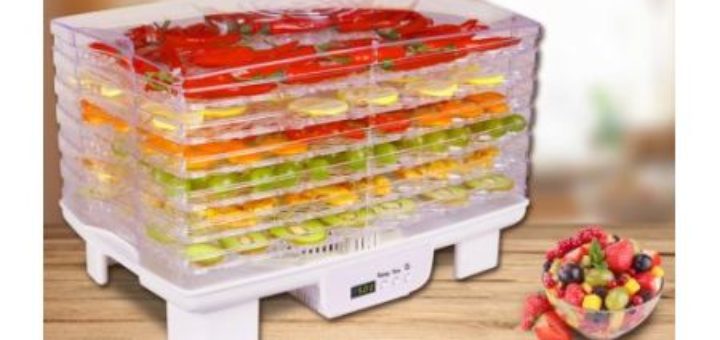 For all your dehydrating needs, try this Maxkon rectangular food dehydrator with timer! This amazing food dehydrator is able to perfectly capture the freshly-picked, in-season flavour and nutrition of almost any food. Ingredients for your favourite recipes can be dried and stored to make great last-minute meals, ready to cook for your convenience. It provides numerous outstanding features with superior quality outcomes to the buyers. For example, its modern lightweight design makes it perfect for camping or backpacking trips. In addition, the heat flows around will dry away moisture while locking in flavour. This food dehydrator comes with six adjustable, removable trays. Get your food dehydrator today at BestDeals!
---
  See how to make banana chips with a food dehydrator:
  Video from Cookingguide
---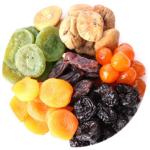 I always firmly believe that what kind of products you select decides the way you live, especially in those small appliances that bring much convenience and happiness to our life. Live a healthy lifestyle by making your own tasty and nourishing dried fruit snacks with our food dehydrators. More information and discount prices of various dehydrators are all available at BestDeals.co.nz.
---
Comments
comments