Ultimate Buying Guide for Summer 2022 | Best Summer Products for Your Family and Pets
Summer is a season filled with sweltering and sweating, which may result in anxiety, discomfort and restlessness. There are a large number of accesses to beating the summer heat and keeping comfortable, such as drinking chilled drinks, enjoying the cool breeze, swimming in a clean pool and splashing with water. Now we have reviewed and chosen the top-rated products at BestDeals to get well with summer, including ice maker, air cooler fan, pop up beach tent, inflatable water park and pet swimming pool. Suitable for adults, children and even pets, all the products are selected based on their build quality, performance, cost-effectiveness, safety and other important features.                                       
Silver 3.2L Home Ice Maker
WAS: $599.95
NOW: $349.96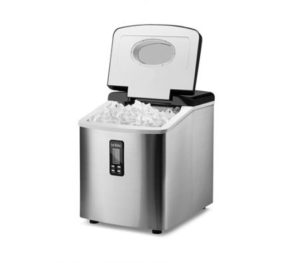 There is nothing better than drinking a glass of chilled beverage in the scorching summer. So an ice maker plays an important role. The silver 3.2L home ice maker on sale is ready for the hot weather and cool drinks. Whether you are having a party or hosting an event, the ice maker machine can serve your guest effortlessly. The ice maker can create up to 67 cubes in an hour and up to 16.2kg of ice in 24 hours. It is compact and portable so that you can easily take it anywhere as needed. With three ice shapes in small, medium and large, the ice maker can easily satisfy all the needs and requirements of your family and friends. Moreover, it is thoughtfully designed with a full ice basket and a water deficiency alarm with a display. This ice maker is a combination of efficient refrigeration, energy preservation and easy operation, giving you a relaxing summer with an endless supply of cool.
Commercial Ice Cube Maker
WAS: $1119.95
NOW: $819.97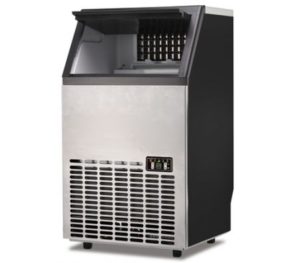 Besides the home ice makers, there are high-quality commercial ice makers for sale on BestDeals. The top-ranking model with self-cleaning capability will keep you cool all year round. This commercial ice maker produces crystalline square shaped ice cubes, and the steel internal construction will ensure this machine has a long service life. There is an easy access door that slides up and out of the way making it easy for you to scoop out large amounts of ice. Furthermore, the maker has a water shortage auto-detection system and built-in sterilizers. Versatile and multifunctional, the ice maker is ideal for home, bars, BBQ, fruit juice shops and parties. Thanks to the LED display, you can always know the specific steps during the ice making process.
Silicone Ice Cube Trays Combo Ice Cube Tray mould (6 Round Ice Ball Black)
WAS: $19.99
NOW: $14.99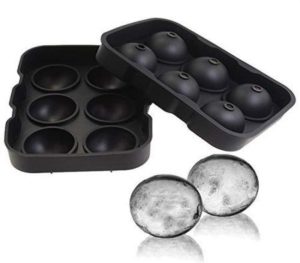 When it comes to relieving summer heat, ice may come to mind. For those who have a refrigerator and just need a small number of ice cubes, an ice cube tray mould is a perfect option. Made of BPA-free and food-grade silicone, the silicone ice ball maker is non-toxic and durable for years to come. Suitable for Whiskey, Cocktails and Bourbon, the ice mould tray stacks easily and neatly in the freezer, as well as keeps your fridge organized. Better still, it is leak-proof, easy to fill and does not crack while freezing and does not tip over in the refrigerator.
10L Evaporative Air Cooler Fan Ionizer/Humidifier Remote Control Conditioner
WAS: $259.95
NOW: $239.96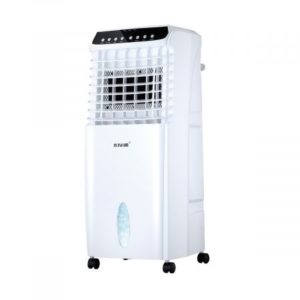 It is heaven for you to serve yourself a cold drink, slump on the couch and enjoy the cool breeze from the evaporative air cooler fan. This 10L air cooler is built with ice crystal refrigeration and air evaporative technology, cutting down the temperature from the air vent. There are three modes and three speeds for adjustment to meet your different needs and fit various occasions. Featuring an ionizer button, this evaporative air cooler can release negative ions to freshen the air and care health. Even more, you can use the humidifier function to improve the air damp and hydrate your skin against being dry and chapped. The cooler can swing the blades automatically and manually and deliver wind at the horizontal wide angle. What's more, this portable cooler with a 24-hour timing function also has two ice crystal boxes and remote control. With low power consumption and low noise, the air cooler is engineered with wheels for easy movement, making it suitable for the living room, bedroom or office.
Swimming Pool Cleaner Automatic Floor Climb Wall Vacuum Hose 10M Suction Blue
WAS: $239.95
NOW: $189.96
Swimming is a perfect way to overcome stifling heat. If you have a household swimming pool and are tired of manual pool cleaning chores. Then you cannot miss this swimming pool cleaner. Working around the principle of suction and compression, the cleaner with a rotating foot at the lower part will be connected to the poll hose and move gradually around the pool cleaning every inch of it. Designed with a detachable hose, the pool cleaner is suitable for a pool ranging from 0.8m to 3m. The unique disc-shaped diaphragm with anti-slip capabilities will prevent the device from stopping at a place. Made of sturdy PP, ABS and POM materials, the long-running pool cleaner has a high build quality and does not deteriorate with time. Plus, the automatic regulator valve lets you control the suction pressure. This cleaner is compatible with various surfaces like concrete, fibreglass and aggregates.
UPF 50+ Easy Pop Up Beach Tent Portable Sun Shade Sport Shelter Camping Shelter Beach Umbrella for Outdoors with Carry Bag Color Blue
WAS: $69.95
NOW: $39.97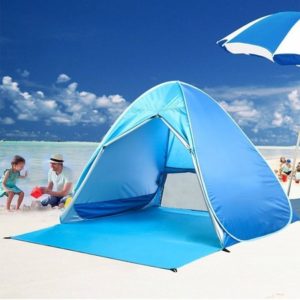 When you are spending a wonderful time with your family on the beach, this pop up portable camping tent is indispensable. This tent is completed with super elastic steel wire, waterproof fabric, high-quality bug mesh and strong pegs, ensuring long-lasting durability, anti-UV effects and enough ventilation. Hence users do not need to worry about getting sunburn. In addition, six metal stakes for fixing its position increases stability and safety. This beach tent pops up automatically and folds up quickly. Equipped with a carry bag for easy storage and movement, the beach sunshade is easy for children to carry and suitable for camping, fishing, hiking, backyard and beach.
Inflatable Water Park Blow up Slide Jumping Castle Pool Toys Bouncer Outdoor
WAS: $799.95
NOW: $549.95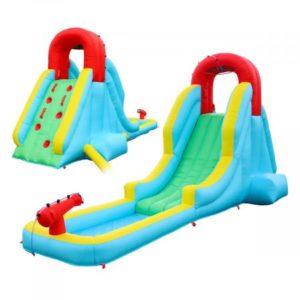 As for children, enjoying hours of water slide fun is stunning entertainment for the hot summer. This inflatable jumping castle is the best-selling water park toy at BestDeals. With multiple play areas including a huge splash pool, two large water slides, a huge climbing wall, a cannon and a castle, the inflatable water park provides a variety of games for kids to play at the same time. Constructed of premium oxford cloth in brilliant colours and eye-catching shape, the water slide is easy to clean and has a long service life. The bouncer stake in each corner adds more stability and firmness to the whole jumping castle. Besides, it only takes you a few minutes to inflate the jumping castle. After use, you could deflate it quickly and store it in a carrying bag. Durable and waterproof, this water slide toy with four repair kits is easy to maintain and transport so that you can set it up in the park, garden, lawn, courtyard, etc. For extra safety, a warning label is included.
3 in 1 Splash Pad Inflatable Sprinkler Pool, Kids Pool Baby Pool Toddler Pool Inflatable Water Toys Outdoor Swimming Pool for Babies and Toddlers
WAS: $69.95
NOW: $29.95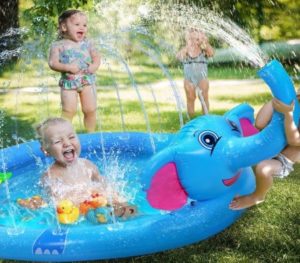 For young children, a water sprinkler is a safe recreational toy and ensures parents' peace of mind. This 3 in 1 sprinkler and splash play mat, which is rigorously tested and certified, is made of environmentally friendly PVC for 100% security. The water play kit is thicker than other sprinkler toys with absolute durability and high bearing capacity. Children will obtain endless fun with this double sprinkling from the elephant nose and all around the rim of the pool. High-quality edge sealing technology makes it not easy to burst. Additionally, the shallow design allows kids of different ages to play safely. This water toy is easy to assemble and suitable for any toddler under 24 months to enjoy the splashing cool in the yard or garden. After installation, parents can adjust the water pressure to increase or reduce the spray height and the spray curve by controlling the long nose of the elephant. Remember to dry and fold it up when it is not in use.
AFP Portable Foldable Dog Puppy Swimming Paddling Pool Washing Bath Tub L Size for Cat Pet Children
WAS: $249.95
NOW: $129.98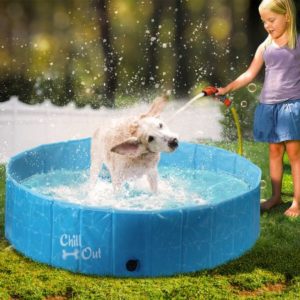 Dogs hate summer heat and love coolness. Cool off your fur buddy during hot weather with the AFP swimming paddling pool. Designed in a rugged construction of extra-tough PVC and high-density fiberboard, the water pond not only serves as a pet swimming pool, but also a child's bathtub. It is non-toxic, harmless and friendly to pets and kids. Ease of use is one of the features that makes the pool favoured by users. Better even, a non-slip bottom is made to prevent dogs and children from slipping when splashing or bathing. A water outlet is included to empty the tub easily. This washing pool folds down for easy packing, storage and transport, ensuring it is ideal for indoor and outdoor use. Versatile and practical, the swimming pool is suited for multiple applications and purposes, such as accommodating balls, sand and toys.  
AFP 3L Automatic Pet Dog Cat Drinking Water Fountain Feeder with 3 Layer Filtration UV Sterilization Light
WAS: $199.95
NOW: $59.97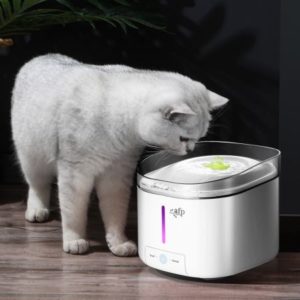 If you become thirsty during summer, so does pets. Hydrate your beloved animals conveniently and healthily with this AFP automatic pet drinking water fountain feeder. Featuring a high-quality structure with a three-layer filtration system, the dog water fountain is non-toxic, odourless and eco-friendly, delivering fresh and hygienic filtered water to your dogs. Holding up to 3L of clean water, the cat water fountain with two working modes can be switched manually or automatically. The daytime mode ensures constant water circulation to prevent bacteria from growing in the daytime, while the night mode is for low energy consumption and silent water flow at night. To enhance the freshness of water, the water fountain has a 360-degree multi-directional stream design and UV sterilization. Aside from preventing your four-legged pet from dehydration, the pet fountain protects your pet from urinary and kidney diseases through increased water consumption.
Pet Self-Cooling Gel Mat Bed-Medium
WAS: $79.95
NOW: $29.96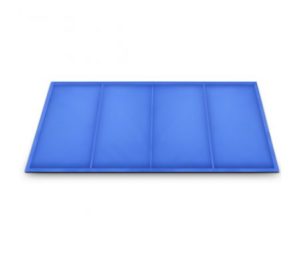 Keep your pet cool all summer long during sleep or rest with this pet self-cooling gel mat. Featuring a cool gel interior covered with durable nylon, the cooling gel bed traps your dog's body heat effectively and prevents tears and rips from the teeth and paws of pet's. Moreover, this cooling mat is ideal for soothing pets with joint pain or injuries. Available in a lightweight and portable design, the self-cooling pad provides ultimate comfort of coolness both indoors and outdoors. The gel pad requires no batteries, electricity, water or refrigeration. Easy to clean and foldable, pet parents can take it anywhere, for example, park, backyard or even long road trips.
Apart from the above recommended items, there are plenty of summer products available on BestDeals, which are ideal for adults, children and pets. Whether you're staying at home, going for a trip or relaxing in the yard, we can provide the right products for you. Take advantage of amazing deals during our summer sale and get the best prices on your selected models. If you have any questions, please feel free to contact us. 
Comments
comments