Ultimate Halloween Sale| Must-Have Decorations and Gifts for a Spooky Celebration
Get ready to embark on a thrilling shopping adventure as the spookiest season of the year approaches! Our Ultimate Halloween Sale is here to make you embrace the magic and excitement of this hauntingly fun holiday. From jaw-dropping discounts to devilishly delightful deals, this sale is a treat-filled treasure trove for all Halloween enthusiasts. Whether you are looking for costumes, decorations, or party supplies, this blog post will make your Halloween shopping experience truly unforgettable. Unleash your spooky side, channel your creativity, and dive into the enchanting spirit of Halloween with our spine-tingling discounts and thrilling offers.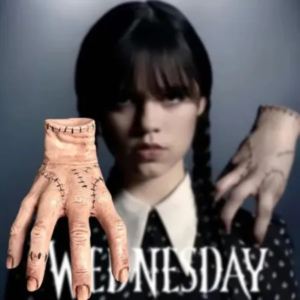 Original Price:  $29.99
Halloween Sale Price: $9.99
As the popular new drama The Addams Family on Wednesday, the 'Thing' in the play is welcomed among fans and becomes a top-selling festive decoration. The Wednesday Addams family hand has a construction of high-quality vinyl, which is soft, comfortable, strong, and durable. So, it can last for years of tear and wear.
Featuring a realistic design, the Wednesday thing has perfectly restored scars and stitching lines on the palm, making it a really stunning work of art. Furthermore, it also works as an excellent decoration for the living room, study room, guest room, or office. You can put it anywhere or use it as a trick prop. This Wednesday Addams vinyl palm is a wonderful gift for users of all ages, especially for a Wednesday Addams family fan.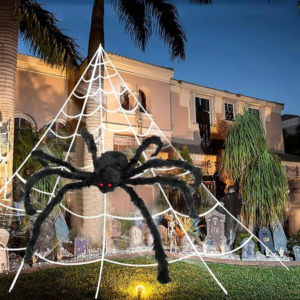 Original Price:  $39.99
Halloween Sale Price: $19.99
Add a more festive ambience for Halloween with this giant black scary spider with a long black hairy body and creepy red eyes. It comes in a package of a 47-inch Halloween spider and a 200-inch triangular giant spider web. It looks real, creates a perfect spooky atmosphere for your Halloween, and wins the attention of everyone at your Halloween party. What's more, you can fold the spider's long legs the way you want. Meanwhile, the lightweight and white spider web with hook is sturdy, durable, and easy to fix on the lawn, front porch, or wall.
You can bend it the way you need and hang it anywhere. Needless to say, it requires minimal storage when not in use. Our Halloween spider web with spider decorations is suitable for indoor and outdoor use, such as the yard, tree, lawn, home interior, party, window, wall, and more. Use it to decorate your Halloween haunted house or party to impress your family, friends, or neighbours.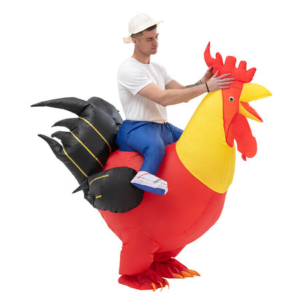 Original Price:  $79.99
Halloween Sale Price: $49.99
Level up the Halloween enjoyment with our inflatable rooster costume. It comes with a 100% polyester structure, boasting strength and durability without worrying about any tear, wear, or holes. What is more, the Halloween costume is waterproof and lightweight, making it suitable for indoor and outdoor use.
With a height range of 155 cm to 190 cm, this inflatable Halloween cosplay costume is ideal for adults. Moreover, easy setup and effortless transport ensure you can use it anywhere, and you will be the luminous point among the crowd. You can insert batteries or mobile power to operate this blow up Halloween costume. The blow up suit is ideal for Halloween, costume parties, carnivals, Easter, Christmas, cosplay, etc.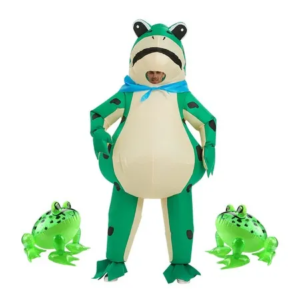 Original Price:  $79.99
Halloween Sale Price: $49.99
Catch your guests' attention and increase the festive entertainment by using this inflatable frog costume. Coming with a strong polyester construction, our blow up frog costume is durable, waterproof, lightweight, and ventilated, hence you can wear it without worrying about any tears or holes. With a height range of 150 cm to 190 cm, this inflatable frog fits most adults.
It is a whole kit, including an inflatable costume, two frogs, and an air-filled fan. Our Halloween frog costume is realistic and cool, making it a perfect gift for kids or anime lovers. In addition, the inflatable Halloween animal costume is perfect for a variety of occasions, such as Halloween dress-ups, Halloween costume parties, Halloween night events, and Halloween trick-or-treating events.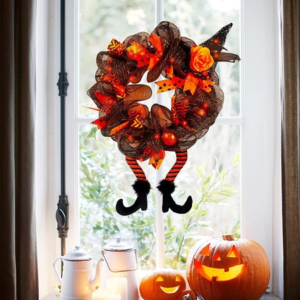 Original Price:  $59.95
Halloween Sale Price: $29.95
Bring you and your guests into the scary world of Halloween with this wreath decoration. Available in a unique design, this black organza wreath is made of high quality materials, promising exceptional sturdiness and unparalleled durability. You can hang it at the front door to welcome trick-or-treaters and wow your visitors. Our Halloween wreath with a witch, together with an orange bow, orange balls, and black feathers, is ideal for Halloween decorations and looks poky on your door, window, wall, fireplace, and outdoor covered porch.
Additionally, 30 orange LED lights are provided for DIY decoration. You can wrap the lights around the wreath to give off a ghostly orange light in the dark. Versatile and unique, this wreath decoration is not only a perfect gift for your children, friends, and neighbours, but also multi-purpose for doors, windows, walls, stairs, mantels, fireplaces, and so on.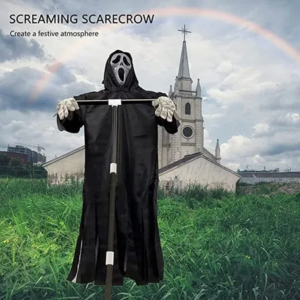 Original Price:  $69.99
Halloween Sale Price: $39.99
Increase the scary atmosphere of Halloween by using this scream scarecrow. It will swing in the air and scare birds, puppies, and even your neighbours. Measuring 35 cm x 20 cm x 12 cm, the scarecrow comes with an upgraded spring at the bottom, which makes it fly like a real ghost when swinging in the wind. The long pole of our scarecrow is detachable. You can decide the height of the scarecrow according to your needs.
When you do not need to use it, the ghost face screaming scarecrow can be removed, which is easy to store while saving your valuable space. Thanks to easy installation, this hanging scream scarecrow fits a wide selection of occasions, such as the grass, courtyard, bar, garden, home interior, tree in the courtyard, or role-playing party.
Original Price:  $29.99
Halloween Sale Price: $19.99
Create a spooky atmosphere for your Halloween with this full body skeleton measuring 15.7 inches tall and 4.7 inches wide. Featuring high-quality and robust plastic material, the Halloween skeleton is non-toxic, lightweight, durable, and easy to carry. Besides, the chest is complete and realistic. There is a lanyard on the top of the skull for easy hanging.
This flexible skeleton comes with jaws and joints, requiring no assembly. For stability, all the skeleton joints have screws so that you can create any look you like. The skeleton is not only perfect for scary Halloween decor, haunted houses, Halloween or graveyard scenes, and Halloween parties, but it is also suitable for decorating your room, backyard, and garden.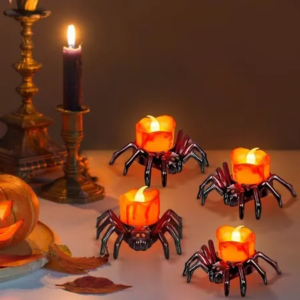 Original Price:  $34.95
Halloween Sale Price: $14.95
Decorate your Halloween in a different way this year with our latest designed Halloween candles. In a package of four pieces of candles, these battery operated candles are LED candles on the back of spiders. The realistic candles and spiders will add more festive flair to your Halloween decorations. Constructed using solid plastic material, the LED candles replicate the feel and look of real candles, with realistic dripping wax and flames swaying and flickering like real candles.
However, the tea lights are absolutely safe to use as they have no dripping wax, no smoke, and no heating. It is an ideal decoration for your Halloween party, Halloween Eve party, Halloween haunted house, farmhouse home decor, school party, or other special occasions.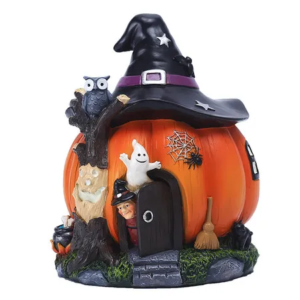 Original Price:  $64.95
Halloween Sale Price: $34.95
Produce a wonderful Halloween and trick-or-treating atmosphere for you and your friends with this Halloween pumpkin decoration. It uses the classic elements of Halloween, such as the pumpkin, ghost, witch, and so on. You can put it in your garden, on the table, on the bookshelf, or at the party, adding a more horrible festival atmosphere. Further, the house is in the shape of a pumpkin and wears a witch hat, with a cute ghost floating at the door, a wizard sticking his head out of the door to ask for candy, and an owl watching.
Even better, the window and tree of this Halloween witch pumpkin house will turn green automatically whenever it enters the dark night, creating a realistic Halloween atmosphere for you. As this Halloween figurine decoration is exquisite in workmanship, it is suitable for your friends and family as a Halloween gift.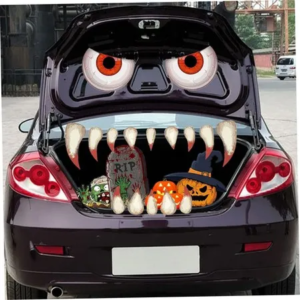 Original Price:  $39.99
Halloween Sale Price: $19.99
This monster face is in waterproof PVC construction and looks lifelike no matter it is close or far. The bright colours make it look more spooky and realistic. That will definitely scare the passersby, neighbours, or trick-or-treaters on Halloween night. Its eyes measures 10.4 inches x 7 inches, while the largest tooth measure 10.6 inches x 4.6 inches, which is perfect for cars, garages, windows, etc.
Moreover, this monster face is perfect for Halloween scenes and decorations, Halloween party decor, Halloween witch door covers, trick or treating, and other Halloween themed events. As it is applicable to indoors and outdoors, you can use this Halloween decoration for your ceiling, main door entrance, car, SUV, wall, fence, tree, haunted house, or place it on your floor or lawn.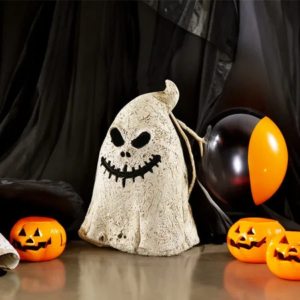 Original Price:  $39.95
Halloween Sale Price: $19.95
Deliver a hauntingly beautiful ambience to your friends or neighbours with this Halloween ornament. This uniquely designed resin figure features a ghost model that looks incredibly realistic and cute. It is not only an excellent home decor piece but also the perfect gift for family and friends. Furthermore, its high-quality resin material contributes to long-lasting durability for years to come.
Place it on a table, shelf, or windowsill to instantly elevate your Halloween decorations. Whether you are hosting indoor or outdoor Halloween events, exhibitions, parties, or haunted houses, this Halloween ornament is the ideal addition.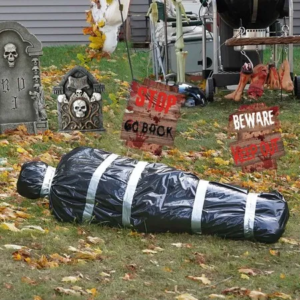 Original Price:  $39.99
Halloween Sale Price: $19.99
This 5-foot large body bag creates a realistic Halloween horror scene that fills the environment with a horrific atmosphere of killing and death. This package includes an inflatable mannequin, metallic tape, a black body bag, and a long rope. This scary decoration requires easy and quick assembly.
You can just fill the inflatable prop with gas, put it inside the black PE bag, fix it with hemp rope, and then wrap it with silver tape. You can hang the corpse dead prop on the tree in the yard, put it in on the grass, or place it in the bathtub. Our scary Halloween decoration is great for indoor and outdoor Halloween-related events, such as Halloween Eve, trick-or-treaters night, haunted scary houses, and courtyards.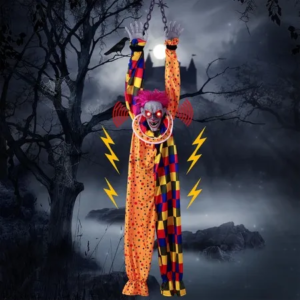 Original Price:  $99.99
Halloween Sale Price: $49.99
This large hanging Halloween clown ghost is crafted of high-quality latex, plastic, and fabric, which is environmentally friendly, non-toxic, and safe to use. The hands and head of the clown are bendable and adjustable to various startled positions as you like. The Halloween indoor and outdoor decoration looks creepy and enhances a sense of horrible atmosphere on days and nights.
As the creepy Halloween clown comes with built-in sensors and sound devices, when you make a sound or touch it, the clown will shake, flash and light up red eyes, as well as activate two different terrible voices. It will definitely surprise your family and scare the trick-or-treaters, neighbours nearby, and passing pedestrians. With measurements of 170 cm x 40 cm, our talking and shaking clown decoration is ideal for entryways, doors, trees, closets, stairs, gardens, lawns, yards, etc. This Halloween evil clown is easy to fold and store when not in use.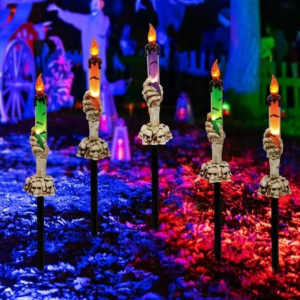 Original Price:  $49.95
Halloween Sale Price: $29.95
If you are looking for some Halloween decoration lights, do not miss out on this set of 5 pieces of skeleton hands holding lighted candle stakes. These Halloween decorative candle lights glow in warm white, which is perfect for decorating and illuminating outside haunted houses to create a spooky ambience. The skeleton hand holds a candle, and each candle has two warm white LED lights. Just insert these garden decorations into the soft soil or ground for outdoor decor.
They can also be used as indoor tabletop ornaments. Besides, these skeleton light stakes are battery powered and come with a built-in auto timer function to avoid forgetting to turn off the Halloween lights. You can place them in any place you like, regardless of whether there is electricity or not. Last but not least, the Halloween bone hands with candle lights are constructed of high-quality plastic material, which can withstand all types of weather conditions.
Original Price:  $29.99
Halloween Sale Price: $14.99
This Halloween 3D illusion clown doormat strikes a balance of decoration and utility. Measuring 40 cm x 60 cm, the Halloween 3D doormat is made of high-quality polyester and rubber, ensuring it is sturdy, durable, and wear-resistant for years to come. Its non-slip back ensures that the door mat is stable on the floor and does not slide easily.
Designed for indoor and outdoor use, this rubber Halloween welcome mat absorbs dust and keeps dirt out of your home for ultimate hygiene and cleanliness. Moreover, it is easy to clean and maintain. The Halloween clown doormat is suitable for the laundry room, kitchen, farmhouse, corridor, bathroom, bedroom, balcony, porch, door entrance, sink, and other high flow areas of any indoor space.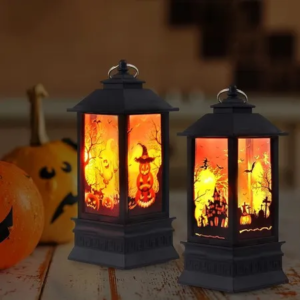 Original Price:  $29.95
Halloween Sale Price: $14.95
Decorate your home or yard with this set of 2 piece of Halloween lanterns. Composed of high-quality PVC material, our Halloween LED lanterns are durable enough to have a long service life and are not easy to break. Our candle lanterns have metal hanging rings at their tops, ensuring they can be hung on the tree or decorated in the study room, living room, and other sites.
Meanwhile, they are perfect for Halloween themed parties, gatherings, club nights, family gatherings, and so on. Also, they can be applied as a photo prop, helping you take more cool pictures. These portable LED candles boast easy installation by simply putting the lights where you need them and connecting the power to use them. Better still, children can take our Halloween lanterns with ease to enjoy endless fun in the evening.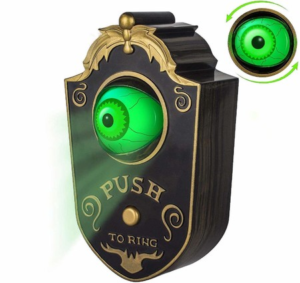 Original Price:  $49.99
Halloween Sale Price: $31.99
The Halloween animated eyeball doorbell is the perfect spooky addition to any haunted house or bar. When the button is pressed, the eyeball comes to life as it moves and lights up in the dark. To enhance the eerie atmosphere, a scary sound emanates from the doorbell, creating a truly creepy effect. Using high-quality materials, this doorbell is extremely durable and built to last for many Halloweens to come. 
Its sturdy construction ensures it can withstand the elements and continual use, making it a reliable choice for your Halloween festivities. Moreover, installing this frightful doorbell is a breeze with the included mounting hole on the back. Measuring 19 x 15 cm in length and width and weighing just 252g, this doorbell is compact yet eye-catching. Its lightweight design allows for easy portability, making it a versatile decoration for any Halloween-themed venue.
Original Price:  $39.99
Halloween Sale Price: $19.99
Dress up your beloved dog during the holiday season with this Halloween pet costume. Its breathable and soft cotton and polyester fibre materials ensure your pet can wear it comfortably. The costume is easy to put on and take off, allowing for a hassle-free dressing experience. Also, it does not hinder your dog's movements, and your pet can walk freely without feeling restricted.
Our pet costume is warm enough to keep your animal cosy during colder Halloween nights. This pet cosplay costume is perfect for wearing during holiday seasons such as Halloween and Christmas, as well as pet parties. Besides, the costume has a connectable foam knife and a wig, completing the spooky Halloween look. It will make your furry friend stand out and add a festive touch to any occasion. For added convenience, the costume comes with two adjustable ropes on the back that can be easily modified according to the size of your furry child.
Original Price:  $49.99
Halloween Sale Price: $24.99
Add a spooky touch to your Halloween with these 3D LED night light bat wall stickers. These LED lights are energy-efficient, providing a bright and colourful glow while using minimal power. They are perfect for creating an eerie atmosphere at holiday parties or as a fun addition to your home decor.
Installation is a breeze with these PET glowing glitter wall stickers. Simply peel off the adhesive backing and stick them to any smooth surface, such as walls, windows, or garage doors. They can easily be removed without leaving any residue behind. Made from high-quality materials, these stickers are built to last. Additionally, they are resistant to fading, peeling, and cracking for long-term use.
Not only are these bat LED night light stickers durable, but they are also safe to use in any living space. They emit low heat and are cool to the touch, making them a great choice for families with children or pets. Whether you're decorating for a Halloween party or simply want to add a horrible touch to your home, these stickers are the perfect choice.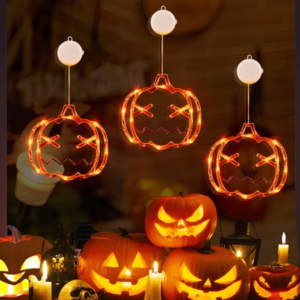 Original Price:  $59.99
Halloween Sale Price: $29.99
The Halloween pumpkin lights are perfect for creating a spooky and festive atmosphere during Halloween. Featuring a vibrant orange colour and pumpkin shape, they add a fun and decorative touch to any space. The set includes three window hanging LED lights that are designed to be easily installed using the included suction cups.
These lights are battery operated, requiring 3 AAA batteries (not included), making them portable and convenient to use. What's more, these lights consume low power, ensuring safety and reliability. Hanging these Halloween window lights is a breeze. Simply attach the suction cups and hooks to different types of surfaces, such as glass, ceramic, metal, fibreglass, and so on. The height is adjustable according to your needs.
The Halloween window lights are suitable for indoor decorations, allowing you to transform different areas of your home into a festive Halloween scene. Last but not least, they can be placed in bedrooms, windows, walls, doors, balconies, decks, porches, or cabinets, providing a spooky and playful ambience. Elevate your Halloween decor with these adorable pumpkin lights.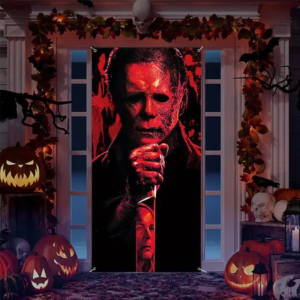 Original Price:  $29.95
Halloween Sale Price: $12.95
The Classic Horror Movie Character Door Decorations are perfect for horror movie fans looking to create a thrilling atmosphere for their parties or room decor. Featuring the most iconic and scary killer characters from classic horror movies, this door banner decoration creates a memorable and creepy scene.
With its amazing large size of 180 x 90 cm, this horror banner will definitely catch everyone's attention and become a big hit at any party or room. Made of high-quality and durable polyester fabric, this horror movie door decoration is soft, lightweight, and reusable. It can withstand multiple uses and will never fade or break, ensuring it lasts for a long time. Whether you're hosting an indoor party or decorating for an outdoor event, this decoration is the best bet.
The high-clear digital print showcases eye-catching details and lifelike colours, bringing the killer character with a dagger to life. Besides, the background flag comes with four holes and a 20-foot white rope, making it easy to hang up and display. With its amazing large size, high-quality material, and easy usability, this decoration is perfect for any Halloween party, thrilling theme party, birthday party, or room decor.
Conclusion
Are you ready to embark on an epic Halloween shopping spree? Dive into the Ultimate Halloween Sale and indulge in scary-good savings on costumes, decorations, party supplies, and more. Do not miss out on this spine-chilling opportunity to deck out your home and yourself in style. Hurry, because these deals will not last. Grab your broomstick and fly over to our site to make this Halloween unforgettable!
Comments
comments