Women's Day Sale 2022 | Special Offers & Great Deals for Females
International Women's Day is a global day celebrating the social, political, economic and cultural achievements made by women. It is also a mark of gender equality and advocates a world free of bias, stereotypes and discrimination. To celebrate this special day and raise awareness of equality, BestDeals starts its Women's Day sale that offers great deals on categories including kitchen appliances, furniture, health and beauty, bedding and bath and more. Check the complete list below.
Commercial High Speed Blender Smoothie Maker Food Mixers Juicer 2L Red
There is nothing better than treating yourself to a glass of chilled fruit juice made by this commercial and high-speed blender. This blender machine is powerful enough to crush the firmest ingredients, owing to its motor peak power of 2200W and the high-speed blades spinning at 32000RPM. The blades constructed of stainless steel and cutting-edge design is durable for years of service. The large volume of 2L can help prepare ample luscious drinks within the least time before all family gatherings by the dining table in the morning. Ten-speed modes are available for dealing with different ingredients, controlled with a step-less speed knob. It is more than a smoothie maker but also a perfect food mixer and juicer. This kitchen blender comes with a BPA-free jug, a secure locking lid, a tamper and non-slip rubber feet.
Accessories Set of 6 Fit all 5.8Qt, 6Qt or Larger Air Fryer, BPA Free, Nonstick Coating, Black
For women who like to cook or eat crispy fried food, this 6 piece accessories set would be a surprisingly wonderful gift. Crafted of food-grade and heat-resistant materials, these accessories are BPA free without any hazardous chemicals, allowing users to enjoy healthy cooking. This kit includes a cake pan, a pizza pan, a metal holder, a multi-purpose rack with five skewers, a silicone mat and an egg bites mould with a lid, all of which are durable and easy to clean. Perfect for air fryers of 5.8qt or larger, this accessories kit ensures you cook everything you need without spending too much time and money to buy each piece individually. All accessories are dishwasher safe. These air fryer accessories are ideal for making French fries, onion rings, chicken strips, roast vegetables, pizzas, cookies, biscuits, fish, mozzarella sticks, pork, corn dogs, prawns, broccoli and many others with better taste.
360 Degree Rotating Mirror Jewellery Cabinet Freestanding Jewellery Organiser Armoire
This rotating mirrored cabinet is perfect for women who have a stock of jewellery, perfume, skin-care products and clothing accessories. Made of durable MDF and lined with soft velvet, the freestanding jewellery organizer is built with a full-length mirror to offer a clear view and to add an excellent touch to your bedroom or studio. This spacious jewellery armoire has earring slots, necklace hooks, ring slots, compartments, scarf rods, three additional shelves and other extra areas to provide users with ample storage space. It has a total height of 160cm for a complete view of the head-to-toe outfit and 360 degrees rotating base to make the stored items or essentials easily accessible. To protect the valuables, the jewellery cabinet is equipped with a lockable door and keys.
Modern Dressing Table Makeup Desk Vanity Table Stool Set with LED Lights Mirror Drawers-Black
Girls or women are earnestly long for an aesthetically luxurious dressing table. Light up your room and lend a charming flair with this modern dressing table and stool set. The vanity table has three open shelves on each side to hold beauty products and keep the table tidy. Under the tabletop, there are two spacious drawers available to store jewellery, makeup tools and dressing accessories. The mirror is ultra-clear furnished with ten detachable light bulbs to facilitate your dress-up and makeup application day or night. This set contains a softly padded stool for optimum comfort even after sitting for a long time. Its construction is high-grade, durable and stable for heavy daily use. Classic and elegant, the vanity set is a perfect piece to complement any style of home and bedroom.
White Bedside Table Wooden LED End Nightstand with 3 Drawers Open Shelf High Gloss Front
Having a tidy and clean bedroom is a dream haven for girls. Keep all your bedtime essentials within your reach by locating this white bedside table in your bedroom. It not only removes the hassles of getting up from bed or out of your room for items you need but also functions as a night light with soft illumination thanks to a built-in LED light in four auto transform modes with 16 charging colour options. Made of premium particleboard for maximum firmness and durability, this bedside table is completed with a high gloss front and matte-finished parts, which delivers a good sense of stylishness, matches your home decors as well as ensures easy maintenance. Besides, three drawers and an open shelf in the modern bedside table assure reliable storage space to keep your room neat and organized.
One-Step Hair Dryer and Volumizer Hot Air Brush, Black
Creating a fashionable hairstyle is indispensable for girls who love dressing up for beauty. This one-step hair dryer is the best hair drying and styling tool. Built with nylon pin and tufted bristles, the unique oval brush works to smooth the hair while the round edges create volume. Unlike conventional hair dryers, this volumizer can be placed closer to the scalp for lift. With a strong power of 1100W and three modes of heat and speed, users can choose the best styling setting according to their needs and requirements. Besides, a genuine ION generator is designed for promoting fast drying and creating styles full of shine and looking healthily. Also, the ceramic coating helps protect your hair from over-styling with even heat distribution which penetrates hair quickly and dries from the inside out. As for the safety guarantee, the hairdryer volumizer meets U.S. safety requirements and features the ETL Certification seal.
Rejuvenate Skin 5-in-1 Galvanic EMS RF Therapy Wave and Microvibration Facial Device
Everyone doesn't want to become ageing, particularly women. So buying a beauty device to rejuvenate skin and restore its elasticity and firmness cannot be more suitable. This multifunctional anti-ageing facial toning tool is a perfect integration of EMS current and electroporation technology, RF radio frequency and LED lighting, to solve different types of skin problems. The EMS current can activate cells and create new collagen to make your skin become more energetic and elastic and improve the fine lines and wrinkles on your skin surface. Additionally, the electroporation technology can create a gap between cells for a short time, ensuring your skin absorbs more skincare products, while the RF radio frequency can soothe muscle pain and skin fatigue, ease skin tension, reduce redness, swelling and pain and resist repeated growth of acne. Better yet, the sensitive LED light with five colours and six kinds of effects contributes to the treatment of acne lesions, which is manufactured exclusively for the beauty industry and works efficiently without damaging the skin.
HOMASA Shiatsu Foot Massager Foot Massage Machine with Heat Deep Kneading Squeeze Massage for Pain Relief
Massaging is the best access to relief and relaxation for office ladies and housewives. Comfort your feet and improve your blood circulation with a HOMASA foot massager. This foot massage machine is engineered with rotation balls, rolling sticks and heating function, delivering a deep-kneading Shiatsu foot massage to you. Moreover, its ergonomic design with adjustable three kneading settings and three squeeze intensity levels ensures that you can enjoy a comprehensive and comfortable personal massage experience. The enhanced hygiene is assured thanks to the detachable and washable cloth in the foot chambers. This foot massage machine is large enough to accommodate feet of different sizes. Proper and targeted stimulation of the feet can ease tension all over the body, hence it is time to get this massager for yourself or female friends to improve your physique health.
8 Bottles Gold Foil Flakes Silver Copper Metallic Foil Paillette Sticker
The art of manicure is attractive to girls and women. Get the eight bottles of metallic foil flakes in different colours with each bottle containing five grams. The set is great for resin jewellery making and nails art design. Coming with gold flakes, imitation silver and copper, the gold foil flakes are not easy to fade and oxidize. They can create a stunning shiny textured effect to make your nail art and crafts look unique and fashionable. The material of the nail foil chip is safe and non-toxic on your nail, face and body. The super thin and soft foil paillette can easily be pressed into a chip of any shape you want. Or you can use them on natural or fake nails with nail polish. They are a fantastic gift for girlfriends, wives, mothers and nail art lovers at home manicure DIY. Furthermore, they can be used on weddings, dating, parties, engagements and festive days such as Halloween, Christmas and Valentine's Day. However, do not use them to decorate a cake, ice cream or food.
New 36 Pairs 6 Tiers Metal Shoe Rack Stackable Shelf Storage Organizer W/ 2 Rows 107cm Height
If you're a shoe lover, this portable stackable shoe rack is a great solution for home organization. It is a six tiers shoe rack allowing to hold up to 36 pairs of shoes and support a weight of 30kg. This shoe shelf can keep your shoes well organized and prevent your room from the mess. Completed with high-quality metal tubes, PP connectors, 80g waterproof non-woven fabrics and a row of short tubes in the middle, the shoe stand offers incredible durability and years of service. This rack can be split up into two or more units for use separately. It is also designed to fit your tall boots or other larger accessories if you remove the horizontal tube and fabric tier. Easy to install without tools, the shoe organizer is suitable for men, women and children's shoes or accessories.
Pony Multilayer Chain Gold Plated Necklaces
People can't resist the charm and appeal of jewellery. This is a set of three necklaces in all, which is simple and elegant. As a layered necklace, it can be worn together or separately according to your preferences. The chairs are made from the toughest polished brass and are comparable with the gold chain after plating and a protective finish. Stylish and compact for layering with other necklaces in your collection, this cute chic necklace is an ideal gift for women and teen girls. It is also perfect for dressing up and other occasions, such as Valentine's Day, weddings, Mother's Day, parties, Women's Day, engagement, dating, office and daily use.
Bath Pillow, Bathtub Spa Pillow with 4D Air Mesh Technology and 7 Suction Cups, Fits All Bathtub, Hot Tub and Home Spa
There is nothing more comfortable to enjoy a bath spa in the comfort of home. This bath pillow is a useful accessory that you should need. Adopting unique 4D air mesh technology, the bath pillow allows water and air to permeate through these holes easily for quick-drying, breathability and ventilation. Rest your head and sink your sore neck into the plush, soft bath pillow for luxurious relaxation. The generous 2-panel design seamlessly contours and supports your head, neck and shoulders to ease your tense and tired muscles after a long day. It is perfect when you are soaking in a bubble bath and serves as a great gift for women. The seven large stitched-in suction cups can be used to attach the pillow to the tub surface and make sure the pillow will not slip. The pillow will stick to the tube easily and stay in place during the bath as you can use it as a backrest and a headrest. What's more, the pillow is machine washable. Better still, the soft white padded bath cushion has a hook that can be used to hang the pillow on a towel rack or bathrobe hook in your bathroom for fast and easy air drying.
Luxdream Adjustable Wedge Pillow with Cool Gel Memory Foam Cool Cover
Having a good rest or sleep is beneficial to health and beauty. Hence owning an ergonomic pillow is incredibly important to women. This cooling gel wedge pillow provides constant coolness and optimal comfort for people lying on it. The memory foam is for the benefits of seamless support and to reduce the pressure of the back, legs or knees. In addition, this pillow in the shape of a wedge is ideal for those who are suffering from Gerd, acid reflux or back pain. It can be a comforting backrest, leg raiser and more. Its height is adjustable ranging from 10cm, 20cm and 30cm. Thanks to its eco-friendly materials including the cool touch fabric cover, the pillow is antibacterial, anti-mite, elastic and ventilated. The zip-off cover is machine washable and convenient to clean.
Electric Sonic Dental Calculus Plaque Remover Stainless Head with rubber Tip Cover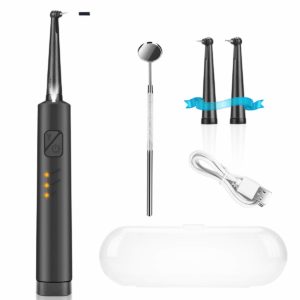 Maintaining teeth clean is important to your health. Do not miss this electric dental calculus remover. Featuring a food-grade silicone handle, a pointed and flat cleaning head with high frequency and strong vibration, the dental stain remover can effectively and quickly eliminate dirt, calculus and spots from even the hardest-to-reach areas to keep your teeth and gums healthy and protected. Built with three adjustable modes including cleaning mode, normal mode and soft mode, the dental tool can meet your needs for different sensitivity of gums. The LED light and oral mirror illuminate each part of dental, helping you find the dirt in your teeth more easily and remove them. Better even, it is washed directly with water after use and safe for adults and children. With a USB charging cable, the calculus remover is easy to charge with any phone adapter. Users can clean their teeth everywhere. Small in size and convenient to carry, the tarter remover is suitable for use at home and in travel.
Aside from the listed goods on sale, there are a large variety of products from different categories sold at cheap discounts for International Women's Day at BestDeals. Welcome to click our online store to check more, get the right gift for yourself or your female friends.
Comments
comments